Pistachio Cake with Lemon Cream
Mor's pistachio cake strikes again, this time with a wonderful and tangy lemon cream. With all the love I've got for the nutty version, I just had to try it out with pistachios. I even added a lemon cream, the one I've already used in lemon berry tartlets. The inspiration for the square shaped cake is from Cyril Lignac's book La Pâtisserie, where he uses a similar lemon cream, but surprisingly with less butter and sugar.
So I adapted Cyril's recipe with the blessed changes and piped yellow bright mounds over the cake. To tell you the truth, this cream is a brat. You have to find the right texture to be able to pipe it so nicely. If the cream is too cold, it will be too grainy due to the gelatin in it and hence it won't look nice. If the cream is too warm (or over mixed), it will be too soft to keep its shape. Fortunately, even if you miss the perfect texture while mixing, you can always fix it by putting it back in the fridge until it's set again or keep mixing until it is soft enough.
Anyway, it's one of the best cakes I baked lately, and it's just so fun to try it out in different flavors. I'm pretty sure you can make it gluten free if you replace the flour in the crunchy layer with something else that will give the same effect. One day soon I'll give it a try. Maybe after I try the cake with chocolate and hazelnuts. Or maybe lemon meringue. I guess this is not the last time you'll hear from this cake.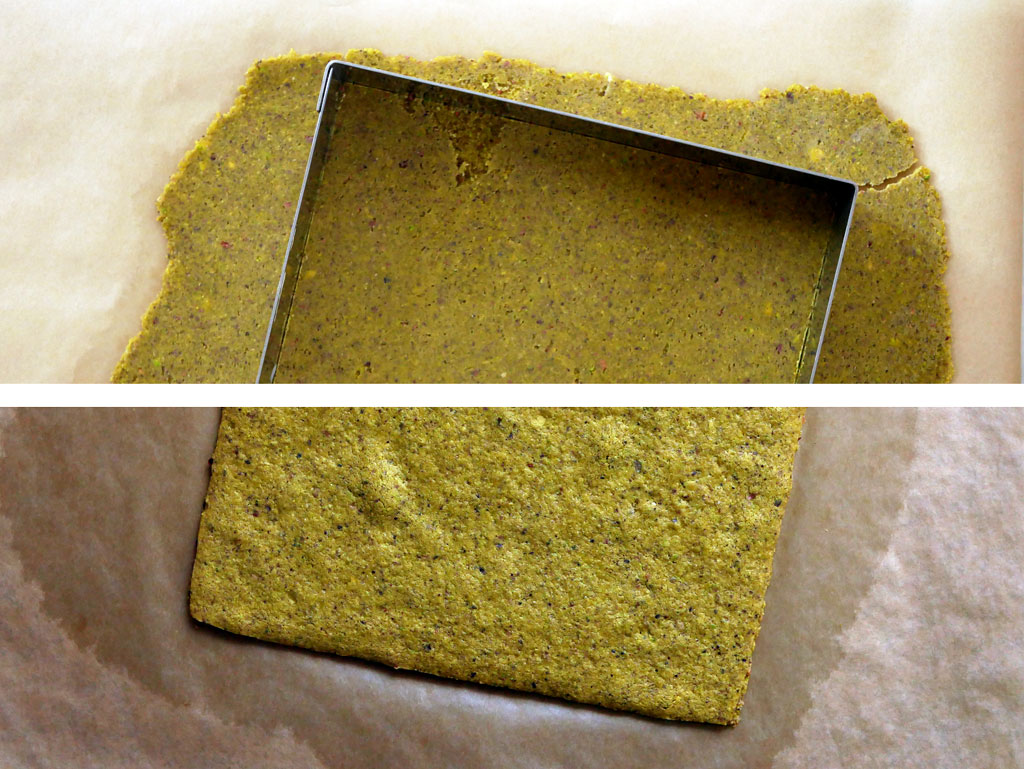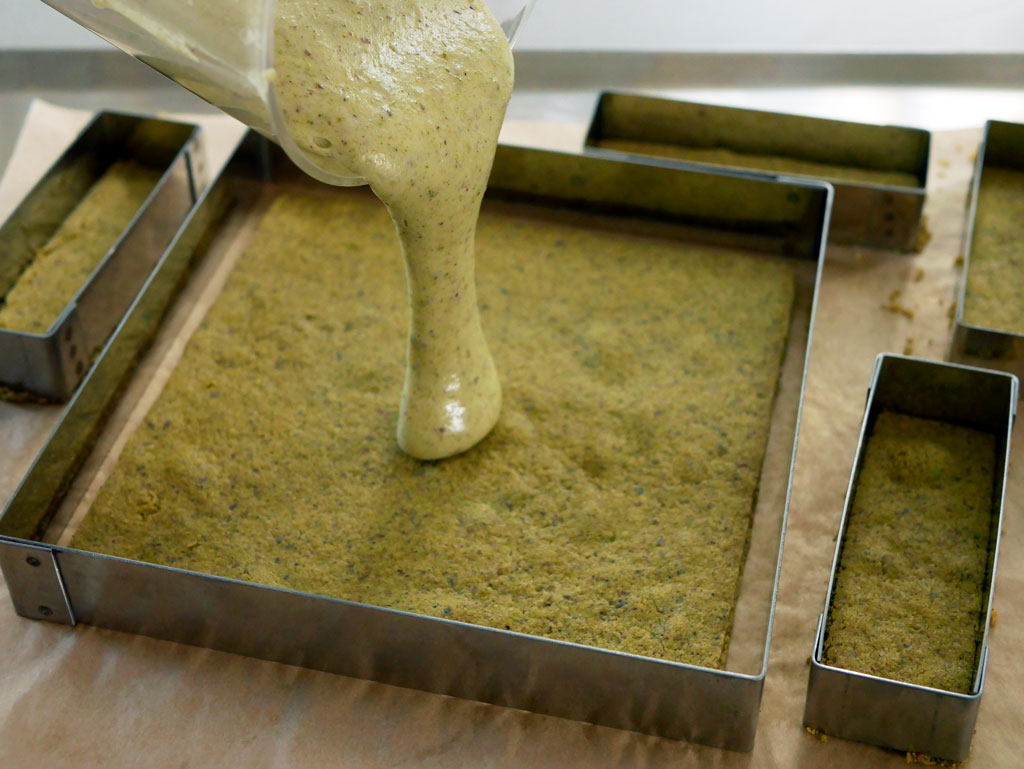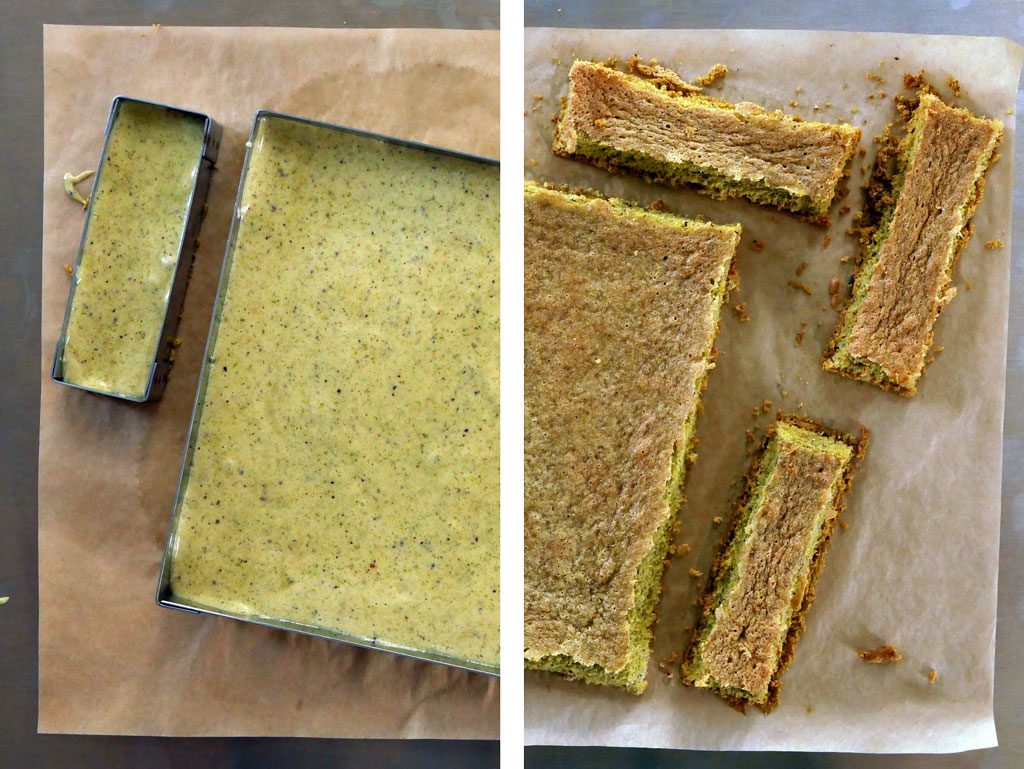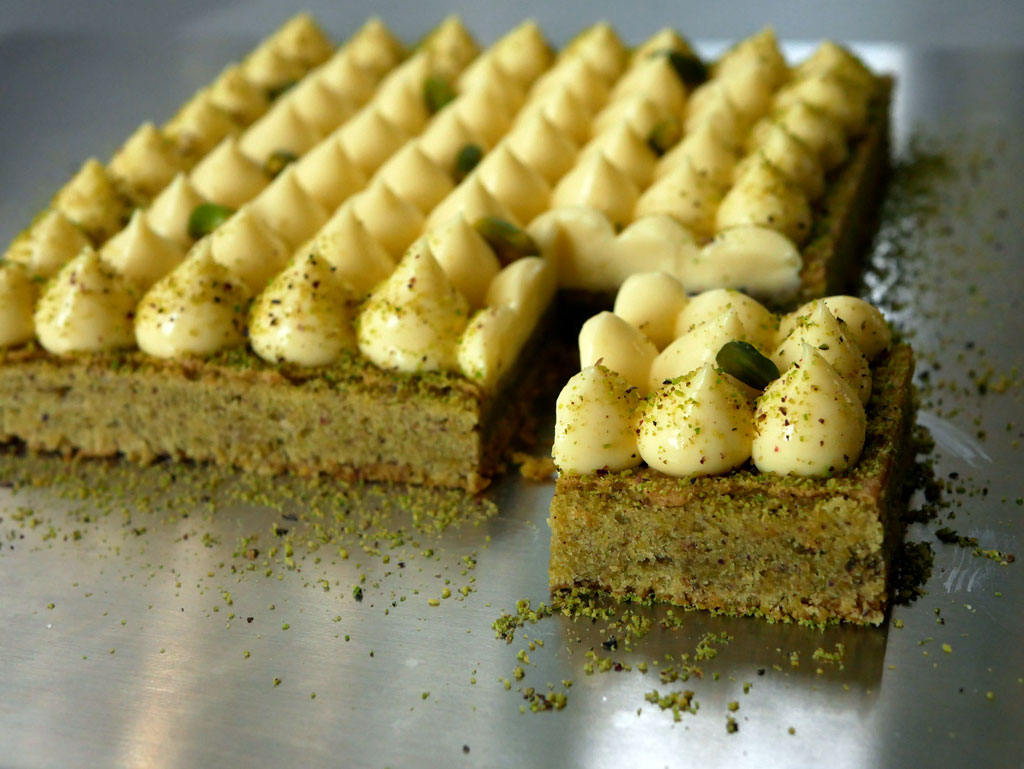 ---
Ingredients
---
Gelatin mass *
3 g gelatin powder
15 g water
Lemon Cream **
90 g lemon juice (about 2 lemons)
110 g sugar
112 g eggs (2L)
Zest from 1 lemon
170 g soft butter
14 g gelatin mass
Pistachio paste
70 g shelled pistachios
12 g grapeseed oil (or any vegetable oil)
Pistachio crunch
50 g softened butter
50 g light brown sugar
70 g shelled pistachios
50 g flour
A pinch of salt
Pistachio biscuit
50 g shelled pistachios
50 g almond powder
100 g powdered sugar
70 g egg whites (from 2 medium eggs)
40 g sugar
80 g butter
15 g potato/corn flour
A pinch of salt
70 g egg whites (from 2 medium eggs)
10 g egg yolk (half a yolk)
25 g pistachio paste
Equipment
Square baking ring, 20×20 cm
Pastry bag fitted with a smooth round 1 cm piping tip
Thermometer (not mandatory, but recommended)
---
* The amount of gelatin it too small to weigh? You can make a bigger batch, let's say 10 g gelatin powder and 50 g water and just weigh 14 g from the final mass to the recipe.
** What to do with leftovers? From the extras of the crunch and the biscuit batter I was able to make another 4 small cakes. The lemon cream however didn't leave leftovers. If you like, you can increase the cream amount (by 1.5) and pipe it on the small cakes as well.
---
Advance prep (the night before)
Gelatin mass: Sprinkle gelatin powder over the water, mix well and keep in the fridge for at least half an hour. Cut into small pieces before use.
Lemon Cream: Put lemon juice, sugar, lemon zest and eggs in a saucepan and whisk. Start warming on medium heat, while whisking all along to prevent the egg yolk from congealing. Once it starts to bubble (or reaches 84 °C / 180 ºF) remove from heat and add the gelatin mass. Mix well and pour the mixture through a sieve into a measuring pitcher.
As soon as the temperature reaches 50 °C / 120 °F, add the soft butter (gradually but quickly) and mix well. Grind with a hand blender to a uniform consistency. Pour the cream into a bowl. Cover the surface with plastic wrap. Keep in the fridge overnight to let the cream set.
Roasted pistachios: Preheat the oven to 160 °C / 320 ºF. Scatter about 200 g shelled pistachios on a baking tray and roast for about 7 minutes until they brown a bit. Cool at room temperature and weigh the amount needed for each layer.
Pistachio paste
Put roasted pistachios in a small food processor and grind them to a powder. Add the oil and grind again until it becomes a paste. Weigh 25 g and place it in a small bowl. Keep the rest in the fridge for some other use.
Pistachio crunch
Put roasted pistachios and flour in a food processor. Grind them to a powder. Be careful not to grind it too much otherwise you'll get a paste. Transfer the powder to the mixer bowl. Add soft butter cubes, brown sugar and salt. Attach the paddle attachment and mix on low-medium speed until dough is formed.
Remove the dough from the bowl and place it between two parchment papers. Roll out (or actually, spread) the dough with a rolling pin to a thickness of 3 mm. Keep in the freezer until set (about 15 minutes). Preheat oven to 150 °C / 300 °F.
Using the square ring, cut out a square (cut out smaller squares around it as well if you got small rings). Place the cut out on a baking sheet lined with parchment paper. Place in the oven and bake for about 10 minutes. Remove from oven and cool at room temperature.
Place the ring around the square crunch layer. Keep aside. Make sure the baking sheet is straight and doesn't warp during baking.
Pistachio biscuit
Place pistachios, almond powder and powdered sugar in a food processor. Grind them for about half a minute to get a powder. Be careful not to grind it too much otherwise you'll get a paste. Transfer the powder to medium bowl. Keep aside. Preheat oven to 160 °C / 320 °F.
French meringue:
Whip 70 g egg whites in a mixer on medium speed until thick white foam is formed. While still whipping at medium speed, add sugar gradually and slowly. After all sugar is added, increase speed to high and whip until you get a strong and firm meringue (otherwise the batter will be too runny and will leak from the ring).
In the meantime, melt the butter. Add potato flour and salt to the powders and mix. Add the rest of the egg whites and the yolk as well. Whisk it all together. Add the pistachio paste and whisk again. Transfer a table spoon from the mixture to the melted butter. Mix well and return it back to the mixture. Whisk well.
Fold the meringue into the mixture in two parts using a whisk. Weigh 320 g of the batter and pour it into the square ring. (If you like, pour the rest of the batter in small rings up to 2/3 of their height). If needed, flatten the surface using a small offset spatula.
Place immediately in the oven. Bake for about 20-22 minutes, until the edge of the biscuit starts to separate from the ring. Remove from oven and go over the sides of the ring with a knife. Cool at room temperature. Release the biscuit from the ring.
Remove the parchment paper from the bottom of the biscuit. Transfer to a serving plate, cover well and keep in the fridge until assembly. If the biscuit isn't symmetrical, you may cut the edges with a serrated knife after it chills in the fridge.
Put it all together!
Remove the lemon cream from the fridge. Mix it a little with a whisk until it gets a smooth texture (don't over mix, otherwise the cream will become too soft to be piped – in which case, put it back in the fridge until it sets back).
Fit a pastry bag with a 1 cm tip and fill it with the cream. Holding the bag upright, pipe small mounds of lemon cream on top of the biscuit, row by row.
Sprinkle pistachio powder on top or just around the edge. Place some whole shelled pistachios on top. Keep this wonderful cake in the fridge in an airtight container. I'm not sure how long it keeps. Somehow it's always gone after a day or two.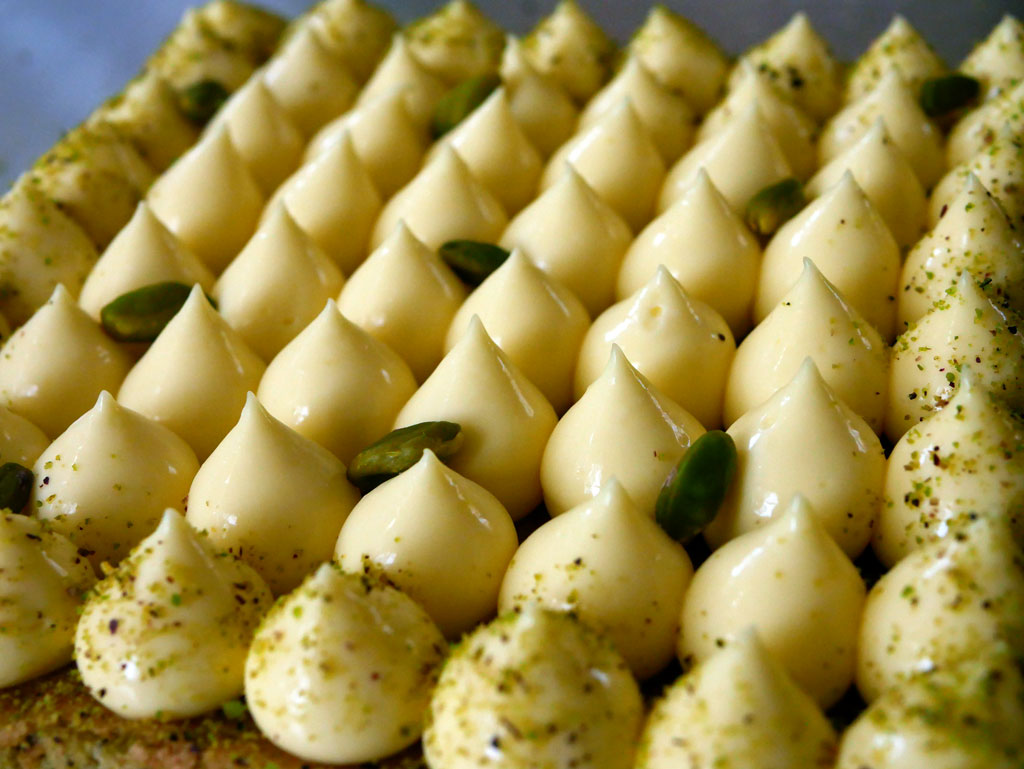 Yum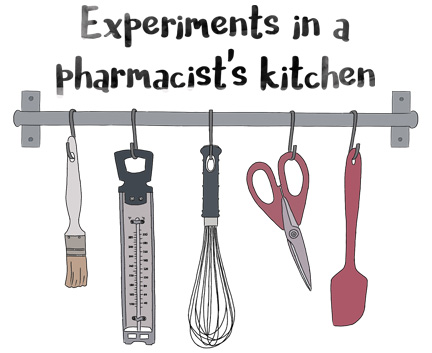 Search the blog

Get updates by email