Pistachio Cake with Mascarpone and Strawberries
Ever since I started my little blog, Natalie, blogger superstar, hasn't stopped showing love and support. I discovered her wonderful blog, Lil' Cookie, about 5 years ago when I started taking interest in the baking world. An intern at the pharmacy where I work noticed my sudden love of cakes. She asked if I knew the blog Lil' Cookie. I didn't. When I saw it, I was captivated by its charm.
Every time I felt like stretching my baking limits, I would go to Lil' Cookie to look for a challenging recipe. From melt in the mouth Alfajores cookies to a fancy chocolate truffles cake, I always managed to find something to suit my taste. There was even one recipe that I always wanted to try but never felt ready enough for, chocolate concord cake. I think it's time to take a leap right into that meringue mountain and bake that perfect cake.
From here to there (or rather, from Jerusalem to Ramat Gan), Natalie invited me over to play in her kitchen. We didn't plan too much ahead and we didn't decide what to bake. We just knew that we had to make something that contains pistachio, mascarpone and strawberries, with a Christmas spirit. Did someone say pistachio cake? Let's do it! Natalie started lining pans, weighing ingredients, whipping eggs, folding the powder mixture… and I just stat there and chatted non-stop, full of excitement, until I suddenly realized that the pistachio cake was already in the oven!
…
It was time to be a little more helpful. I rolled up my sleeves and began preparing a dreamy mascarpone frosting. Finger-licking delicious. Wait a minute… why are my fingers salty? Oh no… I put salt instead of sugar in the frosting! Ugh, what a great way to impress Natalie.
After we were done with the pistachio cake, we prepared cupcakes and made them look like Christmas trees. I know, a little childish, but the holiday spirit soaked us up like a donut in oil. While decorating the cupcakes with colored candy, I looked up at Natalie who was fully absorbed in the decorating process with a sparkle in her eye and a wide smile on her face. I knew then that I had found a partner to share my Christmas obsession.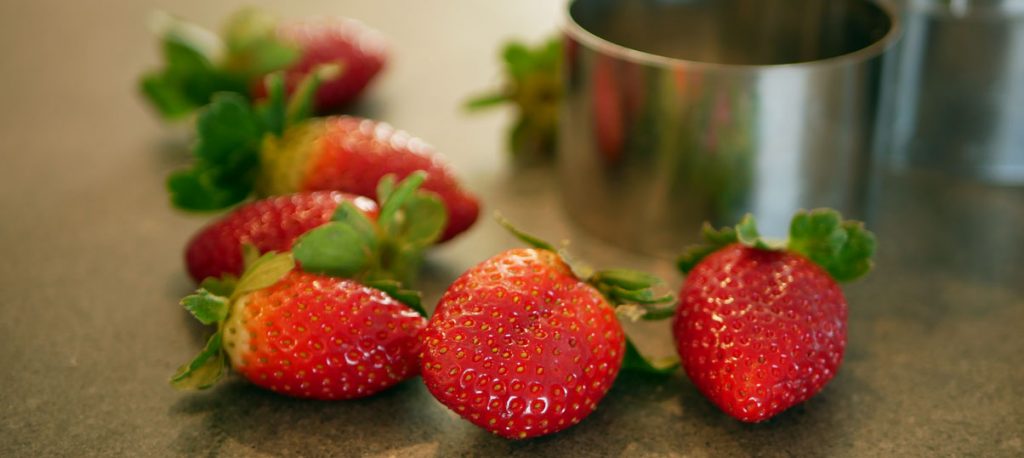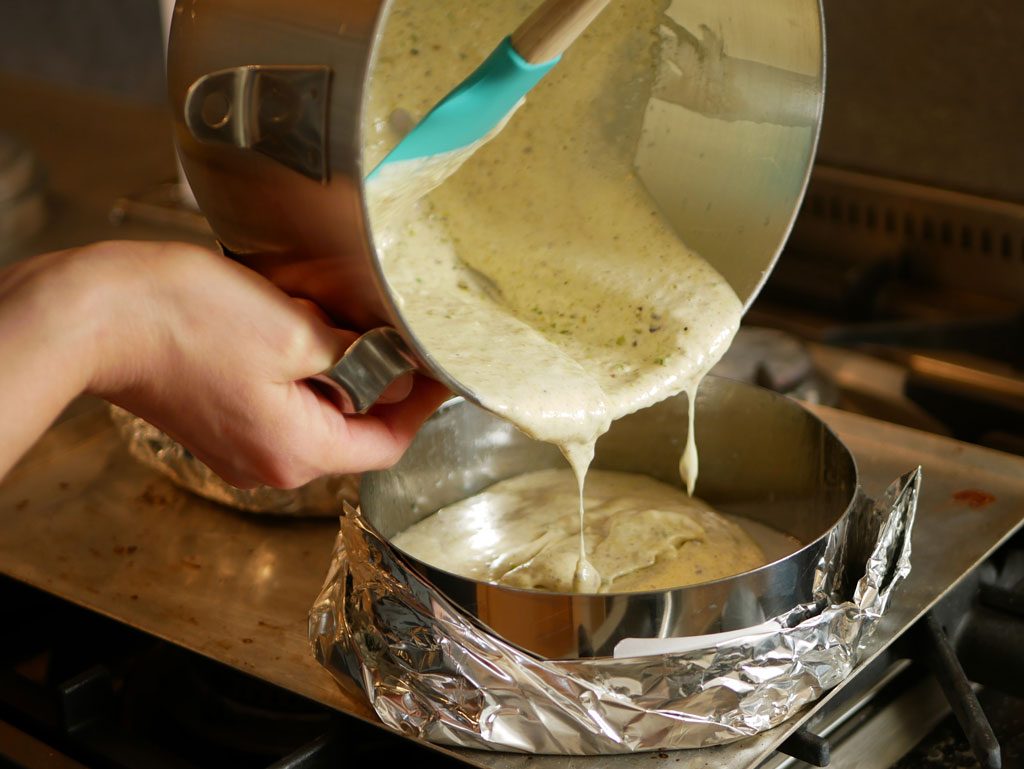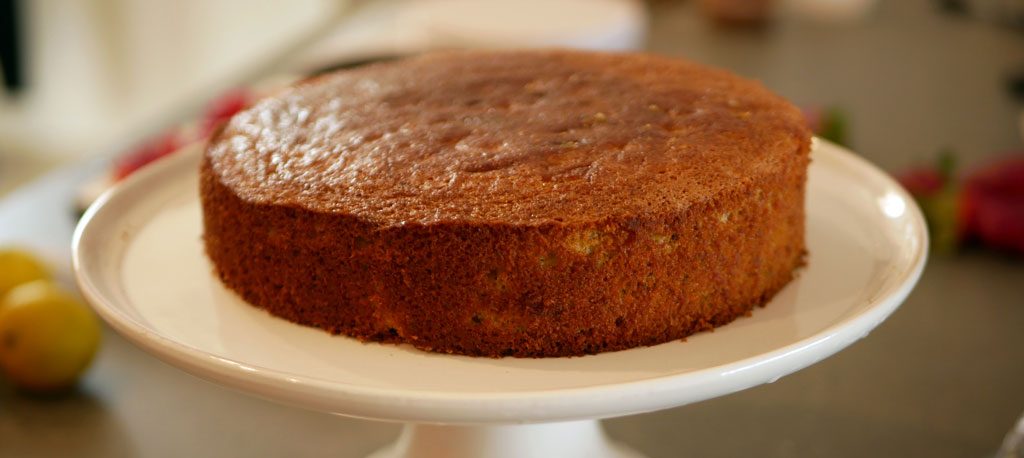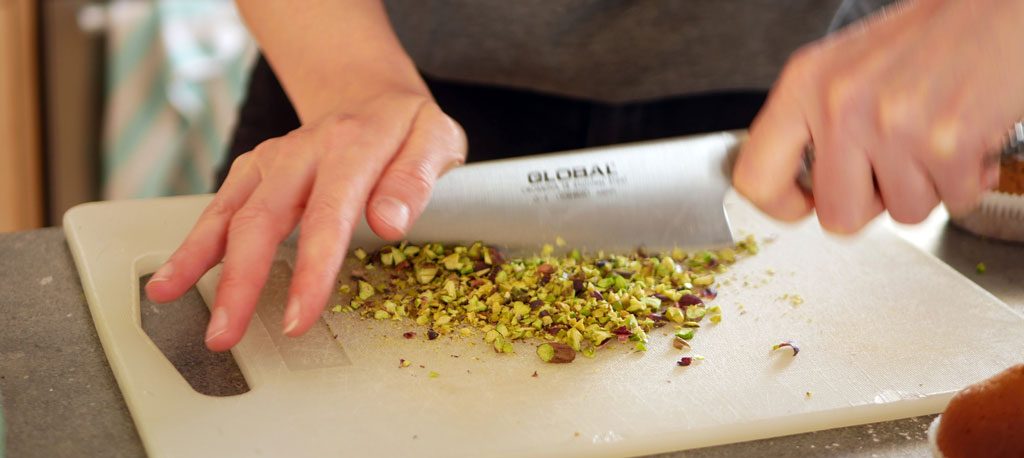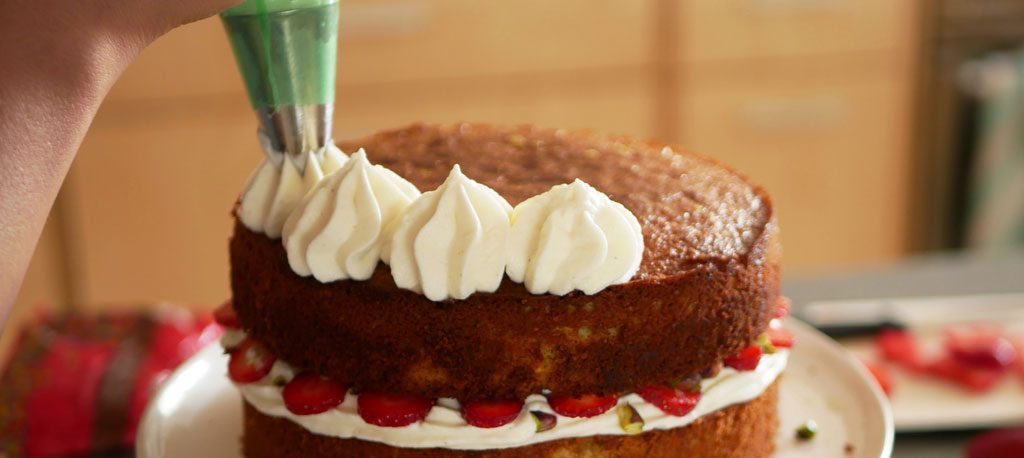 ---
Ingredients
---
Pistachio cake
90 g shelled pistachios
165 g flour
1 tsp baking powder
½ tsp salt
3 eggs
210 g sugar
50 g canola oil
Zest from one lemon
120 g milk
Lemon syrup
¼ cup lemon juice
Zest from one lemon
2 tbsp sugar
Mascarpone frosting
120 g mascarpone cheese
240 g heavy cream
60 g powdered sugar
60 g condensed milk
1 tsp vanilla paste
Filling & Decoration
30 g chopped pistachios
200 g fresh strawberries
Equipment
2 round pans, 16 cm in diameter
A pastry bag fitted with a 2 cm star piping tip
Brush
---
Pistachio cake
Grease the pans lightly. Line the bottom of each baking pan with parchment paper.
Put shelled pistachios and flour in a food processor and grind into a powder. Transfer the mixture into a bowl. Add baking powder and salt. Whisk well and keep aside.
Pour milk into a small pot and warm it just a little on low heat (you can also warm the milk in the microwave). Preheat the oven to 175 ° C (350 ° F).
Start whipping eggs and sugar on medium speed until the mixture is thick and pale. Add oil and lemon zest and whisk together. Add half of the powder mixture and fold together, gently, using a whisk. Add the warm milk and mix again. Add the rest of the powder mixture and fold with a whisk just until uniform.
Pour the batter equally into two baking pans. If possible, wrap a strip of a damp towel around the baking pan to get a more uniform bake. Place the pan in the oven and bake for about 18-20 minutes. Stick a toothpick in the center of the cake to check if it's ready. The toothpick should come out dry. Remove the pan from the oven. Separate the cake from the sides of the pan using a serrated knife. Allow the cake to cool at room temperature for about 10 minutes before releasing it from the pan.
Lemon syrup
Pour lemon juice into a small pot. Add sugar and lemon zest. Place on medium heat. Stir the sugar with a spatula to dissolve it. Once the water starts to boil, stop stirring and remove the spatula. Let the syrup simmer for another 10 minutes. Remove from heat. Allow the syrup to cool for about 20 minutes and strain it before use.
Mascarpone frosting
Put mascarpone cream, condensed milk, powdered sugar and vanilla in the mixer bowl and whip well. The mixer won't be able to bring it to a complete creamy texture. It will still be a little lumpy. To cream it, mix with a spatula and squash the lumps on the side of the mixer until uniform.
Add heavy cream and vanilla to the mixer bowl. Keeping whipping until the mixture is smooth and firm. (Be careful not to over whip). Scrape the sides of the bowl now and then. Transfer the frosting into a pastry bag fitted with a 2 cm star piping tip.
Putting it all together!
If needed, cut the top of each pistachio cake with a long serrated knife or a saw. To get a straight clean cut, keep turning the cake and cut first from the sides then slowly advance to the center of the cake. Flip over the cakes and remove the baking paper.
Place one of the cakes on a serving plate. Slightly brush the top of the cake with lemon syrup. Pipe a thick layer of mascarpone frosting over the cake. Cut strawberries into thin slices and spread them over the mascarpone layer. Sprinkle chopped pistachios over the strawberries. Pipe a few dollops of frosting on top.
Place the second cake over the first one. Brush a bit of lemon syrup on top. Pipe mounds of mascarpone frosting on top of the pistachio cake. Decorate with strawberries cut into small cubes and chopped pistachios. Keep in the fridge in an airtight container for about three to four days.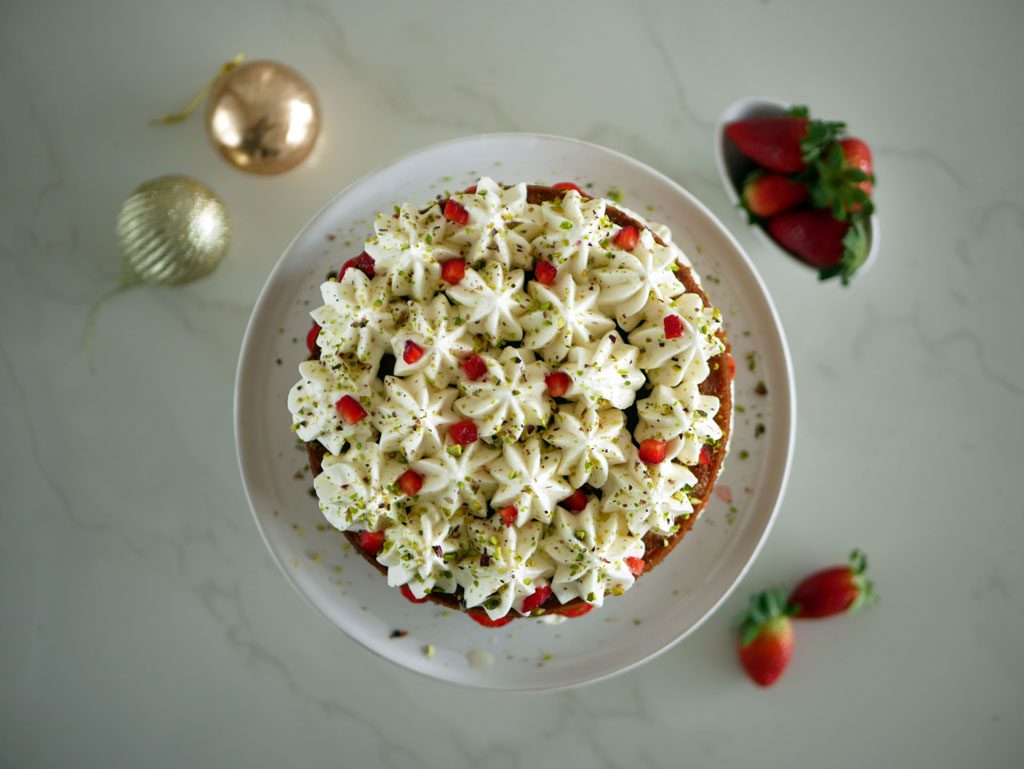 Yum

Tags In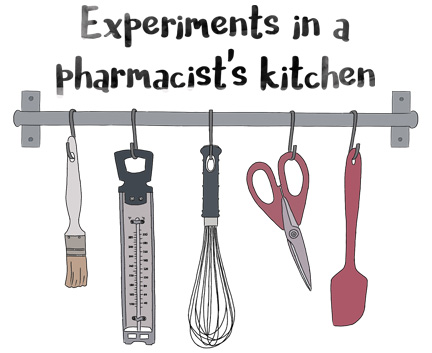 Search the blog

Get updates by email