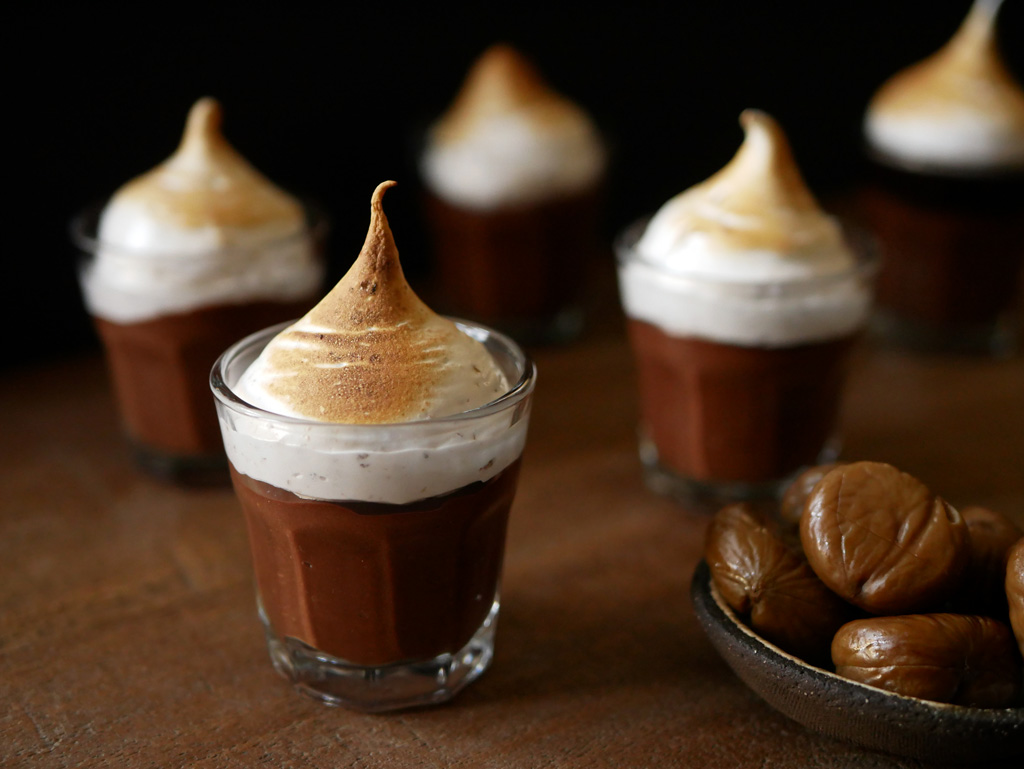 Chocolate & Chestnut Pots de Crème
Last week I got a pretty awesome gift, a pastry cookbook from close, yet ever so far, Lebanon. In her book, Sweet Levantine, Lara Ariss writes about baking with an emphasis on local ingredients, like olive oil, halva and mastic, which she combines in both her Middle Eastern recipes and her classic European recipes.
For some reason, maybe because I grew up in a similar environment, I chose to bake the most European recipe I could find in her book, with a French name and lots of chestnuts. Maybe I just found it exotic.
My friend Reut came to visit me yesterday. We scheduled in advance to meet at 8:00. I planned a whole day of baking together. At around 10 am I asked her if she's coming. I then found out that she meant to come at 8 pm. Oy Reut.
Never mind, I started baking anyway. At least there would be something sweet waiting for her in the fridge when she came. Eventually I found myself making this chocolate and chestnut pots de crème three times.
Well, it is my fault. After I started working on the recipe, I realized I wasn't keen on making the crème with an uncooked egg. So I changed the crème to crème anglaise. On the second time, I replaced the Italian meringue with Swiss meringue, again, for pasteurization reasons.
On the third time,
I reduced the cocoa solids of the dark chocolate so that the crème would be light. I also added milk to the mix. That's it. As we say here, third time, ice cream pots de crème.
To strengthen the flavor of the chestnuts, I ground some chestnuts and added them to the meringue, like I did once with my chestnut krembo. Reut found it a little weird. She was expecting chocolate chips after taking the first bite but couldn't understand why the bits in the meringue were soft and not crunchy.
Yuval (who came to visit) and I liked it just the way it was, knowing in advance that this whole pots de crème contains bits of soft chestnuts. That's why I wrote that this addition is optional in the recipe. For your consideration.
Also, Lara uses a store bought chestnut puree in the recipe. I'm not sure where you get those, so I just made chestnut puree according to Akis Oetrezikis's recipe from peeled and roasted chestnuts. You can find these in grocery stores packed in vacuum bags. The recipe for the puree is very simple, and very tasty. It keeps for about 10 days.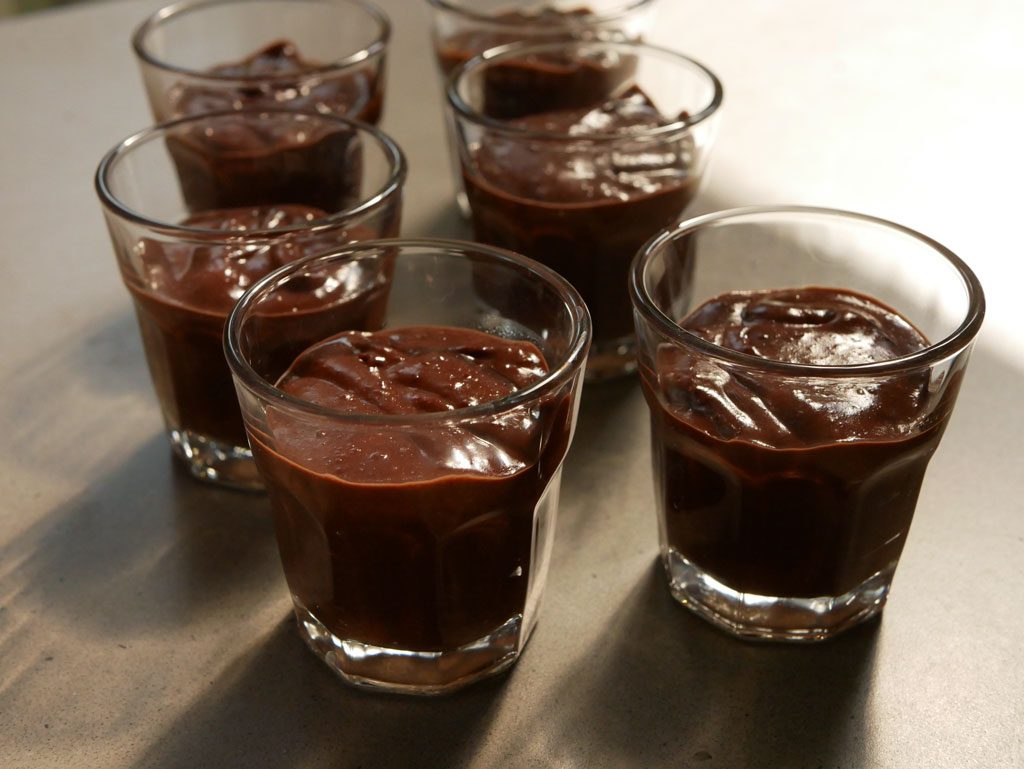 ---
Ingredients
---
Chestnut Puree
200 g peeled & roasted chestnuts
75 g sugar
½ tsp vanilla paste/extract
250 g water
Chocolate & chestnut crème
150 g dark chocolate 60%
250 g chestnut puree
250 g heavy cream
120 g milk
3 egg yolks (about 55 g)
Swiss meringue
2 egg whites (about 80 g)
140 g sugar
Pinch of salt
30 g peeled & roasted chestnuts (optional)
Equipment
Food processor
Thermometer
Pastry bag fitted with a smooth 16 mm tip
Burner
Measuring pitcher
---
The recipe makes about 14 small cups (¼ cup big)
---
Chestnut Puree
Put chestnuts, sugar, vanilla and water in a saucepan. Bring to a boil on high heat. Stir with a spatula to dissolve the sugar. Once the water starts to boil, stop stirring and remove the spatula. Let it simmer on low-medium heat for about 25-30 minutes or until the liquid is reduced to 1 cm high. Remove from heat.
Transfer the mixture into a food processor. Grind until you get a uniform puree. Weight the amount needed into a saucepan. Otherwise, keep the puree covered in the fridge for about 10 days.
Chocolate & chestnut crème
Break the chocolate into small pieces and put in a measuring pitcher. Add heavy cream, milk and egg yolks to the saucepan containing the chestnut puree and mix it a little.
Yes, I know, it's a little difficult to mix it all because of the chestnut puree, but it will soften as the temperature rises. (It might be possible to do this step without the puree and just add the puree to the chocolate from the start, but I didn't try it out).
Place the saucepan on medium heat and heat to a temperature of 78 °C / 172 °F (it's ok if it gets higher, but not more than 84 °C / 183 °F), while mixing vigorously, yet gently, all along with a spatula so that the egg yolks won't curdle. (Pat attention mainly to the bottom of the saucepan). The mixture will thicken a bit.
Remove from heat and pour immediately over chocolate. Mix a little bit with a spatula and then use a hand blender to blend it to a uniform consistency. Pout the crème into cups right away. Shake the cups a little to flatten the surface. Keep in the fridge.
Swiss meringue
Put egg whites, sugar and salt in a stainless steel bowl and whisk well. Warm the mixture on a double boiler (medium heat) while whisking all along to melt the sugar and pasteurize the egg whites.
Once the temperature reaches 60 °C /140 °F, lower the flame and keep whisking for about 5 more minutes (OR bring the temperature to 70 °C /160 °F and whisk for 1 minute).
Make sure the temperature doesn't pass 75 °C /165 °F. (I just lower or turn off the flame accordingly and keep the temperature between 60-70 °C /140-160 °F).
Remove from heat and strain immediately into the mixer bowl. Whip the mixture on maximum speed for about 5-7 minutes until the meringue is stable and shiny (stiff peaks).
Optional: grind chestnuts in a food processor in short pulses until you get coarse chunks of chestnuts. When the meringue it ready, add the chestnuts to the meringue and fold with a spatula. (Just a few folds are enough. The more you fold, the more you risk softening the meringue for piping).
Fit a pastry bag with a 16 mm smooth tip and fill it with the meringue. Pipe a nice doll-up in each cup. Keep in the fridge for about 2-3 days. Before serving, use a burner to burn the meringue and impress your guests.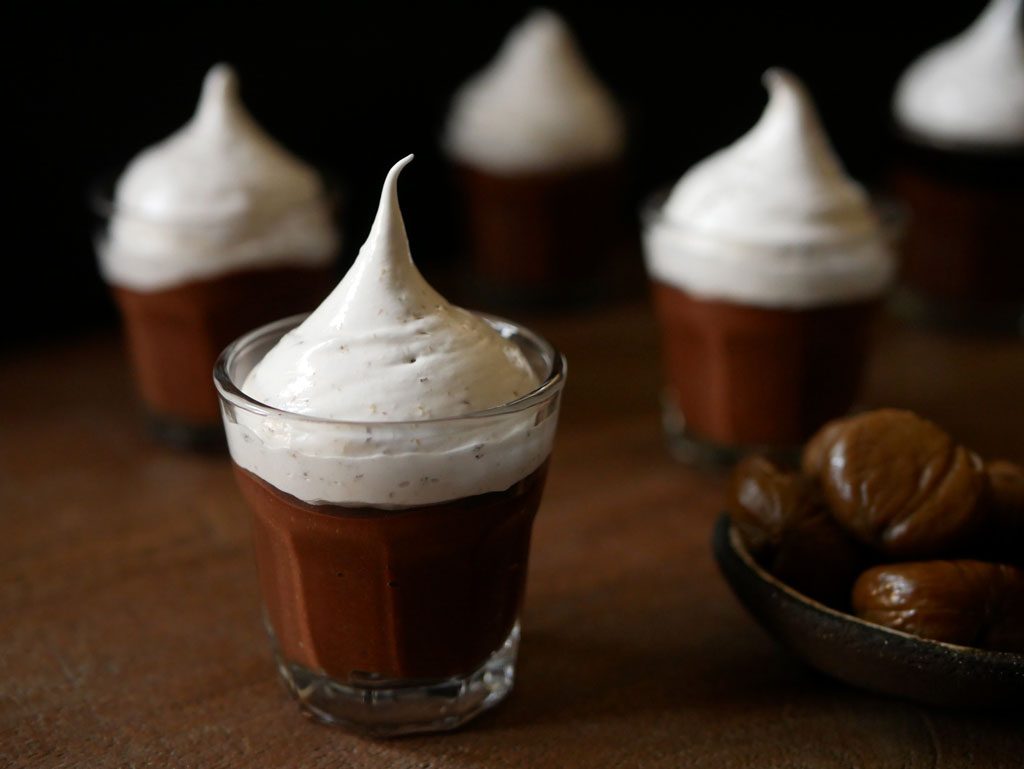 Yum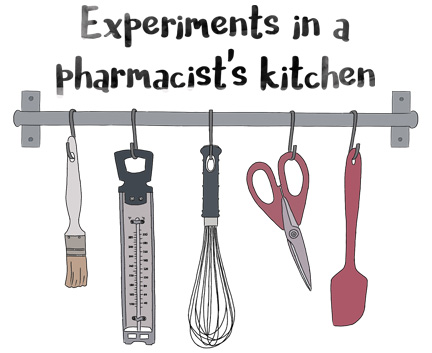 Search the blog

Get updates by email