Madeleines in Provence
A little more than a year ago, good friends of mine, Yuval and Elisha, packed their belongings, said goodbye to crowded Tel Aviv and moved to France to build a new home with their baby girl Akko. Since then, they host family and friends non-stop in their beautiful house in the village of Lauris in southern France. It was only a matter of time before I would find myself there, between lavender fields and endless vineyards, raising a glass to a simpler, more charming life.
Autumn was almost here, and with it the desire to run away to the unknown. I visited France a few times in the past, mainly Paris, but never southern France. The lavender fields, Yuval and Elisha too, called my name. Unfortunately, the lavender fields were purple no longer, summer was almost over. But in September the grape harvest was at its peak and purple grapes adorned the vineyards. Goodbye Jerusalem. Provence, here I come.
Daniel and I landed in Marseille in the early morning. We rented a car and drove straight away to Aix-en-Provence to meet Elisha. From the moment we stepped on French soil we realized we were under-dressed. The French know what chic is. They probably invented it. But it didn't bother me so much. I had other business to attend to. More important business: my hunt for the first baguette.
We passed by a Paul, and like any other tourist, got caught in its net. Daniel had already paid for his tart when Elisha sent us this text as a response to the light breakfast at Paul's: "Noooo". Too late. "Go to Weibel", she suggested.
So we took her advice.
And to make things right, we ordered coffee, a baguette, a croissant and a small pistachio cake. We sat outside the corner café and enjoyed our breakfast. Afterwards, we met Elisha and traveled together to her house in Lauris.
Lauris is a quiet little village. Yuval and Elisha's house is warm and pleasant, with a classic-modern design. In the kitchen there's a big wooden table and windows overlooking a small hill green with trees. Akko, who already speaks perfect cute French, woke up. We took her to kindergarten and then Yuval took us for a little tour in the neighborhood.
He told us about the history of this charming village as we strolled and picked grapes from a vine climbing outside one of the houses. We entered through the gate of a castle that was no longer there and discovered a breathtaking view that Yuval defined as Lauris' Eiffel Tower.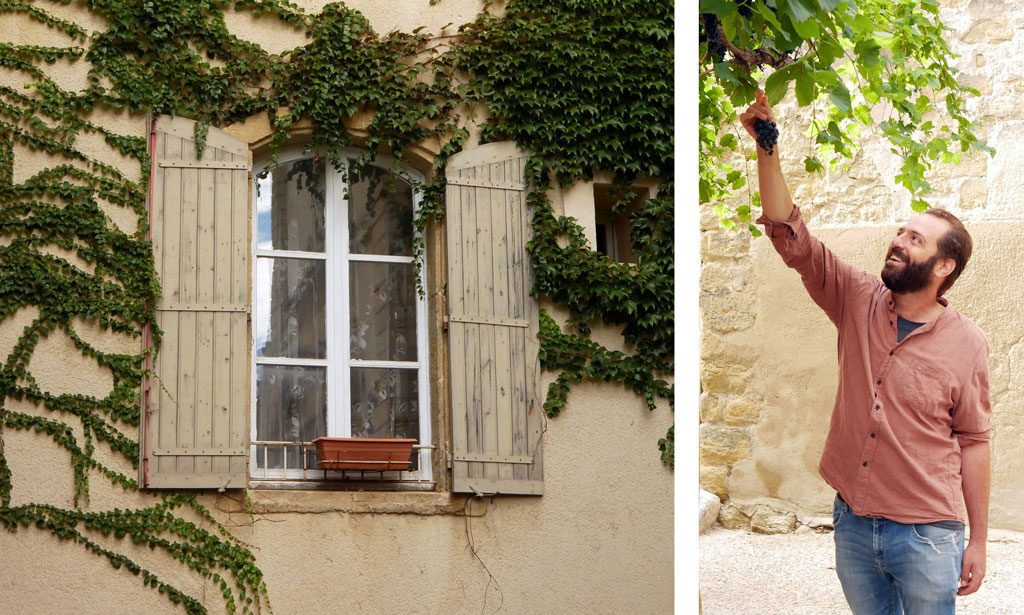 We returned home and drank coffee with almond milk while Yuval picked tomatoes from his own garden to make a Caprese salad. After lunch we took another stroll, this time up the hill nearby and towards the endless vineyards. We entered the neighboring winery and tasted the array of wines there.
A little tipsy, we drove to neighboring Rognes. In the village there's a bakery and a biscuiterie (who knew that even existed?) with a lot of small dry grandma cookies (credit to Yuval for the accurate description).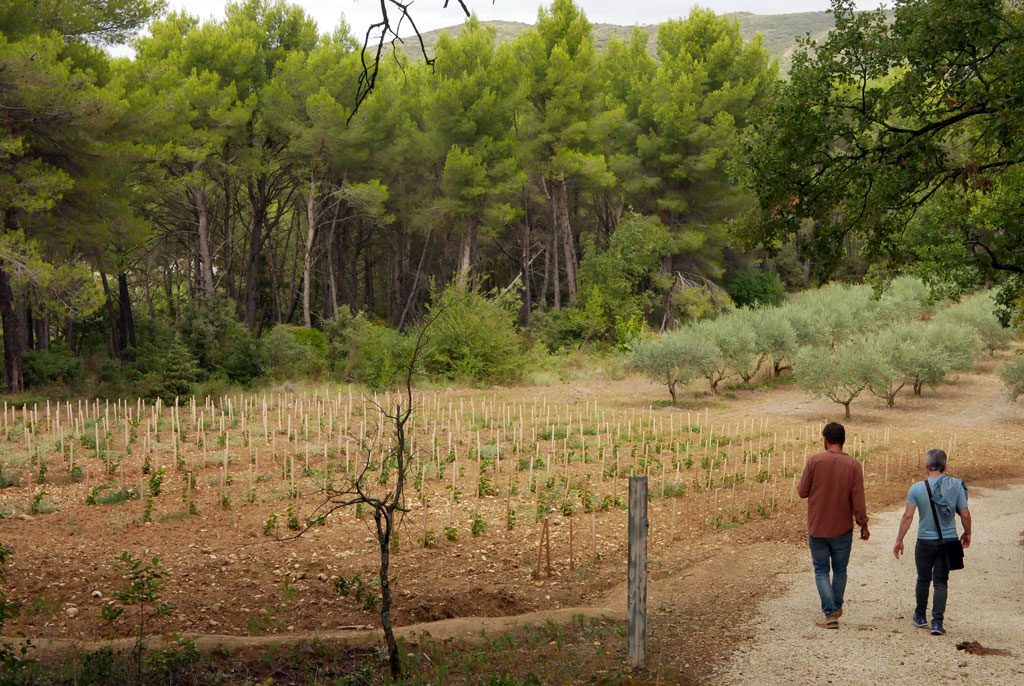 The next day we drove to Marseille.
We wandered around the port and the nearby alleyways, ate Moroccan couscous and tasted wonderful Tunisian pastries from a French baker that spoke fluent Hebrew at Pâtisserie Orientale. We finished the day with a bit of shopping (the only one on the whole trip) at Uniqlo.
Then my day arrived. A morning all to myself in Aix-en-Provence, or Aix for short. I hitched a ride with Elisha on her way to French class. Upon her recommendation I had breakfast at Maison Nosh in the pedestrian area of the city. I ordered a banana toast with nuts, honey and cocoa. From my point of view, any toast a French baker makes is French toast to me.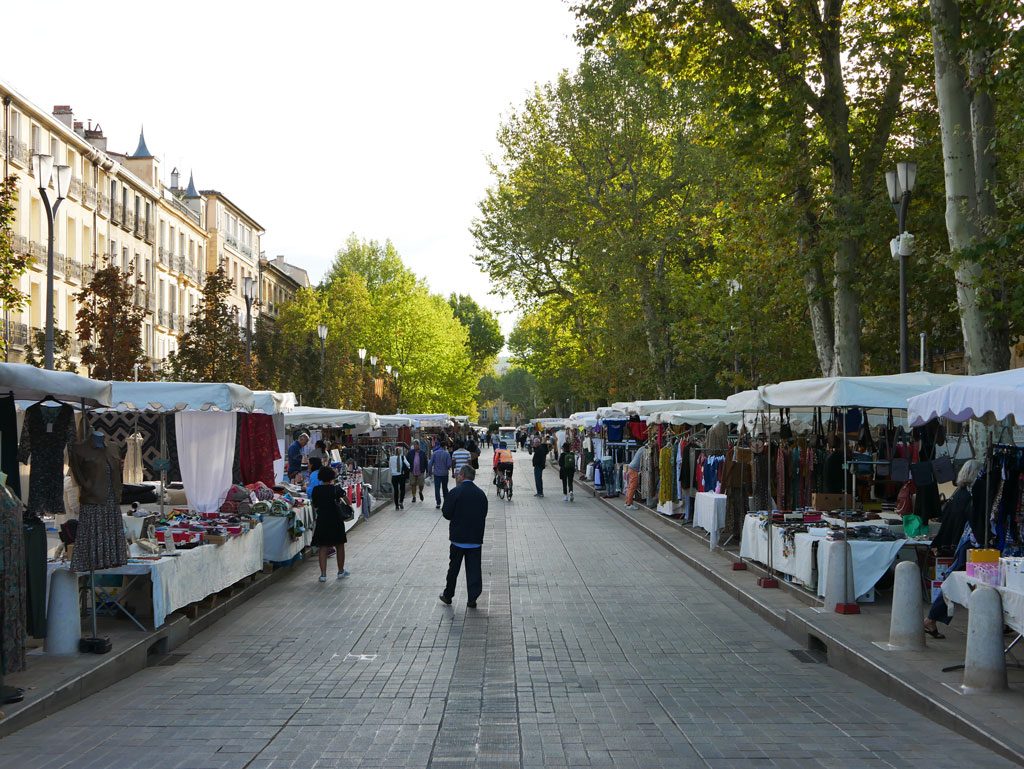 I ate my breakfast in anticipation of the main goal of the day. Madeleines! They're a kind of mini pound cake shaped as a shell. The French writer Marcel Proust writes about it in his book "In Search of Lost Time". Right after he dips a madeleine in his cup of tea, he's overflown with unexpected joy and childhood memories.
The madeleine served as the catalyst to write his book, and his book helped make madeleines popular over the years. Yuval claims that Elisha loves madeleines from the same reason Proust loved them. The taste, and especially the smell, awakens lost memories from the past.
Christophe Madeleines
The clock stroke 10:00. It was time. Christophe Madeleines opened. The shop is known for its good reputation and endless line. On my way there, I passed by a preoccupied young girl taking a picture of the inside of a fat brown bag. I couldn't see what wa inside, but I guessed from the aroma.
When I reached Christophe's shop, I was luckily the only customer. The vendors were busy taking trays full of madeleines that were probably just baked to the front of the shop. Supposedly, all of their madeleines look the same, but the signs showed otherwise.
I asked for two of each kind. The vendor gave me a surprised look and said there were seven different kinds. I repeated myself: "Two madeleines of each kind and one canelé please!" She smiled and gave me two fat brown bags full of madeleines.
I turned around and was surprised by the line that amassed behind me. I felt like a little kid. I grabbed my loot and hurried up to find a quiet place to enjoy the morning sun and the fresh madeleines. Truthfully, I could have built a whole birthday cake from all of them.
So many madeleines! Classic madeleines, madeleines with rum and raisins, lemon flavored madeleines, orange flavored madeleines, madeleines with chocolate chips, praliné madeleines and my favorite, almond madeleines (reminded me of marzipan).
Calissons
Today's mission was complete. Next up, calissons! Despite my hype for the madeleines, calissons are actually Provence's official sweet, especially in Aix-en-Provence.
Calisson is similar to marzipan, made of almonds and candied fruits like melon and orange. It has a citrus fragrance and is shaped as a leaf. I made the classic calisson once as a goodbye gift to Yuval and Elisha, and later made a wonderful lemon pistachio calisson.
Following my friends' advice, I skipped Le Roy René's calisson chain store and headed straight to Léonard Parli with the best calissons in Aix. It's pretty funny actually. Outside every calisson shop there's a sign advertising Les véritables calissons – the real callisons of Aix. I'll decide that for myself, thank you very much.
Le Roy René's calissons are kind of disappointing without much flavor. But Léonard Parli's calissons were amazing, with strong flavors. I bought the biggest box they had. There went 20 euros.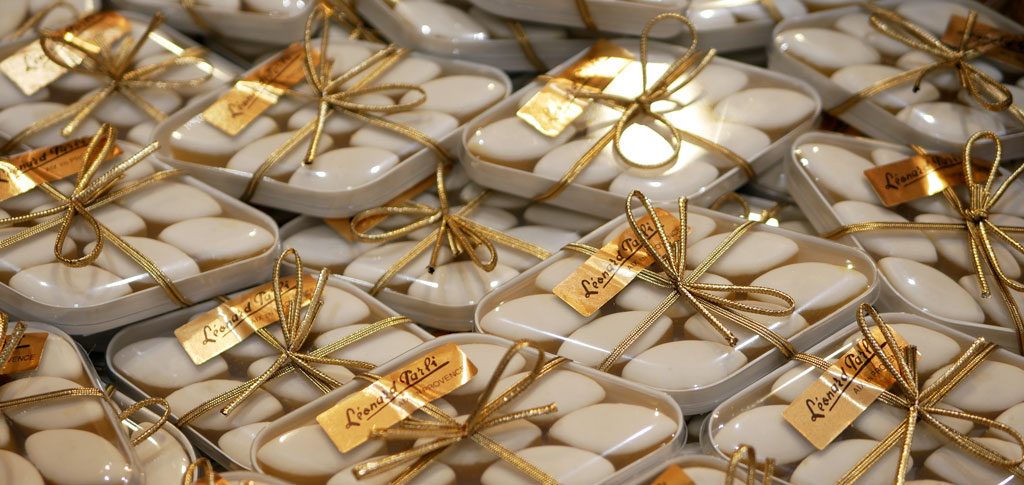 Chocolate
I continued on my journey. From Puyricard, a prestigious chocolate store (caramel chocolate covered almonds, yum), to yet another "original" calisson shop, my appetite for sweet indulgence got bigger and bigger.
I stepped out of a small alley and stumbled upon an impressive food market. Old cheeses, quality wine, fresh bread and baguettes, all kind of spices, endless types of honey (I finally found lavender honey I wanted so much to use in my honey lavender macarons), and even homemade couscous. And raspberry! Raspberry everywhere! Raspberry for everyone! A kilo of raspberry that cost 10 times more back home.
The market felt infinite. Every ally led to new stands and merchandise. Suddenly I understood what Elisha was talking about. Five minutes here could easily stretch into an hour or two. You get lost in all of the abundance, and sometimes the colorful smells lead you, not your feet. I decided to get away from it all and walk the quiet alleyways nearby, getting lost in serenity.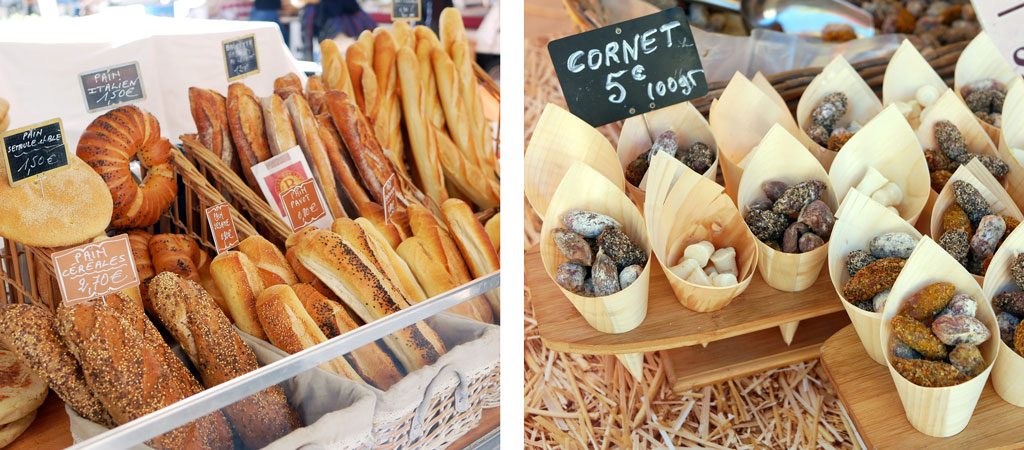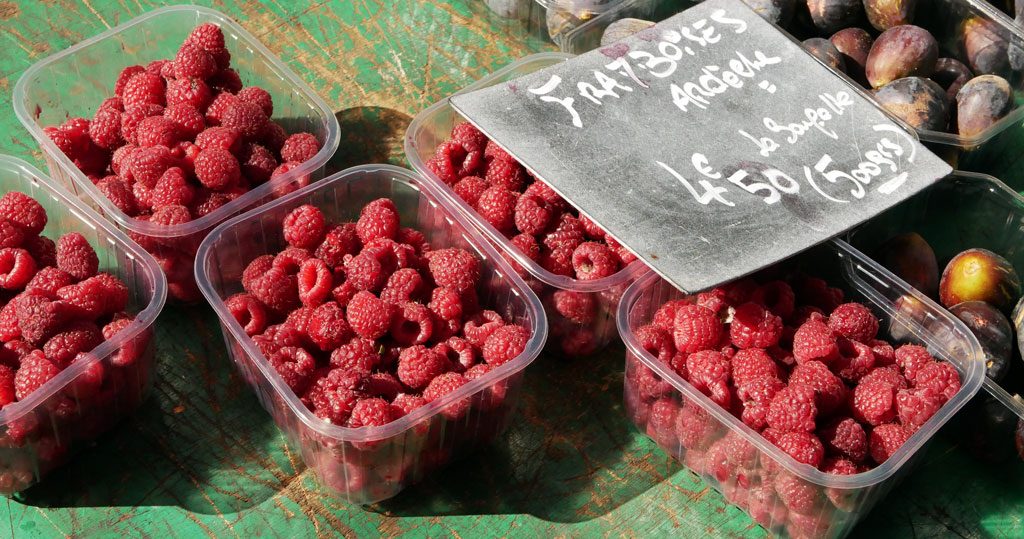 Farmer's market
Later that afternoon, we all went to a farmer's market back in Lauris. A small enchanted farmer's market with a humble café. The market operates as a collective that Yuval and Elisha participate in. Close by, there's a small green patch where they grow vegetables and right next to it, a small garden with a stream. There are wooden tables and chairs in the garden, and even one ping pong table.
At the entrance to the market we noticed an impressive woman who squeezed grapes on the spot (not an easy job). She sold fresh grape juice with a deep pink color and a flavor that reminds you of the fruit itself. We bought cheeses and buns infused with grape juice and them sat down comfortably in the garden to enjoy the new flavors. A perfect ending to a perfect day.
Avignon
The next day, Daniel and I visited some neighboring villages and cities. We started at Avignon, one of the largest cities in the area, with a love of theatre. We entered the indoor market Les Halles (with surprise cameos of a strolling narrator and an off-key, hilarious opera clown).
We bought a provençal tart, tart tatin, canelé and pistachio macaron and enjoyed a picnic by the water canal. We stopped for coffee at a vegan café and continued to the next village, Gordes. On our way there, we passed through vineyards, fields of apple trees and even a pumpkin field.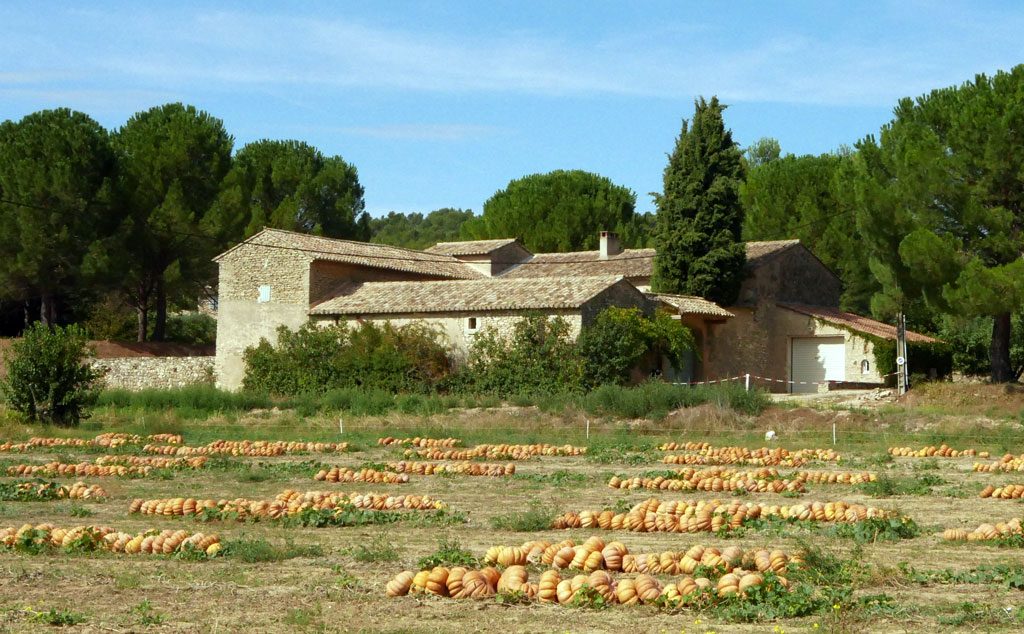 Gordes
Gordes is a tourist village on a mountain. Just before entering, we stopped to enjoy the breathtaking view of the village itself from a hill nearby. We reached the center, got ice cream and strolled the steep streets like good tourists. The village is beautiful, but the ice cream captured my heart. Le Petit Nans – Denis' ice cream – is one of a kind artisanal ice cream found only on that spot, with special flavors like lavender and cucumber.
It wasn't the only surprise in that little village. On our walk we stumbled upon a spot we could have easily missed. Le Fournil de Mamie Jeanne didn't look that impressive from the outside. We decided to take a peek inside anyway and discovered a warm little bakery.
They didn't have much on offer, but it was pretty hard to choose from what they did have. Pastry, cakes and tarts in every corner. We bought a chocolate and almond croissant and a very pink praliné tartlet. The croissant was excellent but the tartlet was heavenly and so crunchy!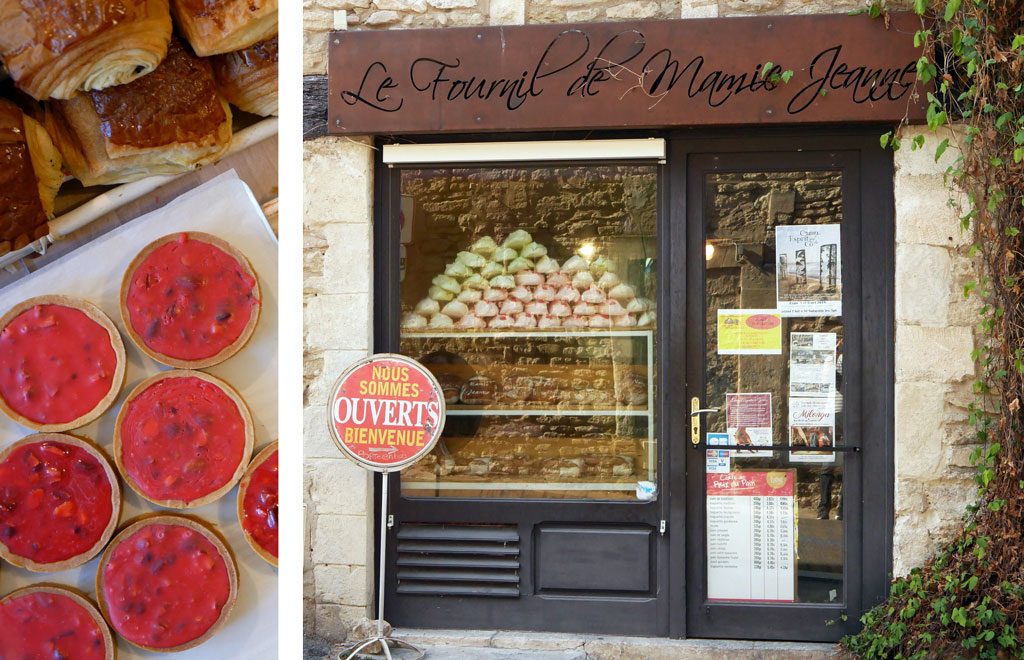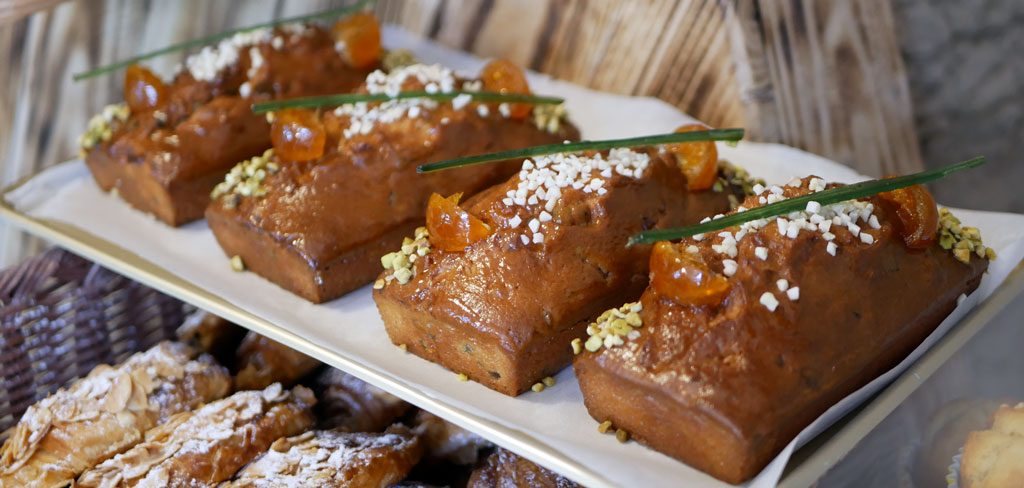 Roussillon
We drove to our last destination for the day, Roussillon. A village that looks like Bryce, Utah's national park in the US, with red rocks, orange houses and what looked like sumac trees. Roussillon and Gordes also are considered to be some of the most beautiful villages in France.
We came back home to Lauris content, just to find a homemade pizza in the oven and figs in a pot on the stove for fig jam. That Elisha, what a host. And me? I contributed by preparing the madeleine batter at home while the rest enjoyed a jazz concert tribute to the legendary Dalida that included an accordionist who hypnotized little Akko.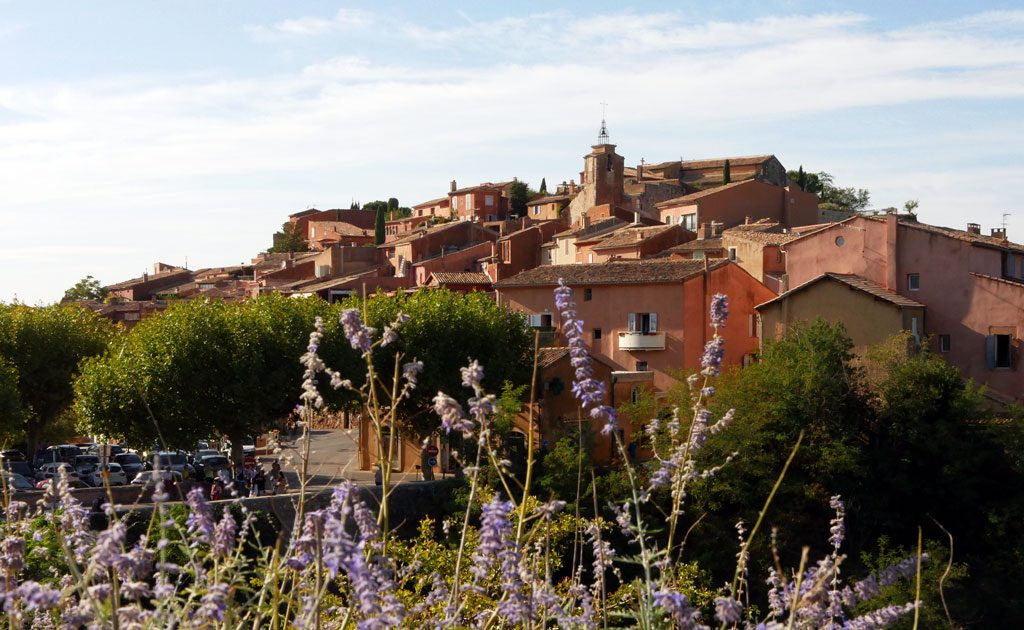 Aux Ateliers Chez Franck et Flo
Good morning. The weekend is here, and with it the smell of madeleines from the oven and the expectation of a spontaneous trip to southwest France with Elisha, Yuval and Akko. Before we started our journey, we headed to the famous brunch of Aux Ateliers Chez Franck et Flo. We reserved a table in advance — our friends insisted we not miss out on it.
Lucky we didn't. You eat as much as you can from an exquisite French cuisine. The food was amazing, the Comté cheese was out of this world, but what really hit me was the perfectly arranged dessert table. I started loading sweets on my plate while the waitress was still bringing them to the display table. I guess she's not used to people like me who start their breakfast with dessert.
So many baked goods! Baba au rum, raspberry tart, mini tropézienne, éclairs and macarons that would make any chef proud. This wonderful brunch happens only on weekends, and on Sundays there's even a concert that accompanies this culinary delight. The rest of the week the restaurant operates as a prestigious one-star Michelin restaurant.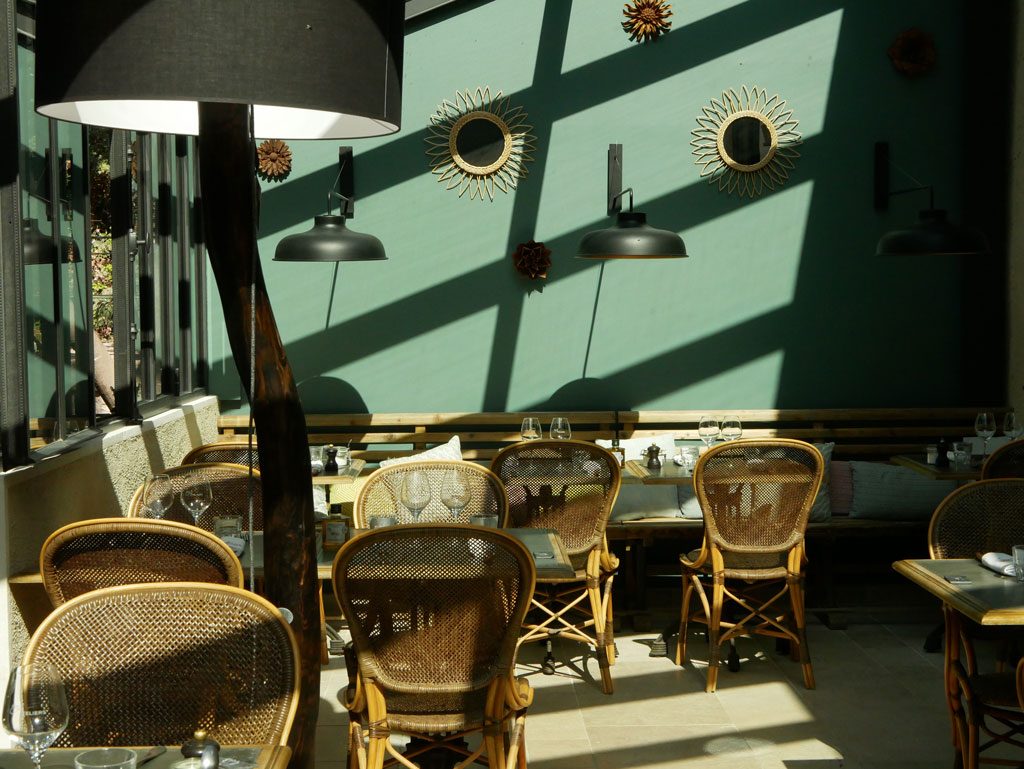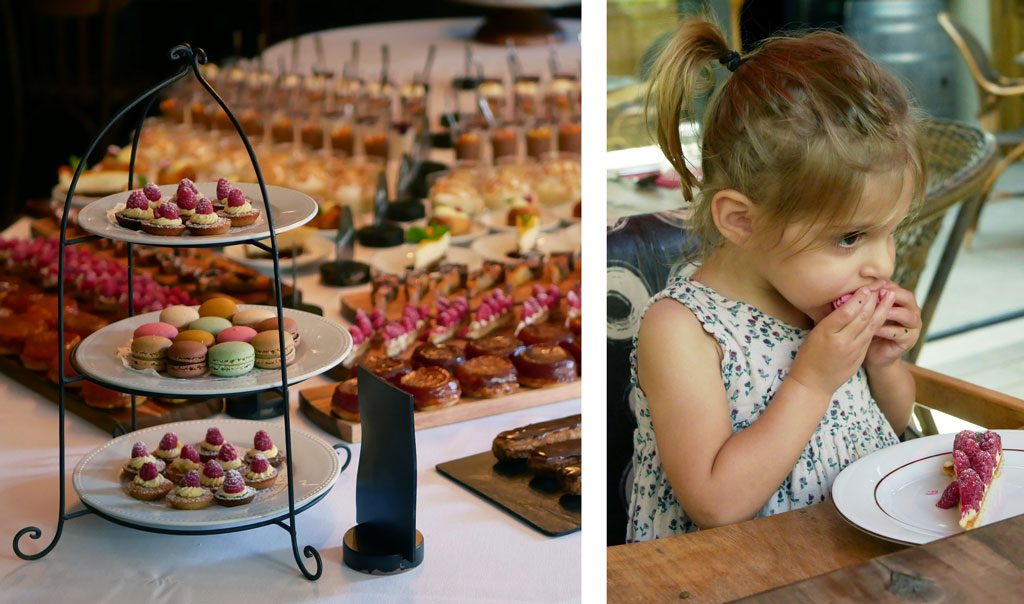 Carcassonne
Right after the endless brunch, we drove together to our first destination, Carcassonne. Goodbye Provence, hello Occitane. We abandoned the highway and drove through small villages. On our way we passed by a roundabout with a sign in the middle that read Savoir Vivre (know how to live). It served us as a motto for the rest of the trip.
We made a short stop at the Château Grand Moulin winery and tasted different kinds of wine while Celine Dion played in the background. We went on our merry way and reached our AirBnb in Carcassonne. An apartment with a big garden and an almost prefect view of the iconic castle of Carcassonne.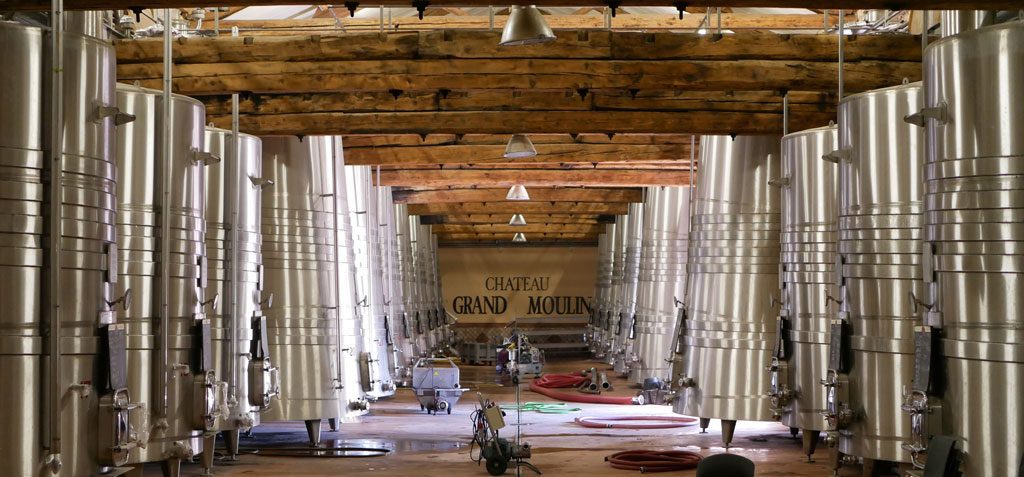 Yuval hastened us to take advantage of the last bit of daylight and go to the castle, a place he himself is discovering for the first time also, something that doesn't happen much. Travelling with Yuval is not only travelling with a good friend who is a tour guide, it's also travelling with a walking encyclopedia. He is full of information and always thirsty for more. Unfortunately, the inside of the castle was too touristy. Yuval said it best: the castle looks pretty from the outside, but it lost its heart.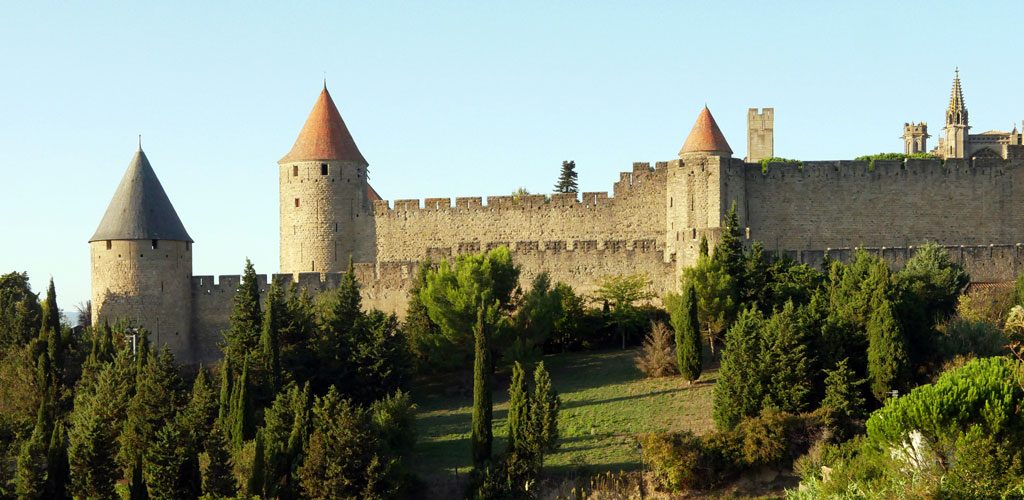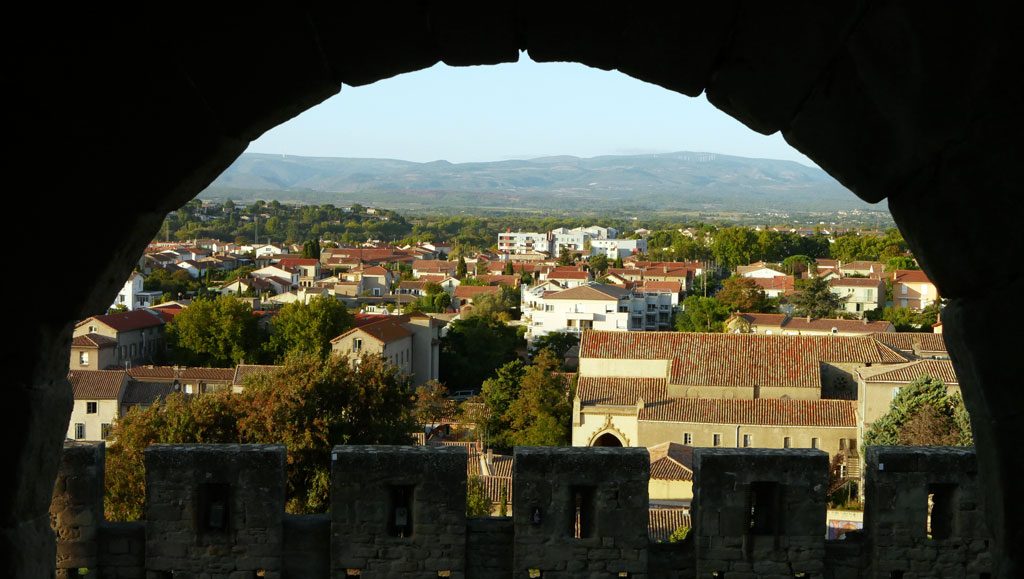 Rémi Touja
The next morning we woke up early and headed to Rémi Touja's pâtisserie shop at the city center. Wow. For a moment I felt like I was entering a boutique bakery in Paris. Rémi, the chef himself, worked behind the counter, wearing a white jacket and piping cream in profiteroles.
All around us we saw layered entremets cakes, creams and spreads, handmade chocolate tablets and baba in rum. You heard it right, not baba au rum, but a jar full of small baba cakes "preserved" in a lot of rum. There was also one in mojito, but I decided to get the classic one and give it as a gift to Yuval who shares my love of the drunken cake.
In addition to the baba, we ate Arabica, which is a coffee mousse with dark Madagascar chocolate, a lemon meringue tart and a cake named "Je Ne Sais Pas" – a dark chocolate mousse cake with cocoa biscuit and pears compote.
We took some pictures, ate our sweets and kept going till we found ourselves in the Geek Asia festival of Carcassone. People were dressed as their favorite comic characters. There were stands with rare geeky finds and shows for the eager audience (like Krav Maga). On our way back we passed through fields of men playing Pétanque, a boules sport common in southern France.
Toulouse
We traveled so far on our trip already, shouldn't we just go on a little west and visit Toulouse, the pink city? Of course we should. We made a spontaneous trip to Toulouse, located about an hour away from Carcassone.
We had an agenda in mind. We were searching for a cassoulet for Yuval to eat. We had a little walk, saw the big river and then hurried back to our restaurant.
Le Bibent is a Michelin recommended restaurant with cassoulet on the menu. As usual, I went right for the dessert. I ordered a belle Hélène – a locally-sourced pear covered in chocolate syrup and served with vanilla ice cream. It came with a wide smile from the waiter who probably knew how much I'd enjoy it.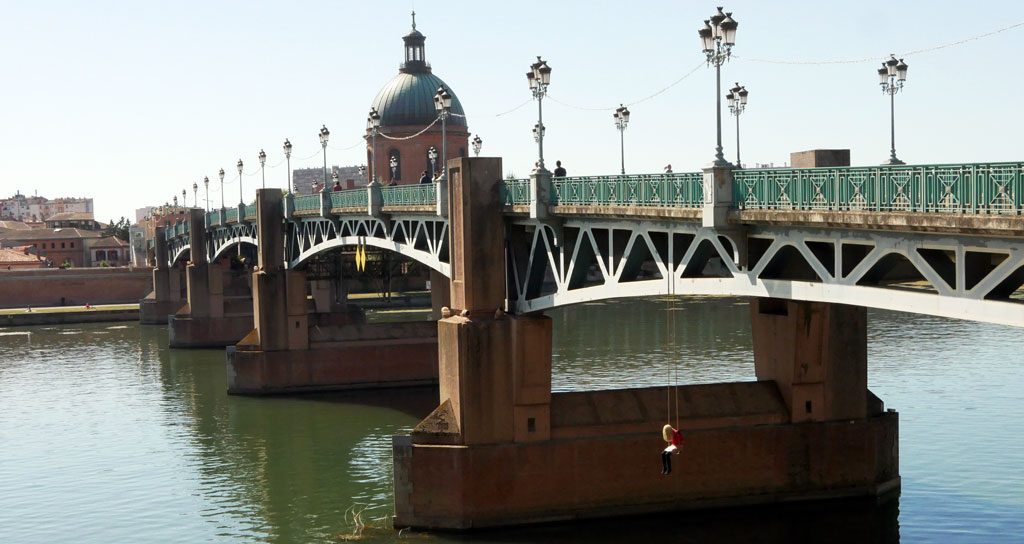 Tarascon-sur-Ariège
We faced a crossroads. Should we go back home to Lauris? Should we stay a night in Toulouse? Or Should we drive to Andorra (a tiny country between France and Spain)? Should we just drive and see where the wheels take us? Yes! We drove through green hills on a sunny day.
We were aiming for Ax-les-Thermes but then Yuval noticed a village on the side of the road with an old clock tower on a hill. We turned towards the enchanted village and got sucked into it. Tarascon-sur-Ariège – a French village with a Catalan identity. We ate dinner at a local restaurant. Yuval gobbled down escargot after escargot while I enjoyed a Chèvre pizza with goat cheese and honey.
We found ourselves a picturesque inn and slept one night in the village. We woke up to a homemade breakfast in the common room. Our host offered us homemade jams he himself made – peach jam, melon jam, zucchini jam and even black lentil jam that was very tasty and reminded me of halva.
I especially enjoyed the ancient macarons that his wife made, but for some odd reason the rest of the gang didn't like them so much. They said it reminded them of Passover cookies. Oh well.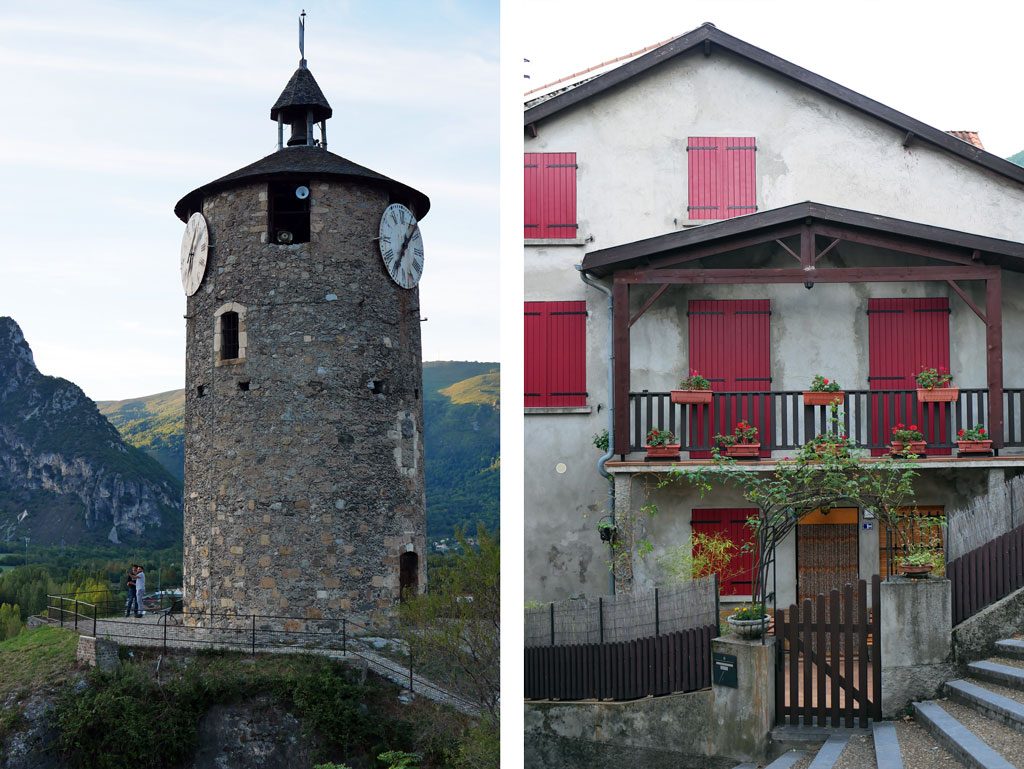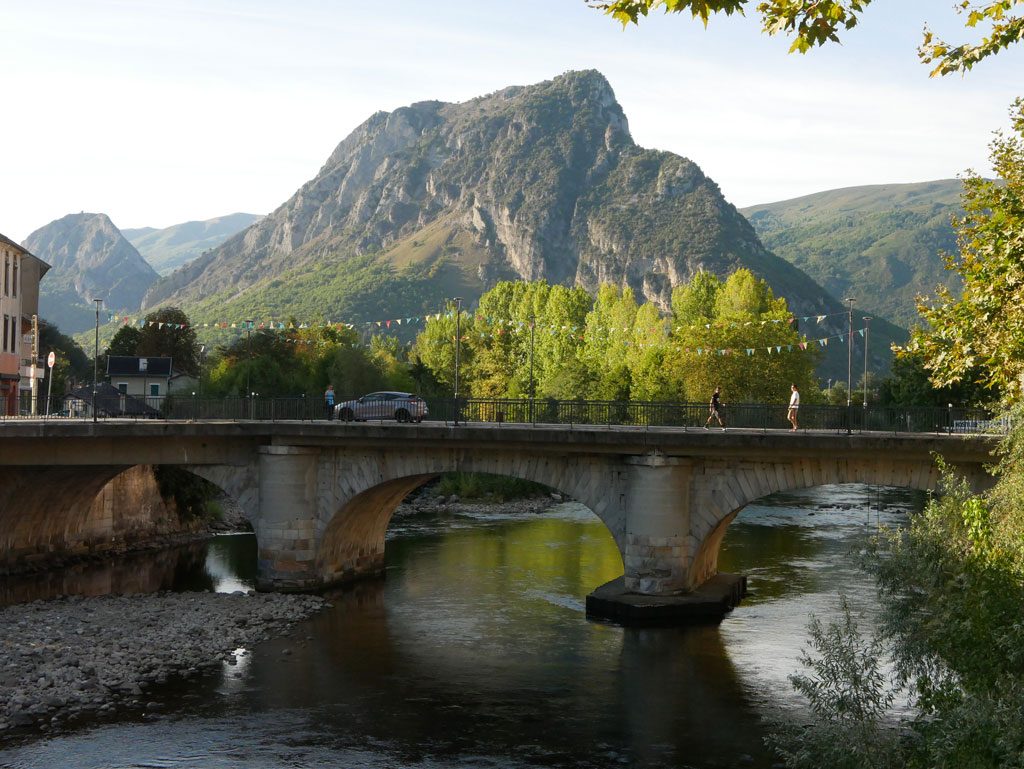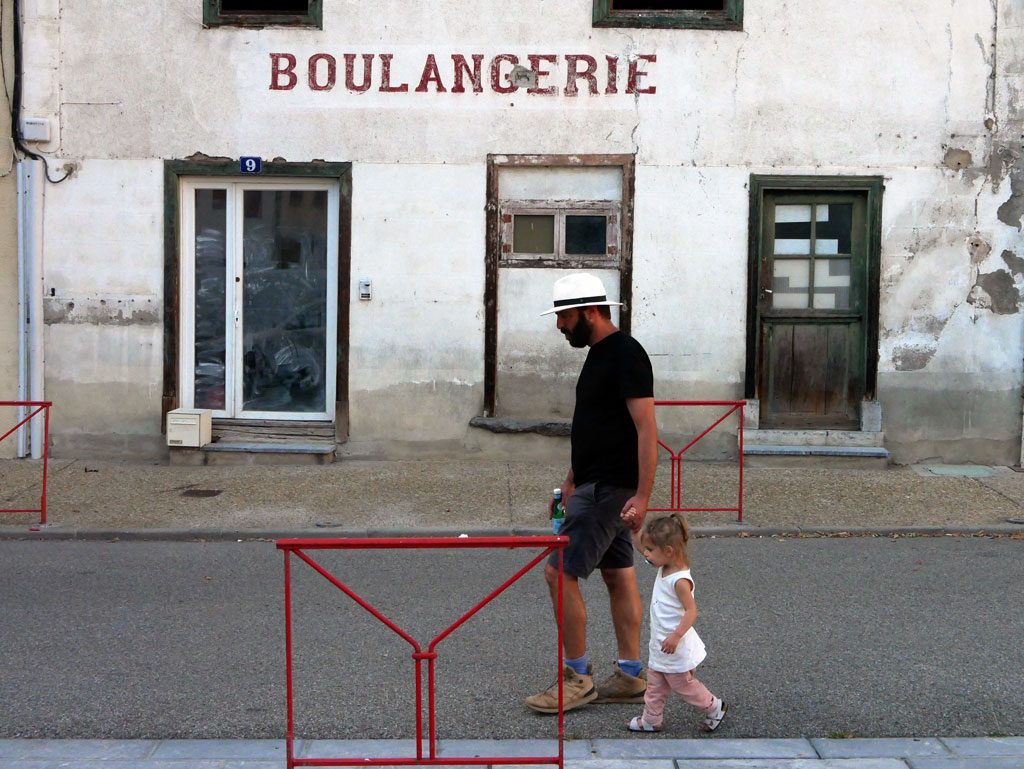 We left the inn and found ourselves in the middle of an agriculture fair. The market was impressive – fish, sheep, baked goods, mattresses, clothes, bells, shepherd sticks and in between, Jehovah's Witnesses stands.
A caravan was parked in the middle of all the fuss. It served as a coffee shop. When we approached, immediately all the old people around it recommended the hot chocolate. The cute Austrian barista, who learned the trade from her husband, made me a cappuccino with hot chocolate that was exactly what I needed after a warm breakfast.

Back home to Lauris
We drove up a mountain to a remote village, then started our journey back home to Lauris with a sweet taste in our mouths. The time had come to end our trip in southern France. I bid our dear friends goodbye and boarded a plane to Madrid.
It was such a cheap flight, I couldn't pass up a few more days in a new city. I got some good advice from Yuval and discovered a lively, thrilling city. But that's a story for another day.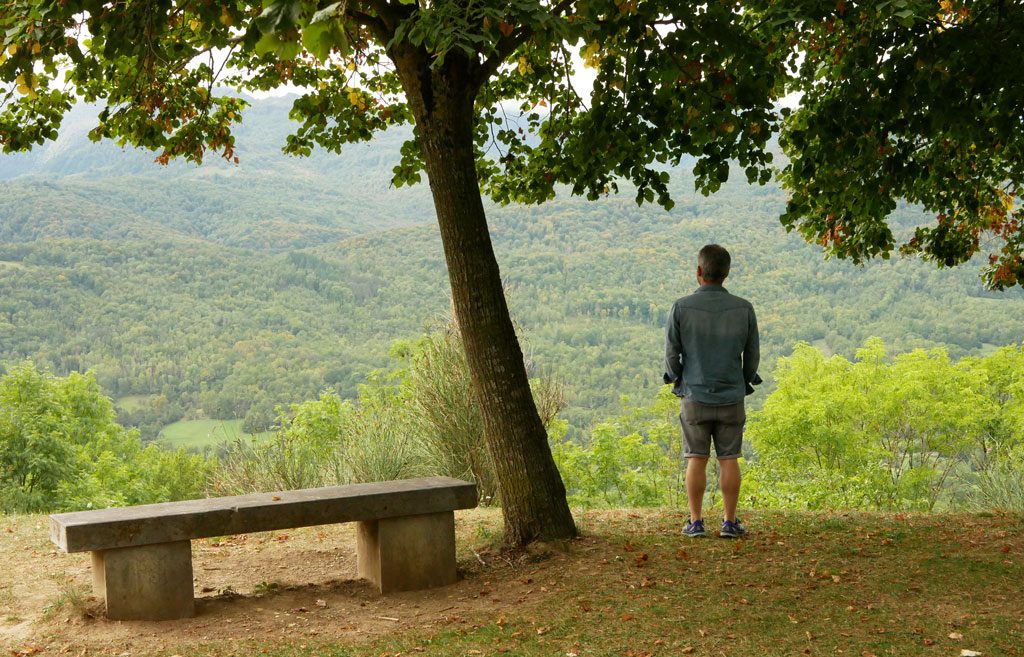 ---
Raspberry Madeleines
---
I was introduced to madeleines during my pastry studies at Bishulim. They were classic madeleines, soft and tasty, covered in lemon glaze. My plan was to make madeleines in France, in a foreign kitchen, with unfamiliar tools. To play it safe, I used the school's recipe which I already know and love, with the addition of raspberry.
I wanted to cover the madeleines with a lemon-lime glaze, but my friends were so pressed to head out to the awesome brunch of Franck and Flo that I had to skip it. Maybe better so. Christophe's great madeleines in Aix are sold as they are, with no glaze or any special addition. Furthermore, madeleines are best right after taking them out of the oven, freshly baked.
---
Ingredients
200 g butter
200 g eggs
170 g sugar
10 g honey
180 g all-purpose flour
5 g baking powder
1 g salt (¼ tsp)
Zest from 1 lemon
150 g fresh raspberries
Equipment
Madeleine pan
Pastry bag
---
The recipe makes 30 madeleines
---
Melt the butter on low-medium flame, but not completely (the butter should stay a little white). Let cool to room temperature before use.
Rinse the raspberries well. Using a sharp knife, cut the raspberries into halves or even quarters. Keep aside.
Put eggs, honey and sugar in a bowl and whisk well (mix without whipping). Sift flour and baking powder into a separate bowl. Add salt, lemon zest and mix. Gradually transfer the flour mixture into the egg mixture and mix well.
Make sure the melted butter is at room temperature. Add a quarter of the batter to the melted butter. Using a whisk, mix until uniform. Pour it back into the batter and mix well. Gently fold the raspberry pieces into the batter.
Fill a pastry bag with the batter and close the top tightly. Keep in the fridge for a night.
The next day, preheat the oven to 170 ᵒC / 340 ᵒF. Prepare the pan for baking by lightly buttering the sockets. Remove the batter from the fridge and cut a wide hole at the edge of the pastry bag.
Pipe a wide stripe in each socket in the pan (in theory, the socket should be filled up to ¾ of its height). Place the pan in the oven and immediately lower the temperature to 160 ᵒC / 320 ᵒF. Bake for about 10-12 minutes until the edges brown.
Tip: To get that typical madeleine belly, when the madeleines are already baked around the edges but not in the middle, open the oven door for a second and close it immediately.
Let the madeleines cool a little and serve them right away. Alternatively, bake the madeleines close to serving time. Madeleines are at their best when just out of the oven.
Yum

Tags In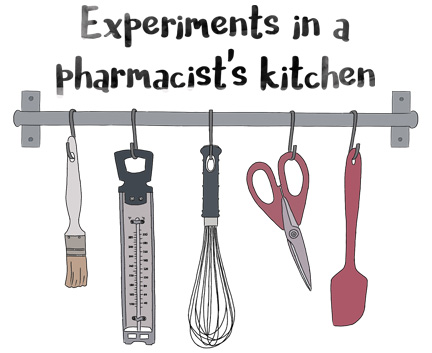 Search the blog

Get updates by email