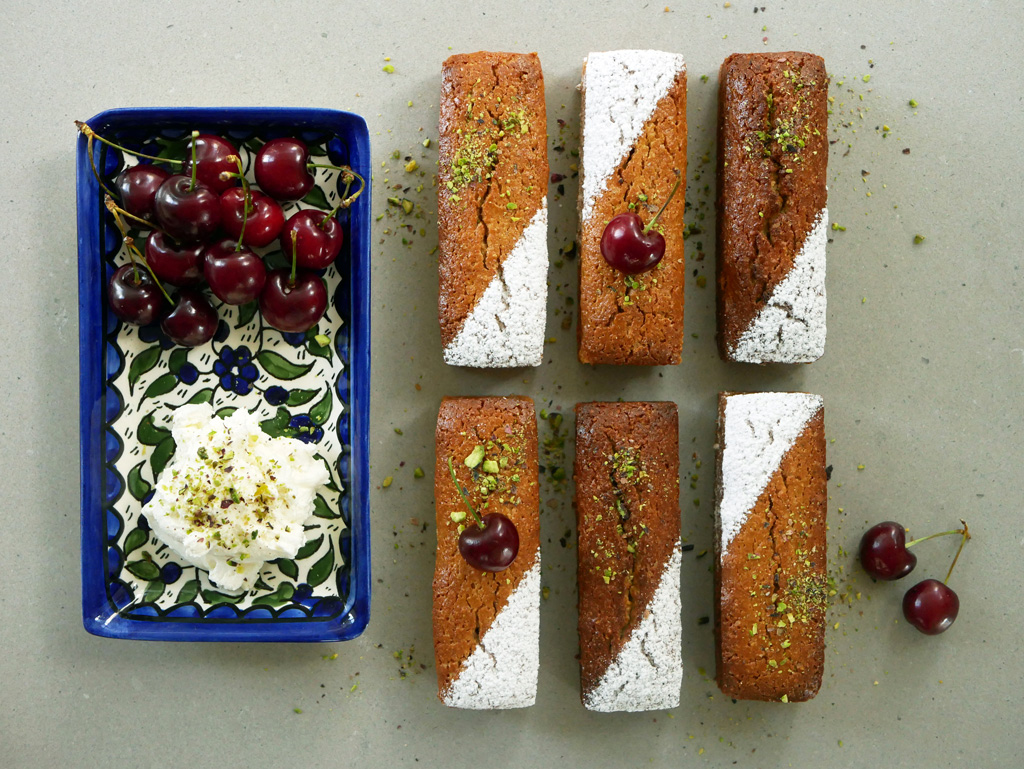 Persian Love Cake
Not long ago, I traveled to the US and came back with a lot of baking cookbooks, as usual after a trip abroad. Three of the cookbooks I acquired are full of gluten free recipes – vegan too. I looked for an interesting recipe to try, but the list of ingredients was too complicated.
Then I started flipping through Yotam Ottolenghi & Helen Go's Sweet, and found a few gluten free recipes fit to my taste. One recipe looked especially inviting, full of Persian love, whatever that may be.
Ottolenghi needs no introduction. This appraised Israeli chef's cookbooks decorate the shelves of most bookstores I visit during every trip abroad. And why shouldn't they be? They're beautiful. When I discovered his sweets book, I just had to add it to my collection.
I made this recipe and got a juicy gluten free cake that could be the star of every baking cookbook — gluten free or not. The recipe is pretty simple and the list of ingredients isn't scary at all.
Well, apart from the mahleb, which scared Daniel a little. "Where will you find that?" he asked. Simple. "Mom!" I called. "Can you please put 2 tablespoons of mahleb in a small bag to take back home?" A minute later, I had mahleb in my bag ready to go. Thanks mom!
Mahleb is a spice made from grinding the seed of mahleb trees, a type of cherry tree.  My mom uses it especially in Caek el Eid – holiday cookies – so she always has some in her spice cabinet. In any case, you can substitute mahleb with almond extract.
…
I must admit, the first bite was a little weird. The cake is strongly spiced and leaves no doubt that it's a cake for adults only. So I tried another bite, and then another, and then maybe another one, until it was all gone. Although it's different from the cakes I'm used to, I found it delicious, especially after adding mascarpone, cherries and a bit of pistachios on top.
Oh, and the recipe calls for light brown sugar and demerara sugar. In my kitchen cabinet I have light brown sugar which is also demerara sugar. Maybe I was meant to use dark brown sugar or maybe light brown sugar that is finer that the demerara. I wasn't sure what the chef meant exactly, so I used demerara sugar only. I don't think it makes a big difference.
Also, I used rectangular rings instead of a rectangular silicone financier mold , as suggested in the book. From a recipe that makes 12 small Persian love cakes, I got 6 bigger cakes that you can happily share with your Persian loved ones, if they exist.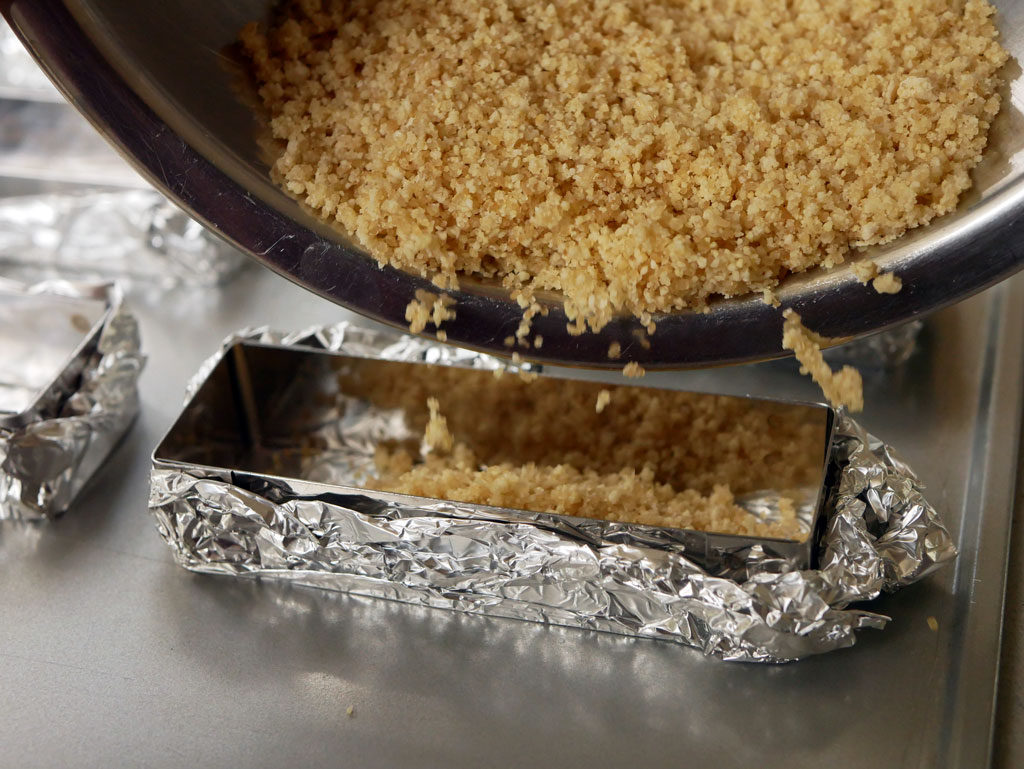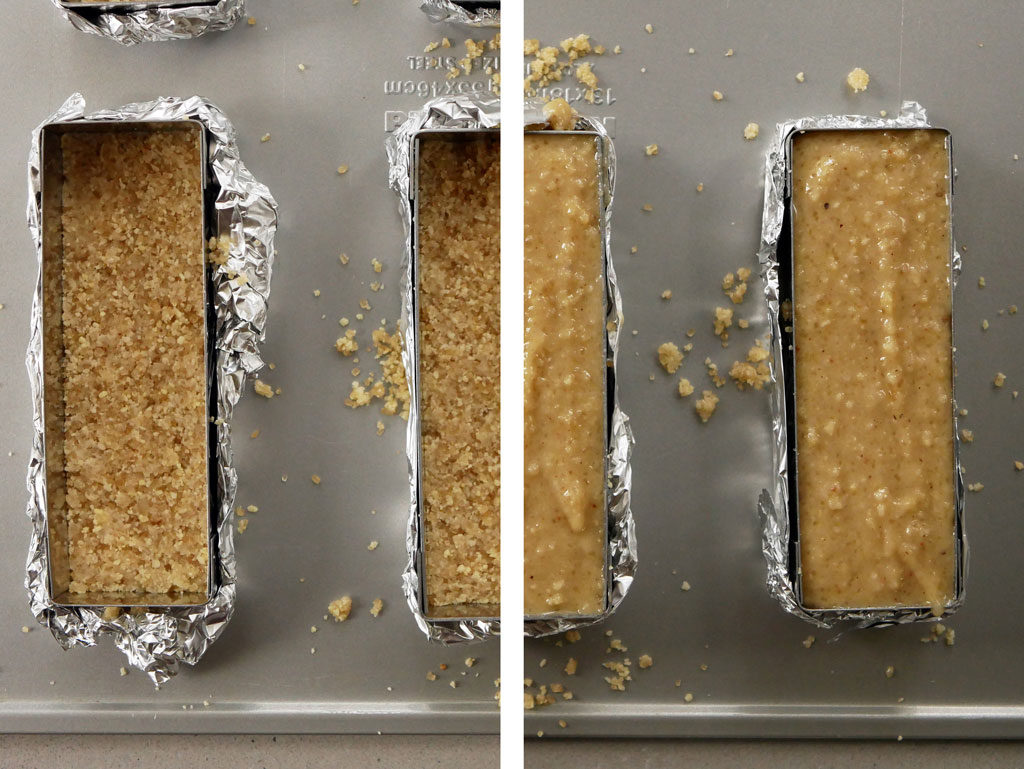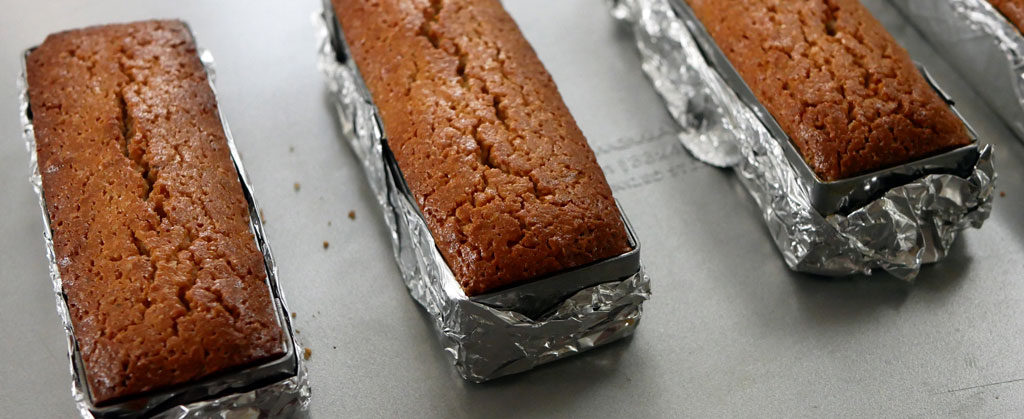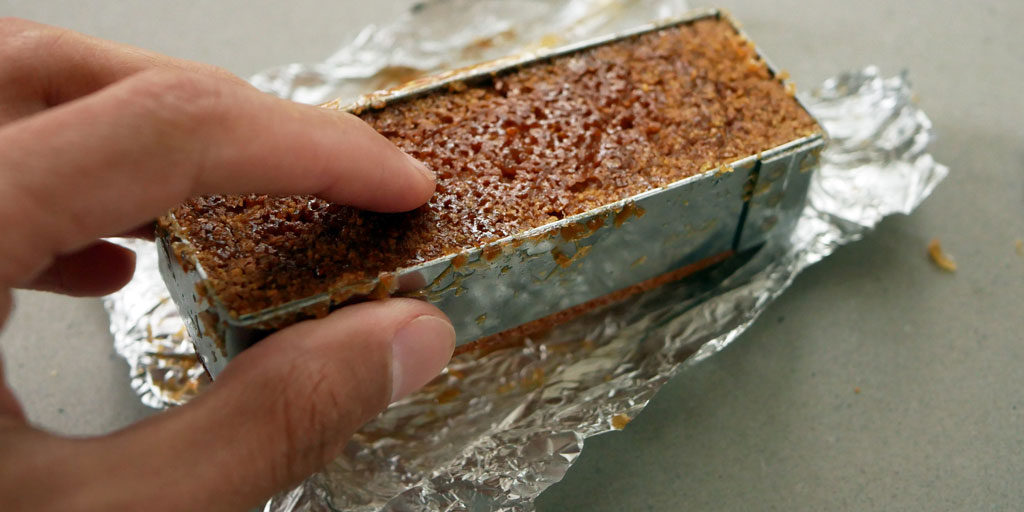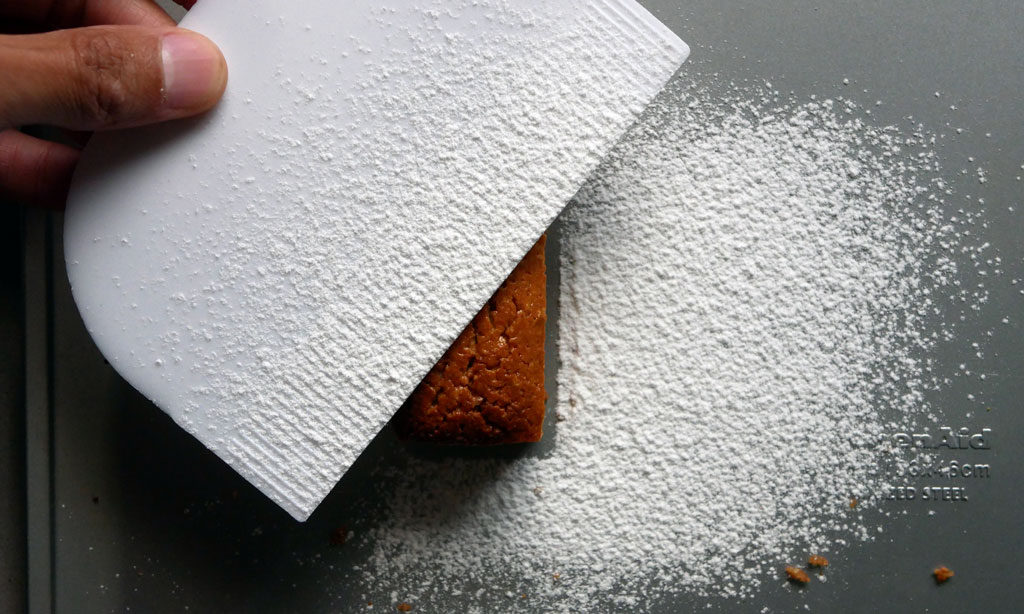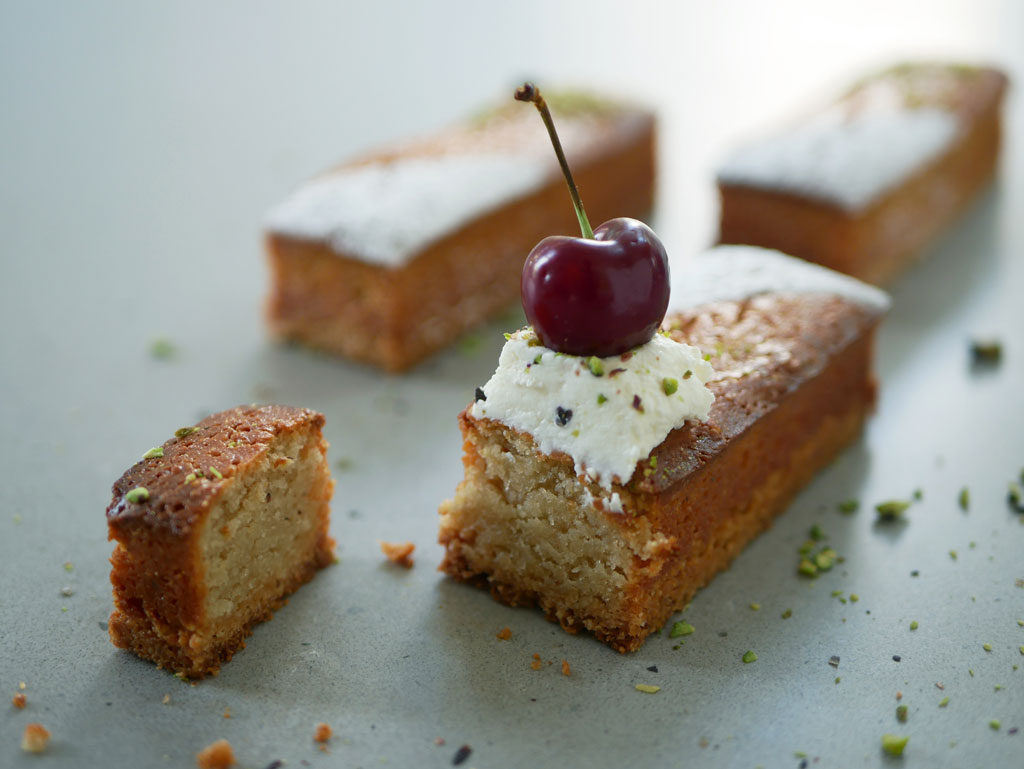 ---
Ingredients
---
Cakes
240 g almond meal
270 g demerara brown sugar
50 g buckwheat flour
80 g cold butter (cut into cubes)
¾ tsp salt
160 g Greek yogurt
90 g eggs
1 tbsp mahleb (or ¼ tsp almond extract)
¾ tsp nutmeg
Serving
60 g mascarpone
Some chopped pistachios
Cherries/pomegranates (optional)
A bit of powdered sugar
Equipment
Aluminum foil
6 baking rings, 4×12 cm big and 2.5 cm tall (or a rectangular silicone financier mold )
---
The recipe makes 6 cakes full of Persian love
---
Cakes
Lightly butter the inner side of the baking rings for easy release of the cake after baking. Place each ring on a piece of aluminum foil. Fold and fasten the foil around the sides of the ring. Place the rings on a baking sheet and keep aside. Preheat the oven to 180 ºC (355 ºF).
Put almond meal, brown sugar, buckwheat flour, salt and butter cubes into a food processor. Mix in short pulses just until the mixture resembles breadcrumbs. Transfer 2/3 of the mixture into a big bowl and add yogurt, mahleb, nutmeg and eggs. Mix until uniform and keep aside.
Pad the base of each ring with the remaining third of the crumb mixture and tighten well with a spoon or clean fingers. The base layer should fill about 1/4 of the ring height.
Fill each ring with the yogurt mixture to the top. Flatten the surface using an offset spatula. Place the baking sheet in the oven and bake for about 35 minutes, until the cakes brown. Stick a toothpick in the center of a cake to check if it's ready. The toothpick should come out almost dry. (Turn around the baking sheet in the middle of baking for an even bake).
Let the cakes cool for about half an hour at room temperature before removing from the rings. Getting them out could be a little tricky. Turn the cake over and gently push it out from the bottom, using equal pressure on the entire surface. The cakes might look uncooked inside, that's fine. It's part of the charm.
Serving
Place a card or a piece of paper diagonally on each cake and sprinkle powdered sugar on top. Serve with a spoon of mascarpone on top or beside the cake, with a bit of chopped pistachios and cherries (or pomegranates).
Persian love cake is at its best the day after baking. You may eat it warm right out of the oven or keep in an airtight container and eat it the day after. The cake doesn't keep longer because the texture becomes too chewy.

Tags In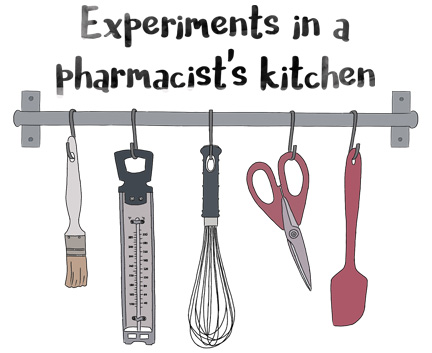 Search the blog

Get updates by email