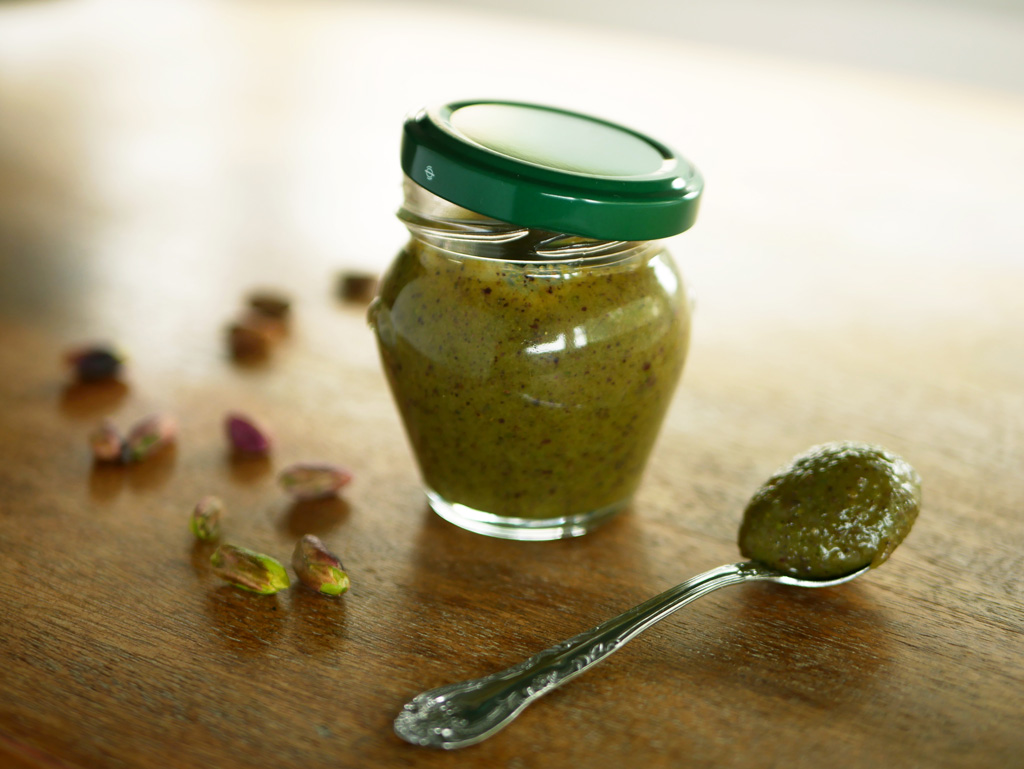 Pistachio Spread
When I traveled to Sicily this summer, I came back home with four jars of pistachio spread made by the residents of Bronte. The city takes pride in its green pistachios and every shop, bakery or café is proud of its own homemade pistachio spread. It wasn't easy to choose which spread I should take back to the family. There were so many to choose from; smooth and creamy spreads that reminded me of Nutella, more textured spreads that contained tiny chunks of pistachios, milk based spreads,olive oil based spreads and so on…
For this post (which I'm writing as preparation for a future post) I combined the flavors and textures that I liked the most. That's how I came upon this nutty pistachio spread based on white chocolate. You can feel the texture of the pistachios and the subtle taste of white chocolate in every bite. I poured the spread in one of the jars I came back with from Sicily. A glass jar with a green lid that reminds me of Bronte and her sweet pistachio madness.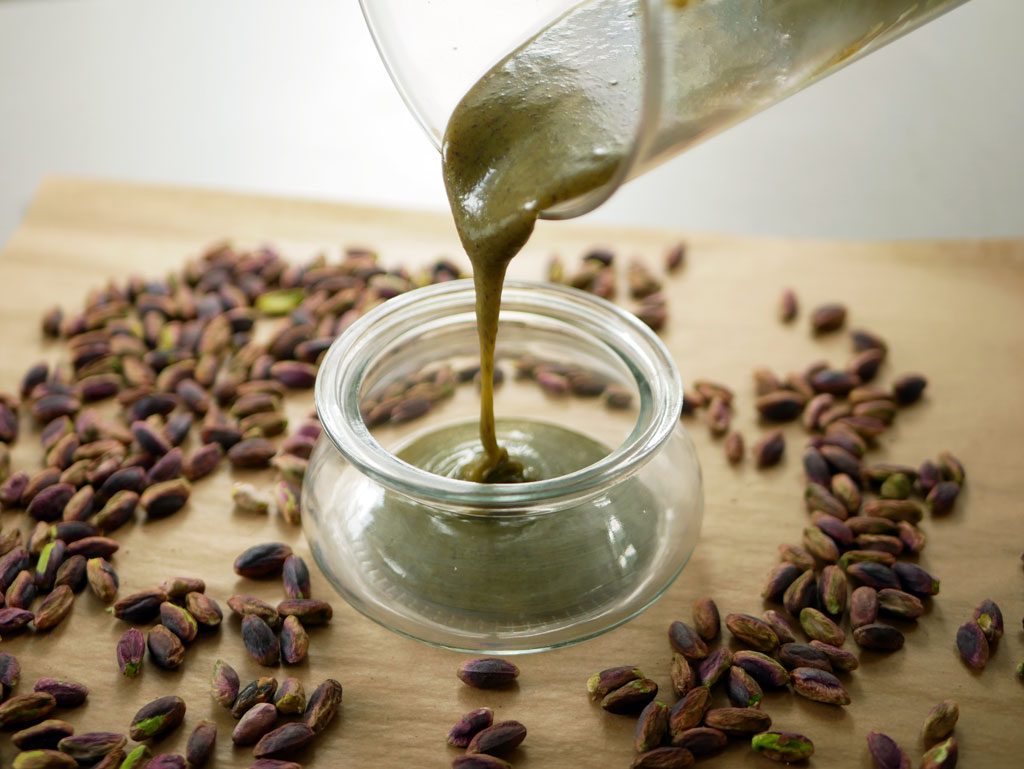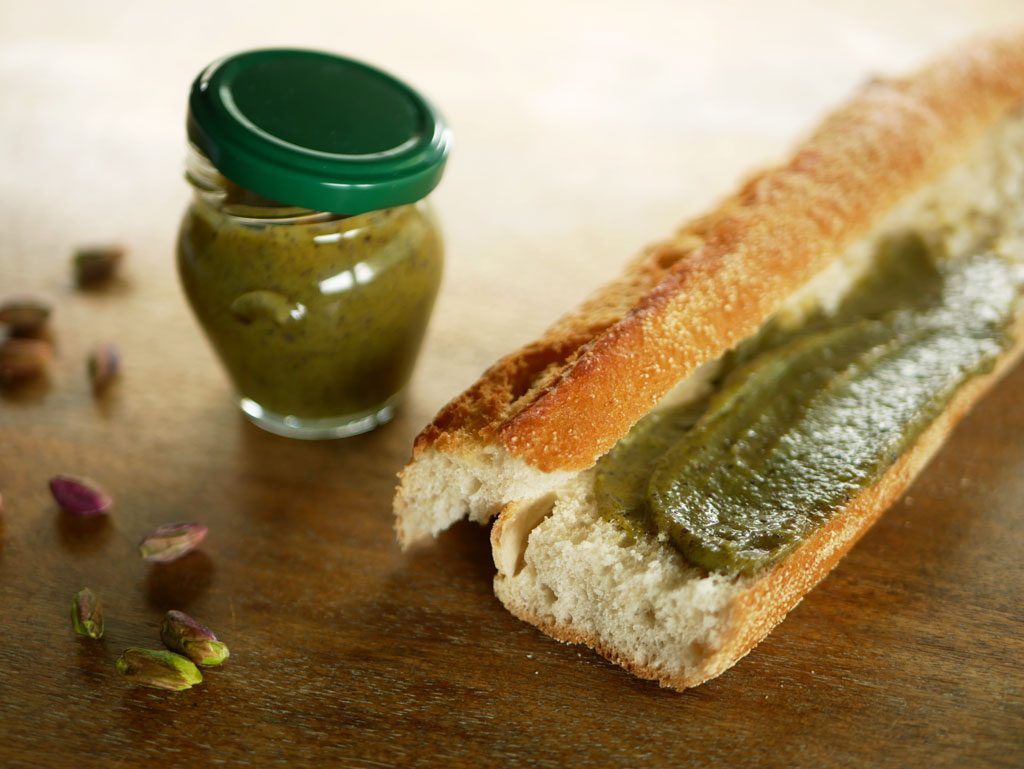 ---
Ingredients
---
120 g shelled pistachios
60 g sugar
170 g heavy cream
100 g white chocolate
25 g honey

---
Preheat the oven to 160 °C (320 ºF). Scatter the pistachios on a baking tray and roast them in the oven for about 7 minutes until they brown a bit.
After the pistachios have cooled, put them in a food processor (preferably a small one for better grinding). Add sugar and grind them to a powder, or even a paste (scrape the sides occasionally). Transfer the powder into a measuring pitcher.
Add white chocolate and honey to the pistachio powder. Bring heavy cream to a boil and add to the measuring beaker. Allow it to stand for half a minute and then mix with a spatula. Use a hand blender until the texture is smooth. Transfer the mixture to a glass jar.
Let the mixture cool a little before closing the lid. Basically, it's recommended to clean the jar in hot water and then dry it thoroughly before filling it with the spread. This helps extend the shelf life of the spread.
The pistachio spread will be a little runny at first. Don't worry about it. It will set after a few hours at room temperature and will become spreadable on bread or even better, a baguette. The pistachio spread can be kept for a few days at room temperature or for a week or two in the fridge.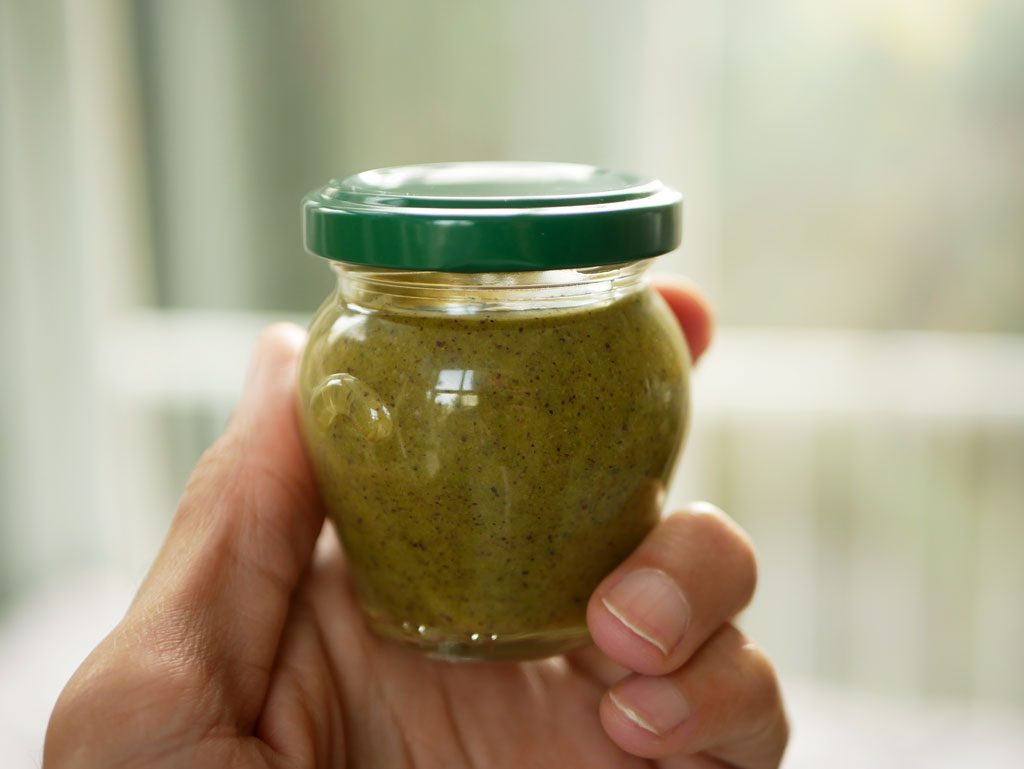 Yum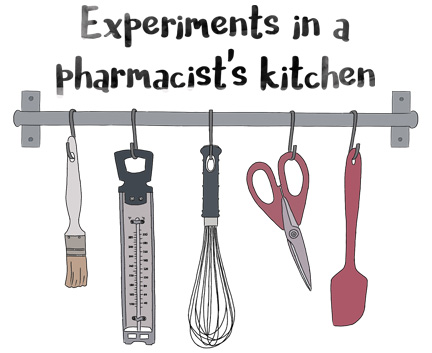 Search the blog

Get updates by email