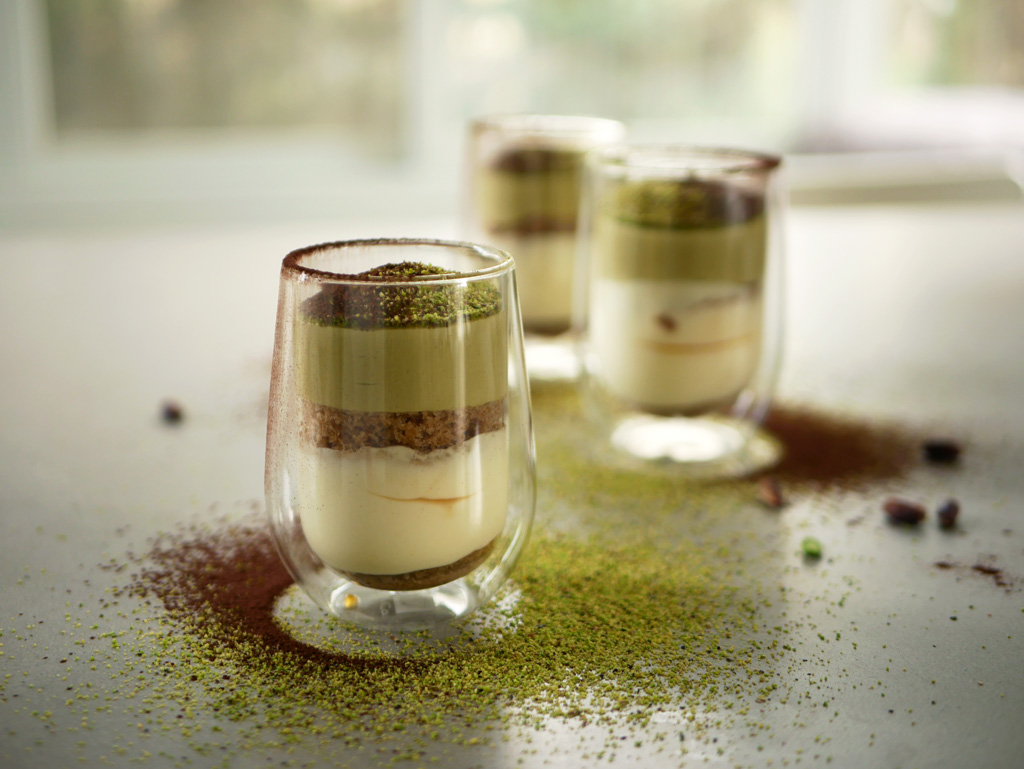 Pistachio Tiramisu
Last summer (can't believe it's winter already) I traveled to Sicily and came back home with one goal in mind: to recreate all the greenish desserts I enjoyed during my trip. I did not schlep back 4 kilos of the finest pistachios in the world for nothing. Toward the end of the trip, after a day of wandering through the alleyways of the city of Syracuse, I decided to give up dinner and just dive right into a cup of pistachio and ricotta tiramisu. I found paradise in a small cup.
A few days ago, my friend, annoying Oren, came to visit. Why annoying? The guy is insanely talented, but he doesn't use any social media to show off his culinary abilities. Maybe that's what true love for baking really looks like. He's self-taught, bakes every day in his own kitchen and sells his baked goods to people in his community. He bakes with his intuition and doesn't care much about timing. He sees and feels when the cream is done, or when the cake is fully baked. What a wonder boy.
Oren came to my house and even brought a homemade peanut butter and jelly cake (yum!). We prepared tiramisu together using one of his recipes. He insisted we should make the classic tiramisu, and I wanted a pistachio version. We finally compromised toward the end: I sprinkled pistachio powder on half of the tiramisu, and he sprinkled cocoa powder on the other half. To make pistachio tiramisu, we added pistachio paste that I bought from Sicily to half of the mascarpone cream.
A NOTE:
The mascarpone cheese must be at room temperature before mixing it with the zabaione. Also, the tiramisu needs to sit a night in the fridge for the taste to mature, so you must prepare it in advance and wait patiently. The recipe is enough for 5 cups of about 250 ml. You can prepare it in smaller cups for a larger amount.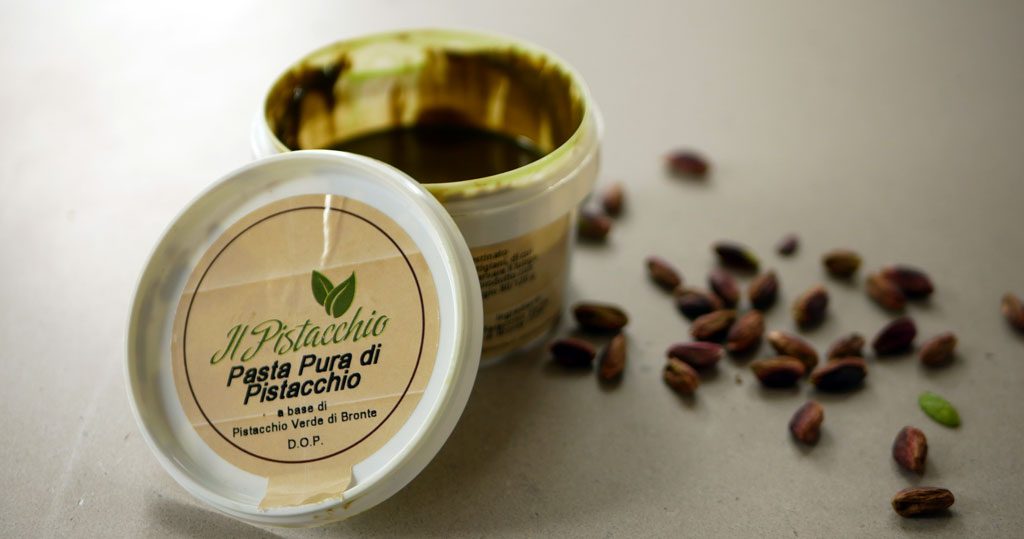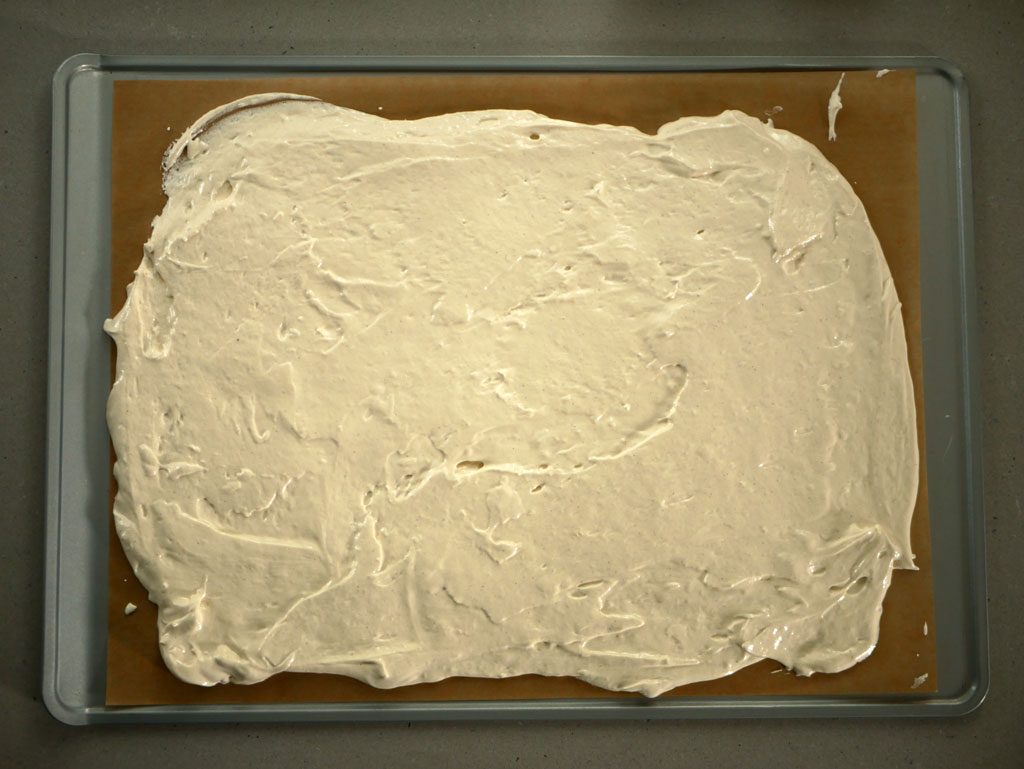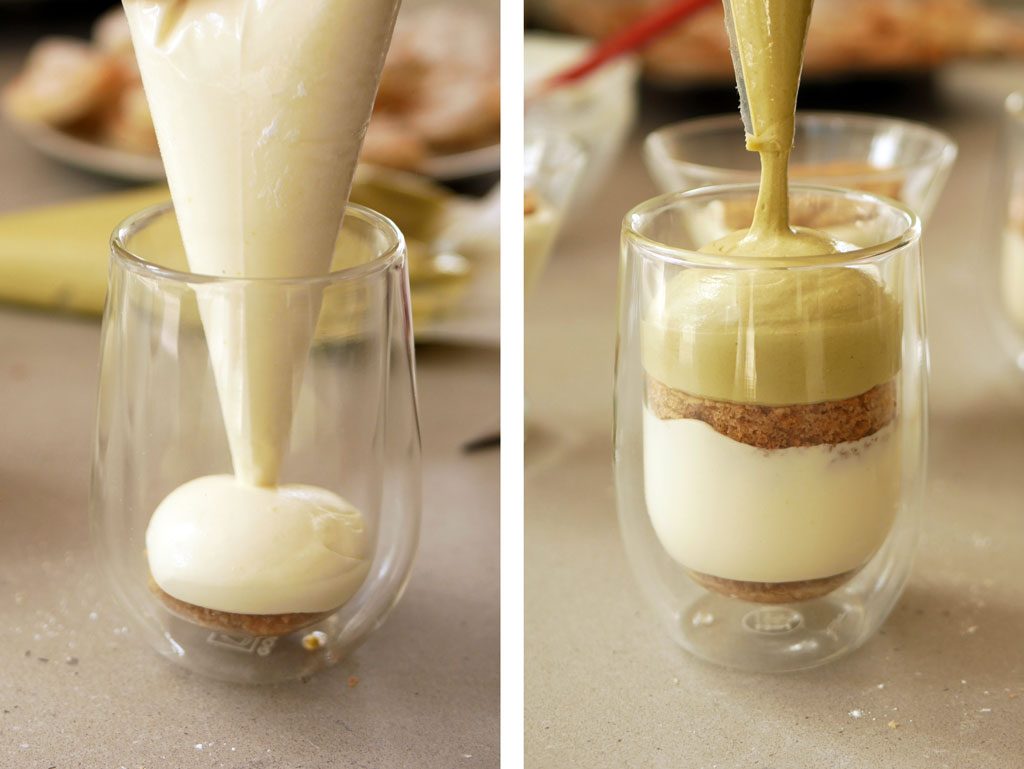 ---
Ingredients
---
Biscotti
4 egg whites (M)
160 g sugar
4 egg yolks (M)
1 tsp vanilla paste
¼ tsp cinnamon
¼ tsp salt
160 g flour
Coffee syrup
200 ml espresso (two lungos)
100 g sugar
Mascarpone/ pistachio cream
4 egg yolks (M)
60 g sugar
Pinch of salt
50 g Marsala wine or brandy (or half-half)
250 g mascarpone cheese at room temperature
200 g heavy cream
50 g pistachio paste
Decoration
20 g pistachios
20 g cocoa powder
Equipment
Thermometer
Round cookie cutters
5 cups of about 250 ml
Pastry bags
---
Biscotti
Put egg whites and sugar in a stainless steel bowl. Heat on a double boiler while whisking all along until you get to a temperature of 50 °C (120 °F). Transfer the mixture into the mixer bowl. Whip on medium-high speed, about 10 minutes, until the mixture is pale and thick, firm but supple (ribbon stage). Preheat the oven to 180 °C (350 °F).
In the meantime, mix egg yolks, vanilla, cinnamon and salt in a separate bowl. Add the egg white mixture to the egg yolk mixture and whisk them together. Fold in flour using a whisk just until uniform.
Line a baking sheet with parchment paper. Pour the batter in the center of the baking sheet. Using a large spatula, spread the batter all over the sheet to a thickness of about 1 cm. Tap the bottom of the baking sheet to release air bubbles and place in the oven.
Bake for about 10 minutes, until slightly golden. Remove from the oven and let it cool for a minute or two. Using cookie cutters, cut out close circles according to the size of the cups. (You may sprinkle a bit of powdered sugar over the biscotti for a smooth, less sticky cut). Lower the oven temperature to 140 °C (285 °F). Return the biscotti back to the oven and bake for about 15 minutes more until browned and dry. Cool at room temperature. Release the round pieces of biscotti and keep aside.
Coffee syrup
Prepare a long espresso (If you got a Nespresso machine, prepare two lungos). Pour the espresso into a bowl. Add sugar and stir until dissolved. Cool at room temperature.
Mascarpone / pistachio cream
Zabaione:
Put egg yolks, sugar, salt and wine/brandy in a stainless steel bowl. Mix well. Heat on a double boiler (medium heat) while whisking all along to dissolve the sugar and to thicken the mixture. Once the temperature reaches 60 °C (140 °F), lower the flame and keep whisking for about 6 to 10 minutes till the mixture is thick and pale.
This will also pasteurize the eggs along the way. Make sure that the temperature doesn't go above 75°C (165°F) while heating (I just turn the flame on and off accordingly and keep the temperature between 60 °C /140 °F to 75°C /165°F). Remove from heat.
Add mascarpone to the zabaione and mix until uniform. Divide the mixture evenly into 2 bowls. Add pistachio paste to one of the bowls and mix well. If needed, let it cool slightly. (The temperature should drop to 35 °C / 95 °F before adding the heavy cream).
Whip the heavy cream until soft peaks (be careful not to over whip). Add half of the whipped cream to the white mixture. Add the other half of the cream to the green mixture. Fold each mixture separately. Fill two pastry bags with each mixture.
Putting it all together!
Prepare the cups. Dip a biscotti in the coffee syrup for a few seconds on each side. Let the excess coffee drizzle back into the bowl. Place a soaked biscotti in the bottom of each cup.
Pipe the white cream in each cup to about a third of its height. Dip a biscotti in the coffee syrup. Place the soaked biscotti on top of the white cream. Push it down just a bit. Pipe the green cream in each cup almost to the end.
In a food processor, ground the pistachios to a powder. Using a sieve, sprinkle pistachio powder over each tiramisu cup. To complete the dessert, sprinkle cocoa powder over half of each cup. (If you decide to sprinkle cocoa powder only, make sure you do it just before serving and not before). Cover each cup with plastic wrap. Keep in the fridge for a whole night before you gobble it down. The tiramisu stays fresh for up to two-three days.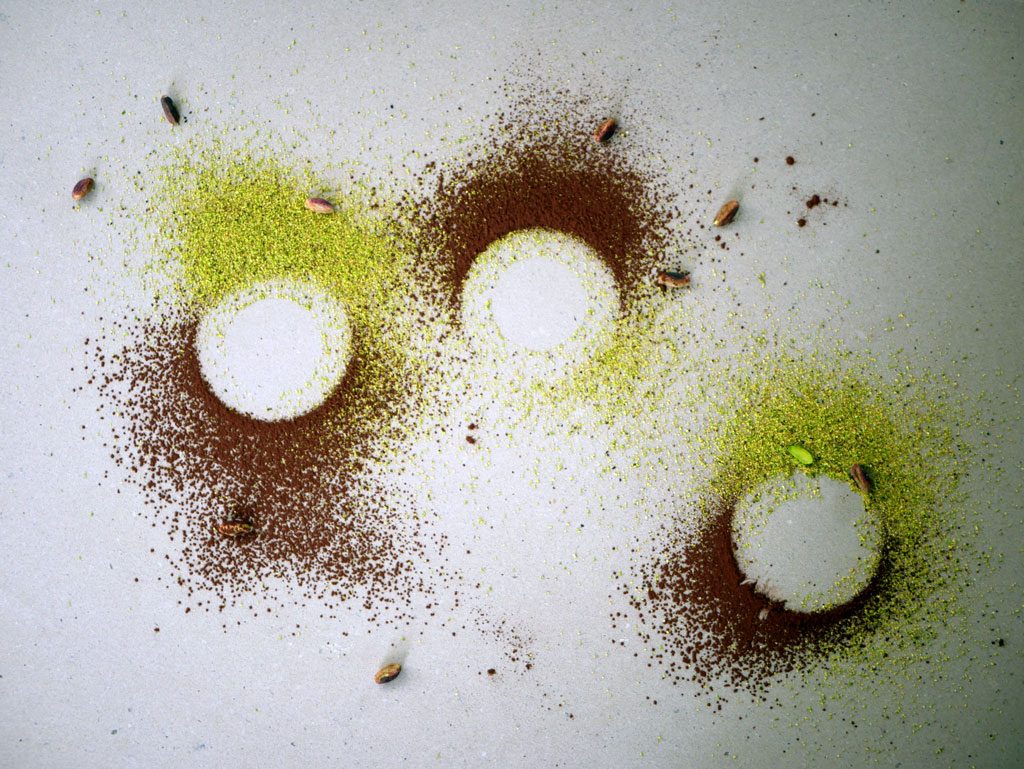 Tags In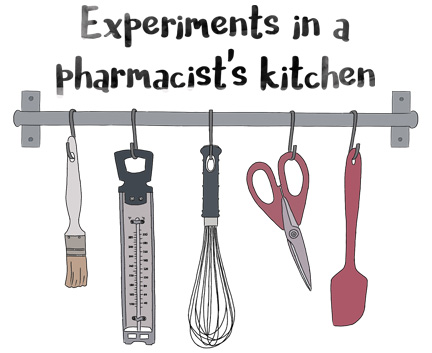 Search the blog

Get updates by email