Pumpkin Cream Cheese Muffins
In the center of Jerusalem, down Ben Yehuda Street, there's a small coffee shop called "Muffin Boutique". Every time I walk in there I feel as if I have crossed continents and entered an Anglo-Saxon café, and not just because everyone is talking mostly in English over there.
Indeed, the owners are a couple from Montreal, Canada, who immigrated to Israel in the 90s and opened their boutique only a few years ago.
The coffee shop specializes in healthy muffins without compromising on taste. They also make these dense and delicious bagels that always leave you wanting more. (I know it sounds like a cliché, but every time I finish a bagel I regret that I didn't get two of them!)
Recently I decided to get a muffin I wouldn't normally try. It was sitting in its own little corner, all by itself, while the rest of the muffins were bunched together, seducing the eye of every passerby.
The lonely muffin was made out of pumpkin and was filled with cream cheese. Pumpkin cream cheese muffins? I never really liked pumpkin and I doubted I would enjoy it much. However, I couldn't just leave it sitting all alone there. To my delight, these pumpkin cream cheese muffins turned out to be the most delicious of them all! And then it hit me, it was the last one cause it was the most popular!
…
I started looking for it hence forward every time I went to the boutique. Unfortunately, I either stumbled upon the last one or worse, nothing at all. I realized I had to try and make it in my home kitchen, in case I wouldn't be lucky enough to find the last one.
Fortunately, the boutique publishes the ingredients of each muffin. All that I had to do was experiment with the amounts a little bit to find the perfect recipe.
The recipe makes 12 pumpkin cream cheese muffins.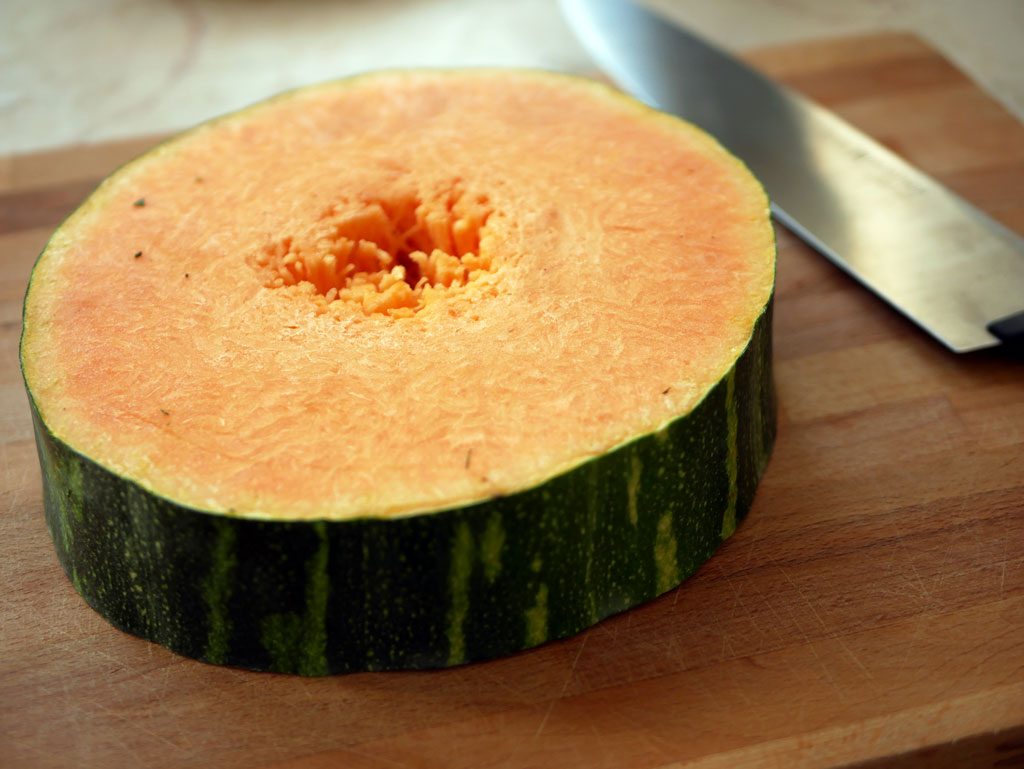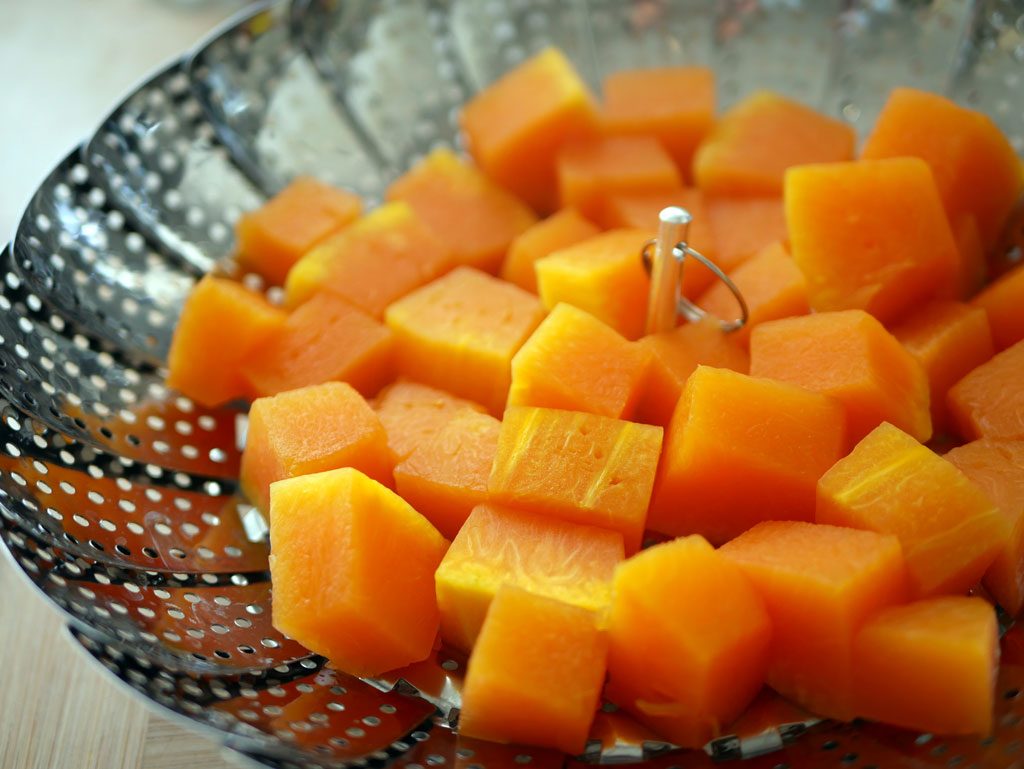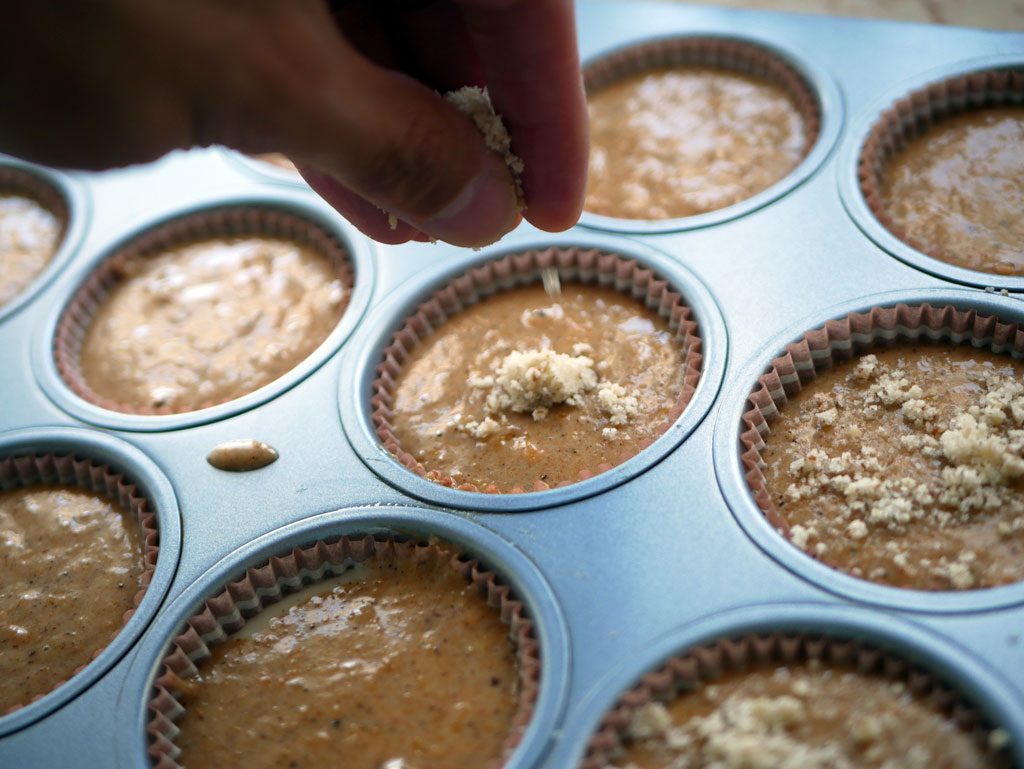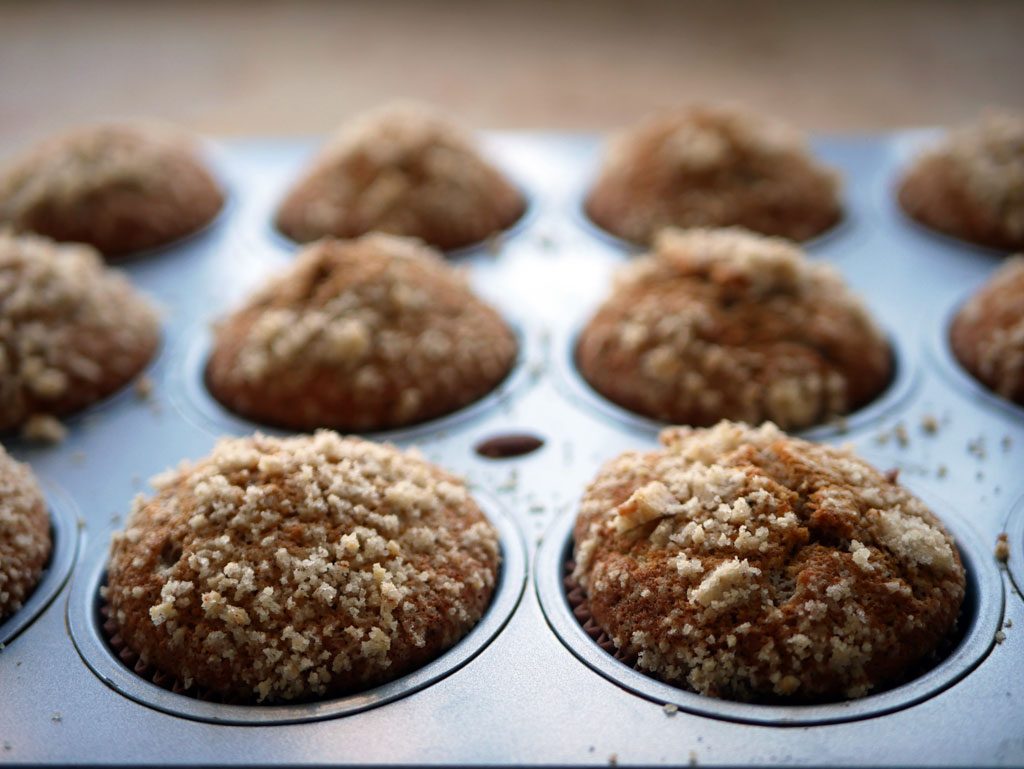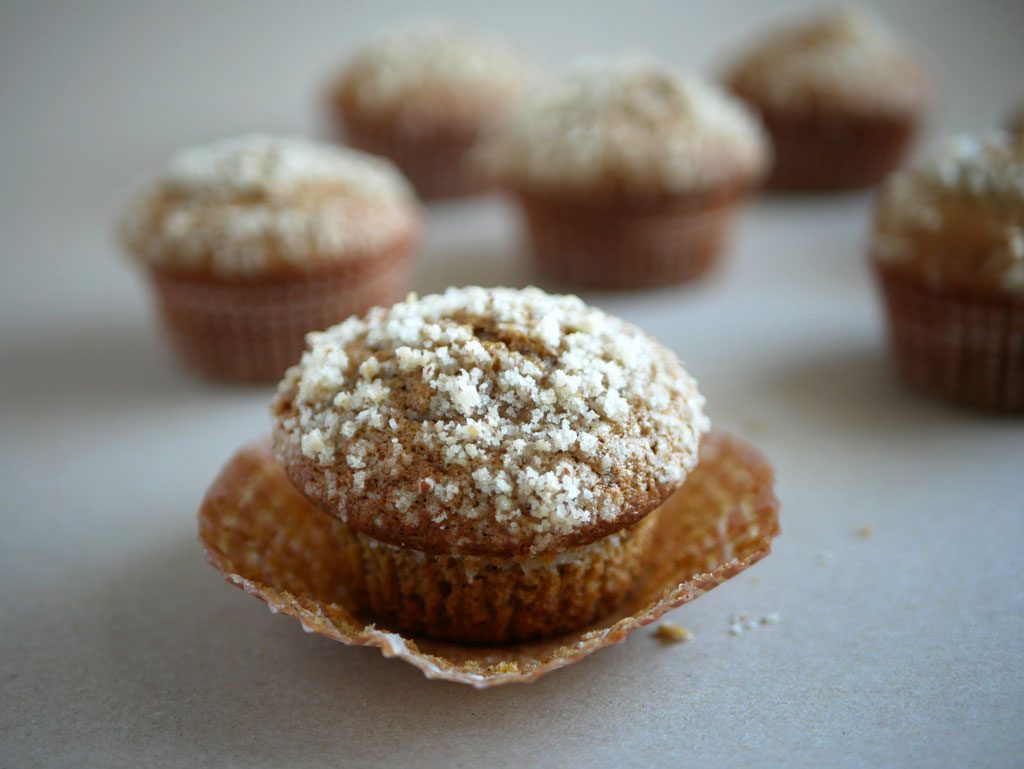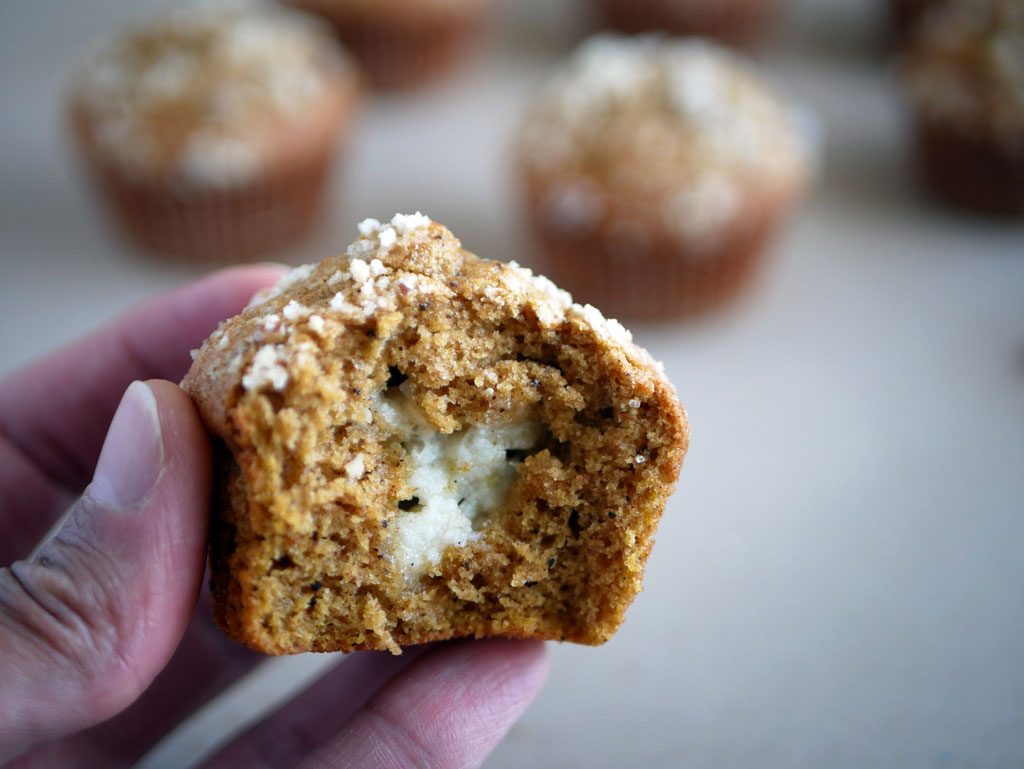 ---
Ingredients
---
Muffins
1 + 1/4 cups (300 g) steamed pumpkin*
1 cup (130 g) white flour
3/4 cup (100 g) whole wheat flour
2 tsp cinnamon
1/2 tsp nutmeg
1/2 tsp cloves
1 tsp baking soda
1/2 tsp salt
2 eggs
1 cup (200 g) sugar
1/2 cup (100 g) canola oil
1 tsp vanilla paste
Cream Cheese Filling
1/2 cup (125 g) cream cheese
1/2 cup (80 g) powdered sugar
1 tsp vanilla paste
Pecan Streusel
1/4 cup (35 g) flour
3 tbs (40 g) sugar
1/4 cup (30 g) coarsely chopped pecans
1 tbs canola oil
Equipment
A steamer basket
A mini half spheres (3cm in diameter) silicon mold
A cupcake pan
* The weight specified is the weight after the steaming process. It's recommended to get a larger amount of pumpkin (about 500 g should suffice)
---
Cream Cheese Filling
Whip the cream cheese with the powdered sugar until smooth. Add vanilla paste and mix until uniform. Fill 12 cavities of the silicone mold. Each cavity should contain about 2 teaspoons of the filling. Keep in the freezer for about 2-3 hours until firm.
Pecan Streusel
Put flour and sugar in a small bowl and mix together. Add the chopped pecans and mix again. Add the oil and mix with a fork to get a uniform mixture. Keep in the fridge until use.
Muffins
Remove the skin from the pumpkin and cut it into cubes. Boil water in a pot. Put the pumpkin cubes in a steamer basket and place it inside the pot (make sure the water does not reach the pumpkin). Cover the pot and cook until the pumpkin cubes soften (It could take from 15 to 40 minutes – check with a fork if it's soft enough). Transfer the pumpkin cubes to a bowl and mash to a puree. Grind with a hand blender (or in a food processor) to get a smoother texture. Weigh 300 g of the puree and keep aside.
Preheat oven to 175 °C (350 °F). Line a cupcake pan with paper liners.
Sift all the dry ingredients (except sugar) into a bowl. Whisk the eggs with the sugar to get a light and fluffy foam. While whisking, add oil gradually to the whipped eggs. Add the dry ingredients all at once and mix. Add the vanilla and the pumpkin puree and mix only until the batter is uniform.
Fill each cupcake liner with 1 tablespoon of the batter (up to a 1/3 of its height). Remove the cheese cream filling from the freezer and release from the mold. Place each one on top of the batter in the center of each cupcake liner gently. The filling might start to soften at some point. Don't worry about it; it will just make the process a little messier.
Continue to fill each cupcake liner with 2 tablespoons of the batter (up to 2/3 of its height). Sprinkle some pecan streusel over each muffin.
Place the cupcake pan in the oven and bake for 20 minutes until the muffins brown slightly. Remove from oven and let them cool at room temperature. The muffins are best eaten the same day.
Yum

Tags In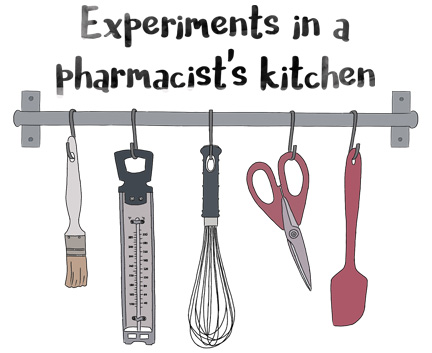 Search the blog

Get updates by email