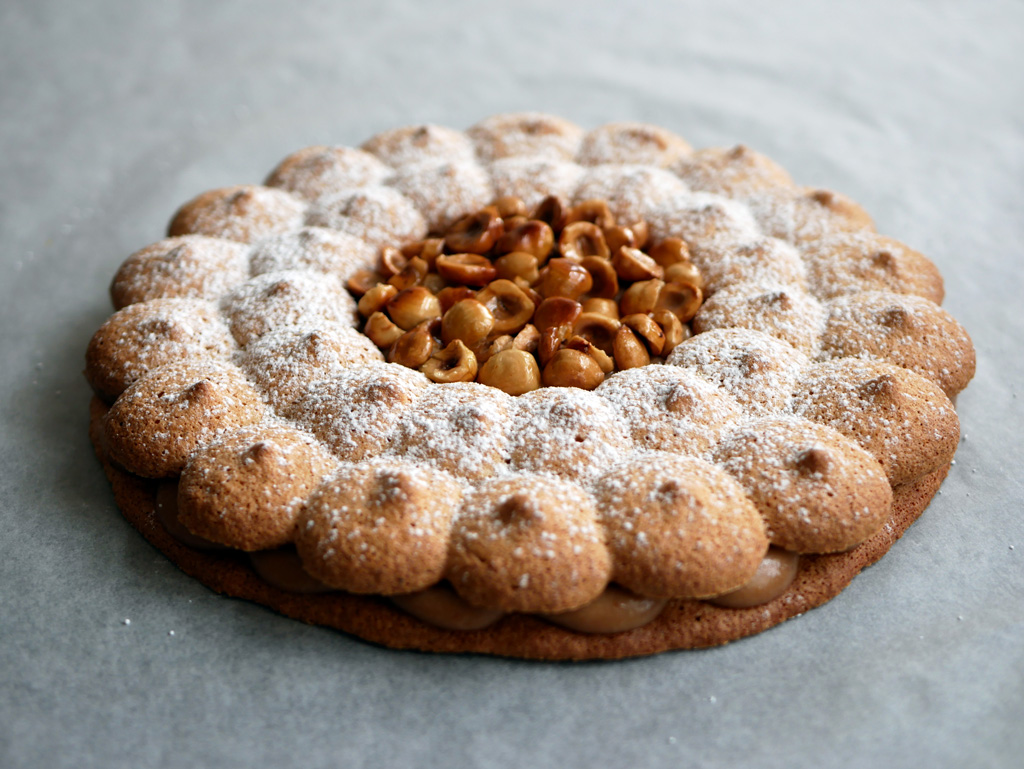 Hazelnut Succès
I never really liked hazelnuts. Whenever my mother brought back home a bag of mixed nuts from my uncle's roasting house "King Hussein" that's a little south of Gan-Tamar (Tamar's Garden) in Jaffa, I would always separate the hazelnuts from the rest of the nuts and set them aside, just like an American kid separating his least favorite M&M color from the rest.
However, I just love the combination of hazelnuts in chocolate, or in any other dessert truthfully. Only yesterday I ate a packet of hazelnuts studded "Milka" chocolate that my dad bought at the Duty Free on his way to Turkey.
Speaking of Gan-Tamar, if you ask any Jaffa born resident how to get to Andrei's Ice Cream or to Haj Kachil's Shish-kebabs, they will immediately direct you to Gantamar, which is actually the square on Yefet Street where some of Jaffa's great institutions are located. But not every Jaffa resident knows or remembers how the square got its name.
Some will say that in the distant past there was a kindergarten in that square and the kindergarten teacher's name was Tamar. But according to an Ad in Ma'ariv newspaper from the 1950s, it turns out that a café called "Gan-Tamar" existed in that same square. The Ad itself calls the residents to participate in a dance competition at a tango and swing ball. The lucky winners will be able to win prizes such as a flight to Eilat and back, a bottle of French champagne, wine, cognac or a set of liqueurs! (Which sounds more like a bedding set rather than an alcohol set, in Hebrew at least)
Almost none of the Jaffa residents today will be able to connect the garden to Tamar in "Gantamar." But that doesn't mean you won't find us there holding an ice cream cone, smiling from ear to ear, almost every week.
The inspiration for this beautiful cake was found in 'Le Grand Manuel du Pâtissier', which I bought in Paris a few years ago. It's a huge book, full of cute illustrations, and I just consider it to be the hitchhiker's guide to the galaxy of the amateur baker.
The original recipe uses walnuts as key ingredient and is quite tasty. I decided to try and substitute them with hazelnuts. I reduced the amount of nuts in the cream and added hazelnut/Nutella spread to it. The texture comes out less grainy and smoother. You can use Nutella and the end result will be wonderful, or you can make a homemade hazelnut spread easily. You can find instructions in the previous post , where I also wrote about the various methods of peeling hazelnuts for lofty purposes.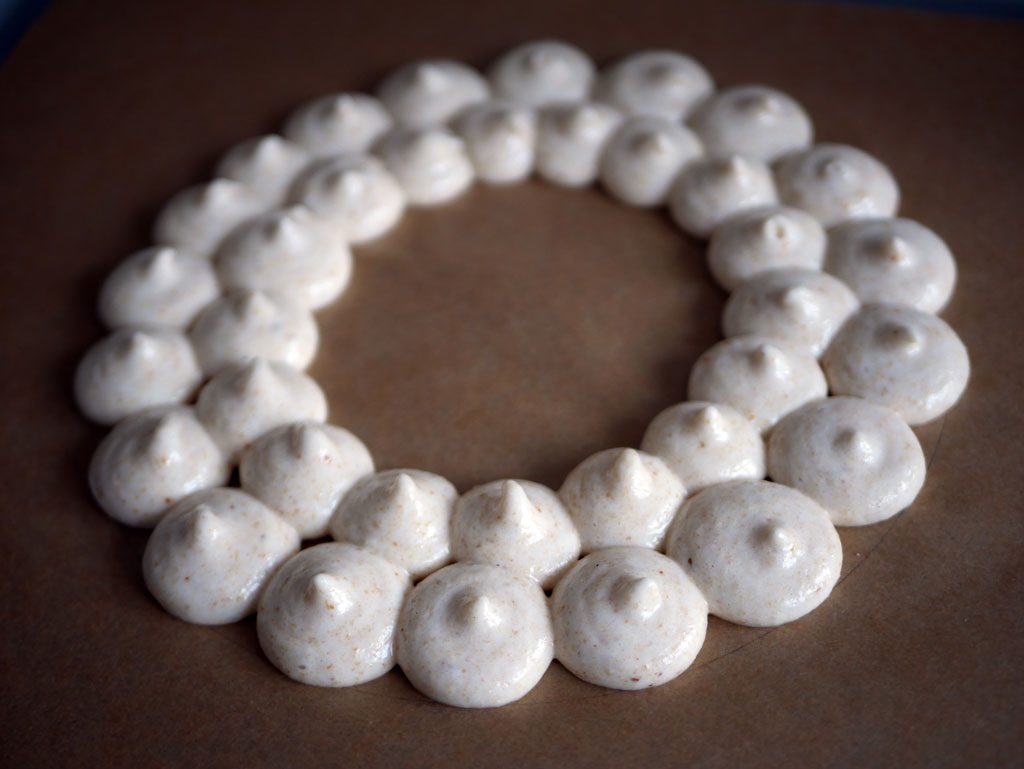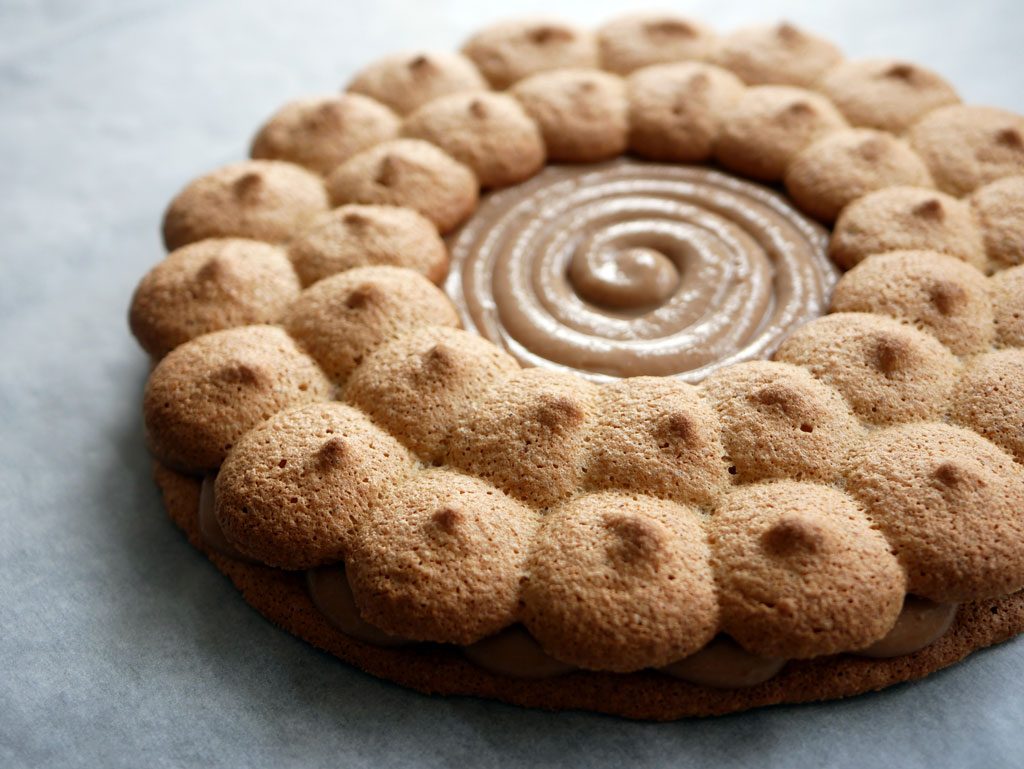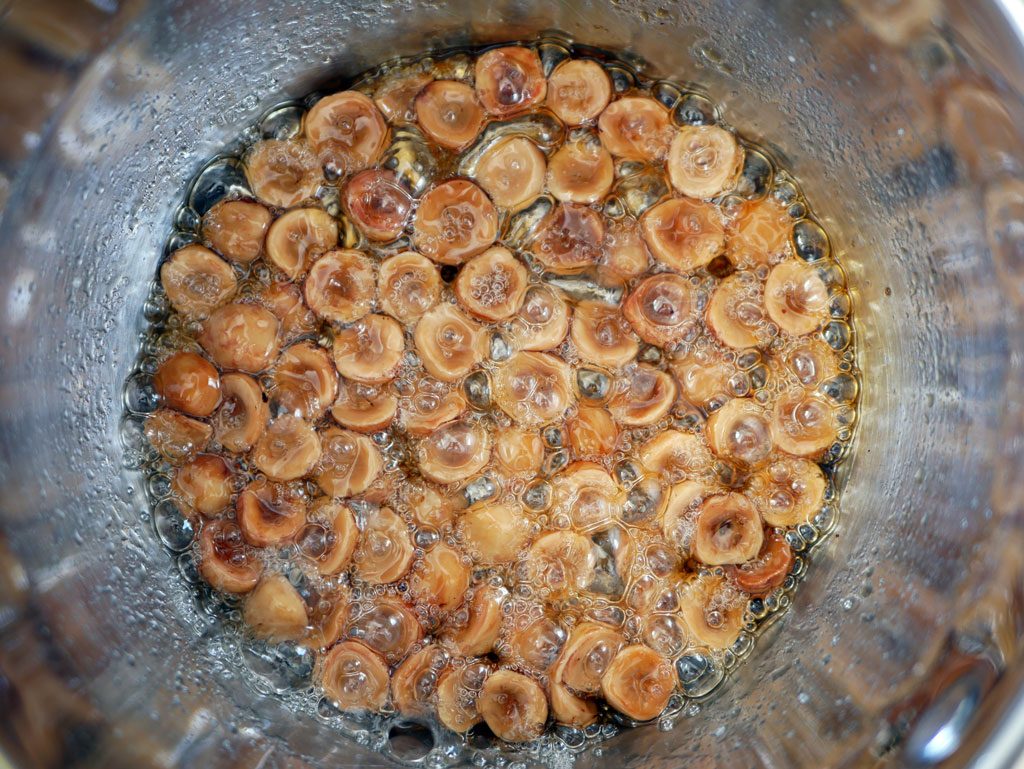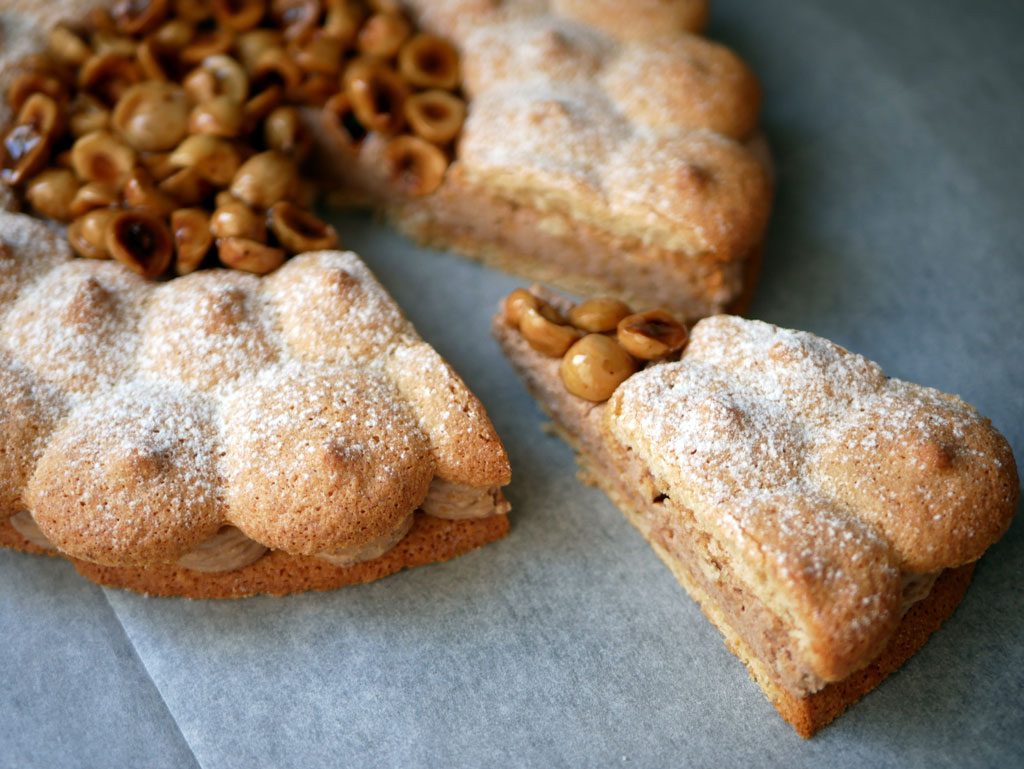 ---
Hazelnut mousseline cream
50 g peeled hazelnuts
30 g powdered sugar
250 g milk
60 g egg yolk
60 g sugar
20 g corn starch
60 g cold butter (cut into cubes)
60 g softened butter (cut into cubes)
70 g hazelnut paste (homemade or Nutella)
Hazelnut daquoise
30 g flour
120 g peeled hazelnuts
100 g powdered sugar
145 g egg white
55 g sugar
Caramelized hazelnuts
70 g peeled hazelnuts, chopped
70 g water
70 g sugar
+ A little powdered sugar for decoration
---
Hazelnut mousseline cream
Put hazelnuts and powdered sugar in a small food processor and grind until wet sand consistency. Keep aside.
Begin warming milk in a small pot. Add about a third of the sugar to the milk. Add the rest of the sugar to the egg yolks and whisk immediately. Add corn starch and whisk again. Once the milk starts to boil, remove from heat and pour into the yolk-sugar mix while whisking all along. Pour the mixture through a sieve back to the saucepan (to get rid of egg chunks that may have hardened while adding the hot milk). Heat on medium heat and whisk constantly until it starts to boil. The mixture will thicken and become creamy. Remove from heat when the cream begins to bubble.
Transfer creamy mixture to a clean bowl, add the hazelnut/Nutella spread and whisk together. Add the cubes of cold butter and stir until uniform. Lay plastic wrap on top of the cream and place in the fridge for about half an hour.
Add the soft butter cubes (creamy texture) gradually and stir each time until the cream is uniform and smooth. Add the ground hazelnuts and sugar mixture that was kept aside and stir. Fit a pastry bag with a 10 mm smooth tip and fill it with the cream. Keep in the fridge for about an hour or until the dacquoise is done.
Hazelnut dacquoise
Draw a 22 cm circle on two baking papers and place each one on a baking tray with the drawn circle side down. Preheat the oven to 180 °C (360 °F).
Grind flour, hazelnuts and powdered sugar together in a food processor for about half a minute (even less) only until you get a powder. Be careful not to grind too much to avoid getting a puree. Sift into a bowl. Put any remaining large chunks in the processor and grind again.
French meringue: Whisk egg whites in a mixer on medium speed until thick white foam is formed. While still whisking at medium speed, add sugar gradually and slowly. After all sugar is added, increase speed to high and whisk until you get a strong and firm meringue.
Transfer one third of the hazelnut powder mix to the meringue and fold with a spatula. Add the remaining powder mix and continue to fold until uniform.
Put the meringue in a piping bag with a 10mm diameter circular piping tip. Glue the baking paper unto the tray with a little meringue on the corners. For the crown, pipe adjacent circles with a 3.5cm diameter each, one by one within the bounds of the circle drawn on the baking paper, leaving a relatively large hole in the center to be used for decoration at the end. For the bottom, pipe a spiral shape that begins from the center and ends at the perimeter of the circle drawn on the second baking sheet.
Place the two trays in the oven and bake for 15-25 minutes until the edge begins to brown. Remove from oven and let them cool to room temperature before assembly.
Assembly
Using the mousseline cream, pipe adjacent circles on the outskirts of the dacquoise bottom and fill up the center by piping the cream in a spiral shape.
Place the dacquoise crown on top of the cream. Keep in the fridge for at least two hours before serving. However, it would be better to leave in the fridge for a whole night, cause then the flavors are better combined, the dacquoise is softer and it's just perfect next to a cup of coffee in the morning.
Decoration: caramelized hazelnuts
Put water and then sugar in a pot. Add hazelnuts and place the pot on medium heat. Cook without mixing or using a spatula. From time to time, gently tilt or shake the pot to mix a little. Continue cooking until you get a bright caramel color around the nuts.
Once caramelized, transfer the hazelnuts to a baking paper. Separate them immediately and carefully (hot!) so that they do not stick together and form a lump of nuts. Sift the powdered sugar over the succès and then place the hazelnuts in the center on top of the cream.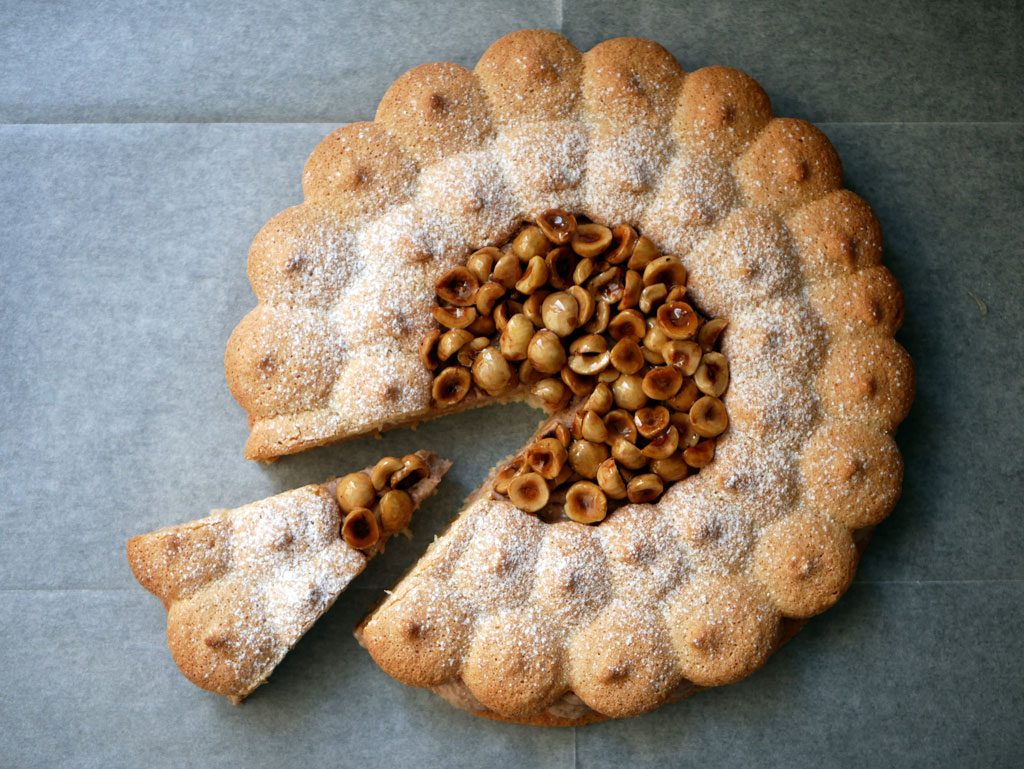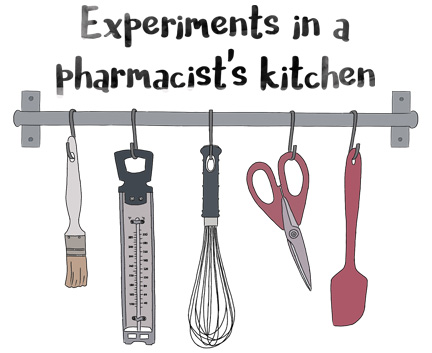 Search the blog

Get updates by email