Pistachio Muffins
What can I say about pistachios that I haven't already said? Oh… you can also bake pistachio muffins! During my trip to Sicily, I came by these pistachio muffins in Bronte. The whole city idolizes pistachios, and grows them, but when I arrived to buy some, it seemed like the whole city was closed for the month of August. Then I stumbled upon a bakery and ordered these muffins. The muffins looked completely innocent at first, with a ground pistachio layer on top. After only one bite, a luscious green filling revealed itself at the muffin's core and made me smile from ear to ear.
The filling was in fact a pistachio paste with a consistency that reminded me of Nutella. I suddenly remembered that I had once made Nutella spread (hazelnut spread). An idea started to take shape in my mind: replace the hazelnuts with pistachios, the milk chocolate with white chocolate, and make homemade pistachio spread. I even reduced the amount of sugar this time.
So… pistachio spread? Check. Pistachio flavored muffins? Check. I combined both of these together and got fresh pistachio muffins filled with green colored cream. Look out Bronte. Another blog post about pistachio?Why not. This is actually my 16th pistachio themed blog post. Pistachio detox rehab? Probably soon…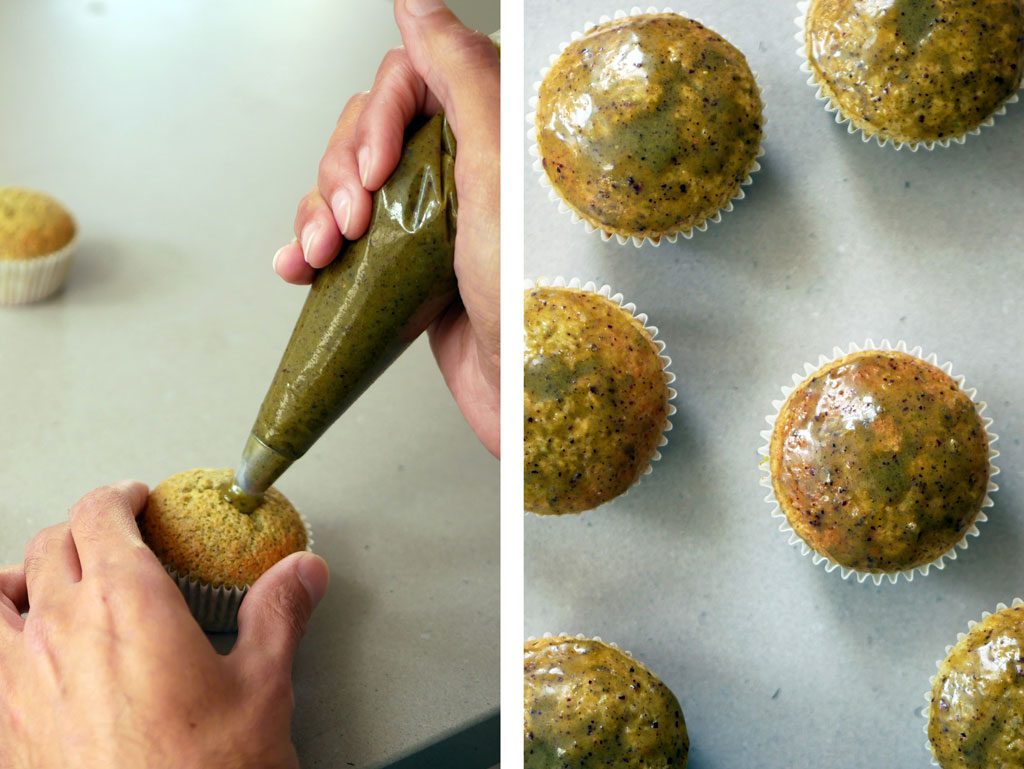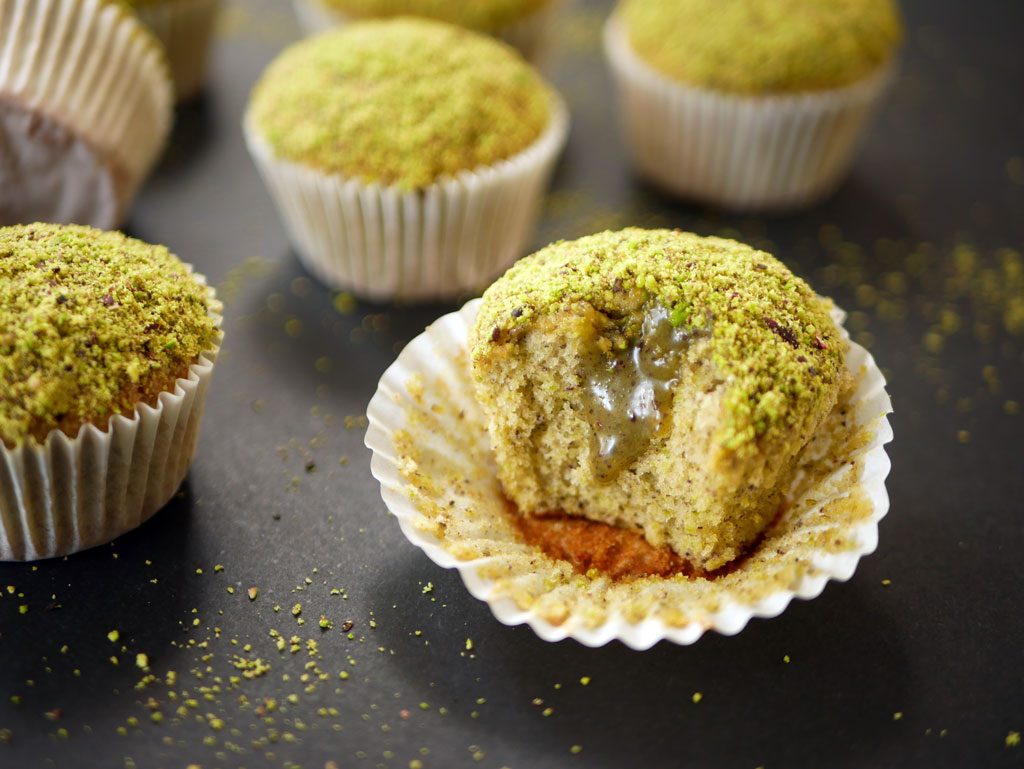 ---
Ingredients
---
Pistachio muffins
60 g shelled pistachios
110 g flour
3/4 tsp baking powder
1/3 tsp salt
2 eggs
140 g sugar
35 g canola oil
Zest from ½ a lemon
40 g heavy cream
40 g of milk
Filling
Pistachio spread (prepared in advance)
Decoration
50 g shelled pistachios (roasted or not, go with your heart's desire)
Equipment
A cupcake pan
Cupcake paper liners (Size 4)
A pastry bag (optional)
A piping tip with a diameter of about 6 mm (optional)
---
The recipe makes about 10 medium muffins
---
Pistachio muffins
Line a cupcake pan with paper liners.
Put shelled pistachios in a food processor and grind into a powder. Be careful not to over grind it, otherwise you'll get pistachio paste (It's totally fine if there's bits of small chunky pistachios left in the powder). Transfer the pistachio powder into a bowl. Sift the flour into the bowl, along with the baking powder and salt. Whisk well and keep aside.
Pour heavy cream and milk into a small pot and start warming on low heat. Make sure you do not bring it to a boil. You just need to warm it up a bit. Preheat the oven to 175 ° C (350 ° F).
Start whipping eggs and sugar on medium speed until the mixture is thick and pale.Add oil and lemon zest and whisk together. Add half of the powder mixture and fold together, gently, using a whisk. Pour the warm milk and heavy cream mixture and mix again. Add the rest of the powder mixture and fold with a whisk just until uniform.
Fill the paper liners with the batter up to 2/3 of their height. Put the pan in the oven. Bake for about 16-18 minutes. Stick a toothpick in the center of one of the muffins to check if it's ready. The toothpick should come out dry. Remove the pan from the oven. Allow to cool at room temperature.
Filling
Prepare the pistachio spread according to this post. Half the amount should be enough. You should prepare it ahead of time to allow the pistachio spread to set (a few hours or even overnight).
Fit a pastry bag with a 6 mm star piping tip and fill it with the pistachio spread. Stick the piping tip inside the muffin from the top and push it almost to the end. Fill the muffin with the spread until it expands. I advise you to cut the first filled muffin in half to check if it got filled properly.
Another option: using a small serrated knife, dig a hole at the center of the muffin and fill it with pistachio spread. It doesn't really matter which method you choose, as long as the muffin core is generously filled to get a creamy bite.
Decoration
In a food processor, grind pistachios to a powder (I prefer roasting the pistachios first for about 7 minutes on 160 ° C / 320 ° F, let them chill at room temperature and only then grind them). Transfer the ground pistachios to a small bowl.
Spread a very thin layer of pistachio spread on top of each muffin. Dip each muffin in the ground pistachios. Keep the pistachio muffins in an airtight container at room temperature for two to three days. The muffins are at their best the day they're baked.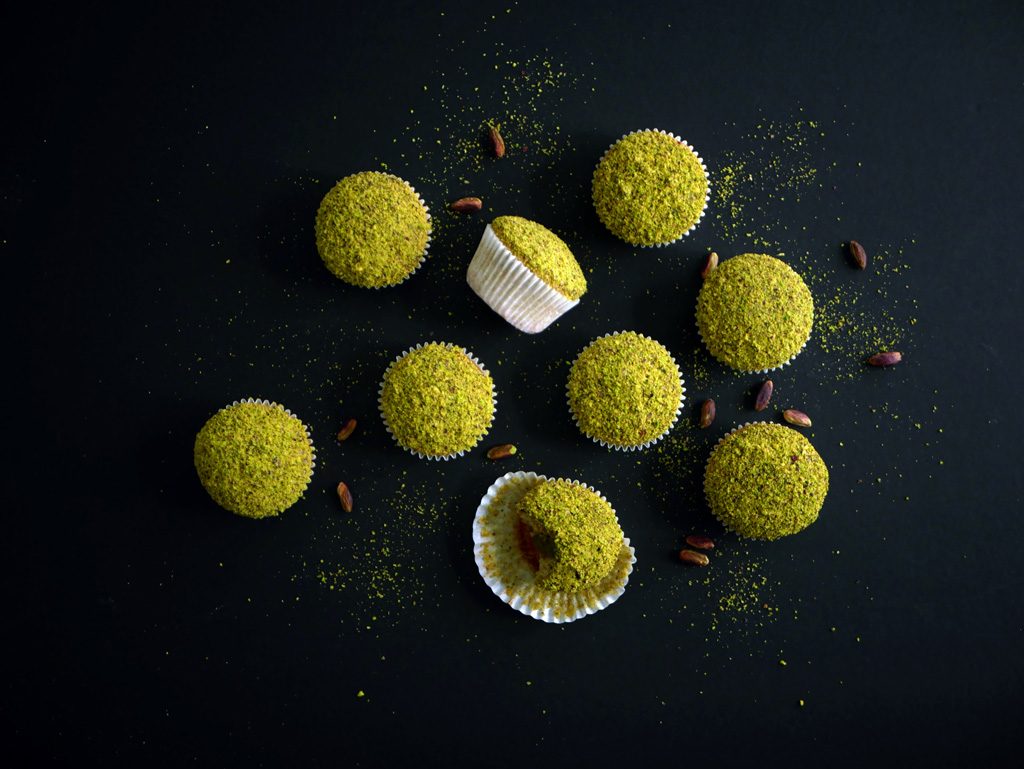 Yum

Tags In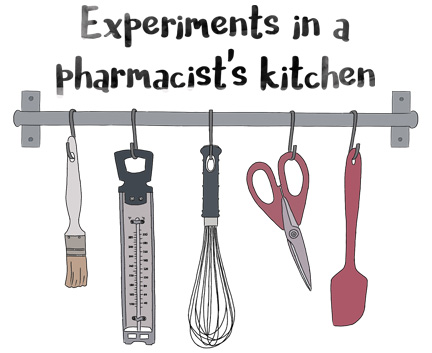 Search the blog

Get updates by email