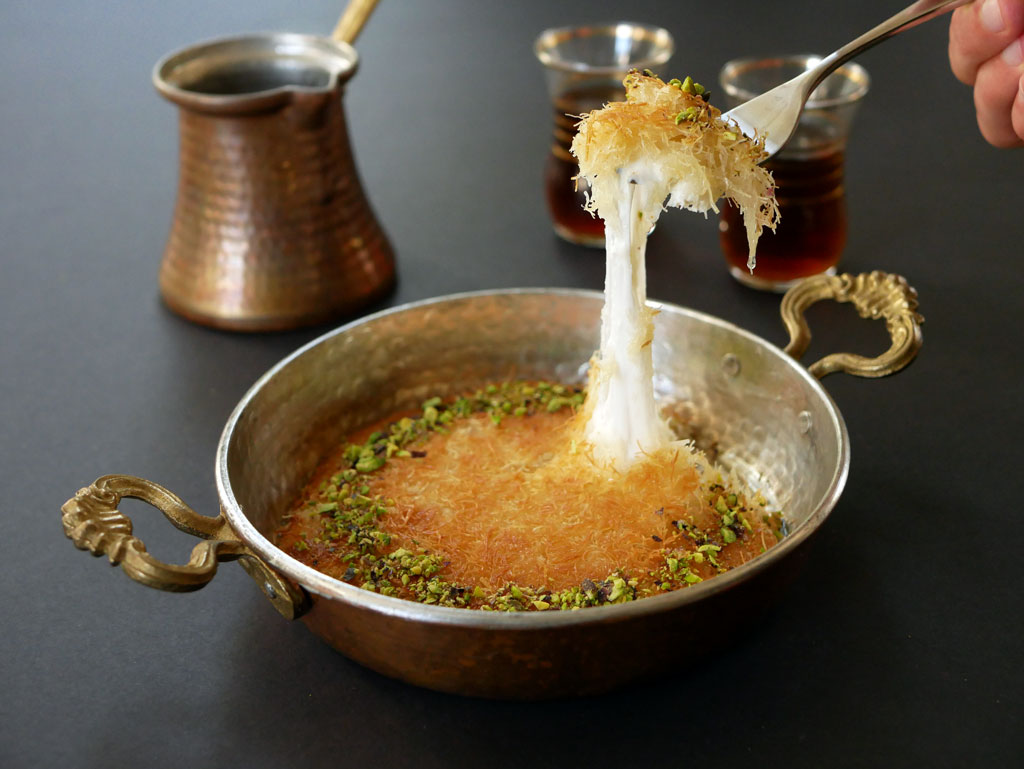 Knafeh in Nablus
Until a few years ago, I never tasted knafeh. Something about that fluorescent orange color on top of the sweet cheese pastry didn't pull me in. When I fell in love with baking I became more daring and decided to try anything sweet. And what's sweeter than knafeh? (Well, other than the cup of tea full of sugar served alongside.)
When Oren (the dude with the tiramisu) suggested we make knafeh together, I agreed immediately… but didn't want to make it until I tasted the best knafeh in the country (or even the Middle East, according to many). I travelled to Nablus in search of its famous knafeh.
True, there are those who say knafeh originated from Turkey or Egypt or even Syria. But like many things in history, go figure. In any case, Nabulsi knafeh is the best knafeh in the area and many attest to that.
Take my family for example. They're from Jaffa, but there's no chance you'd find them eating knafeh in Jaffa. They go and enjoy a stroll in the old city of Jerusalem, but won't spoil their appetite on knafeh from Jerusalem. They have already had the best knafeh in Nablus and won't compromise on any other.
Especially not Abu Ali. He's a close relative with a poetic love for knafeh. Not only does he know where to find the best knafeh in Nablus, he also knows how to recreate it back in his own kitchen anytime he wants. When I asked his opinion about non-Nabulsi knafeh, he laughed and waved off my question. "Nabulsi knafeh only," he said. I got the hint.
Knafeh
Knafeh is a sweet cheese pastry with an orange top, sweetened with sugar syrup and orange from food coloring. Sometimes saffron is used to color the knafeh in a healthier way, but that could get expensive.
There are two main types of knafeh in Nablus: soft knafeh (ناعمة – Naemeh) and crispy knafeh (خشنة – Khishneh). The soft one is without a doubt the tastier one. Nabulsi knafeh consists of one layer of cheese and one layer of kadaif (and not two).
The crispy knafeh is made from chopped kadaif noodles and the soft knafeh from ground kadaif noodles (and sometimes even semolina). A good knafeh is measured by its cheese. Mashmoula, Nabulsi or Akkawi cheese are commonly used for knafeh in the Middle East. It's usually a sweet goat or sheep cheese. Due to financial reasons, some make it with cheaper cow cheese, which has a more subtle flavor and smell.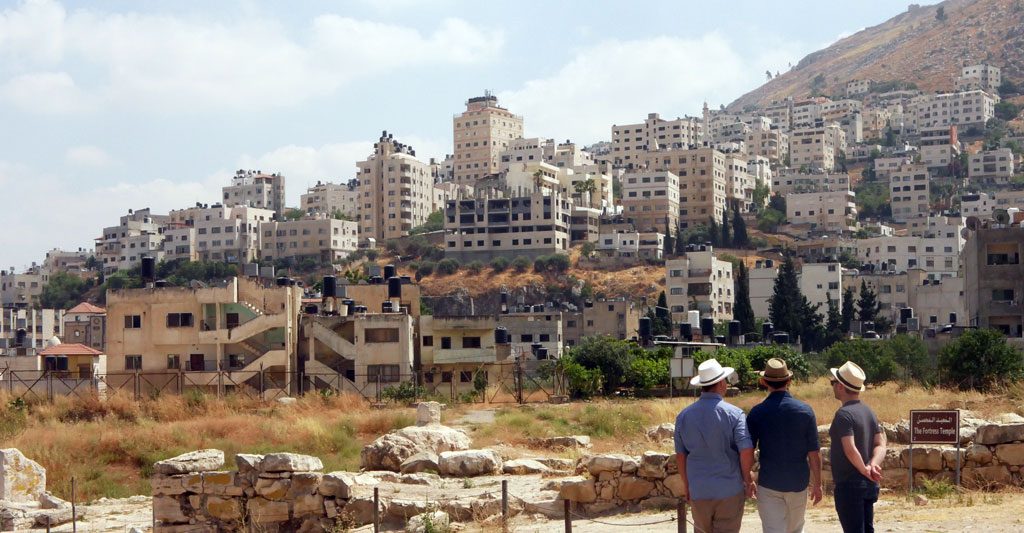 Nablus
Saturday came. I gathered a few friends and headed out to Nablus, passing the big red signs along the road warning Israeli drivers against entering the Palestinian city. We would not be deterred to try the best knafeh in the world (yeah, my family's brainwashing started to work).
On our way to the knafeh, we stopped for a short visit to Tel Balata and its ancient western wall, overlooking a hill with a monochromatic view of a Nablus neighborhood that looked like Lego blocks on a slope.
Abu Sir Sweets
We also wanted to visit the local tile factory, but unfortunately it was closed due to a funeral. The factory is famous for its colorful painted tiles. Not too far from there, the first sweet destination awaited us. Abu Sir Sweets (حلويات ابو سير) is a modern bakery with golden oriental decorations on the wall and a few tables.
Their knafeh is soft and their vendor is a redhead, which is kind of funny considering the fact that in the Arab world (or in Jaffa at least) redheads are sometimes called knafeh. We bought two portions and shared them between the four of us. We should have gotten more. It was indeed the best knafeh we ever ate.
Abu Ali's words echoed in my head again: "Go to Abu Sir. Forget about any other knafeh you might find on the way". The cheese stretches perfectly, the dough is soft and melts in your mouth, and it's not sickeningly sweet as expected. We left with silly smiles on our faces and headed towards the next sweet destination (shhh, don't tell Abu Ali).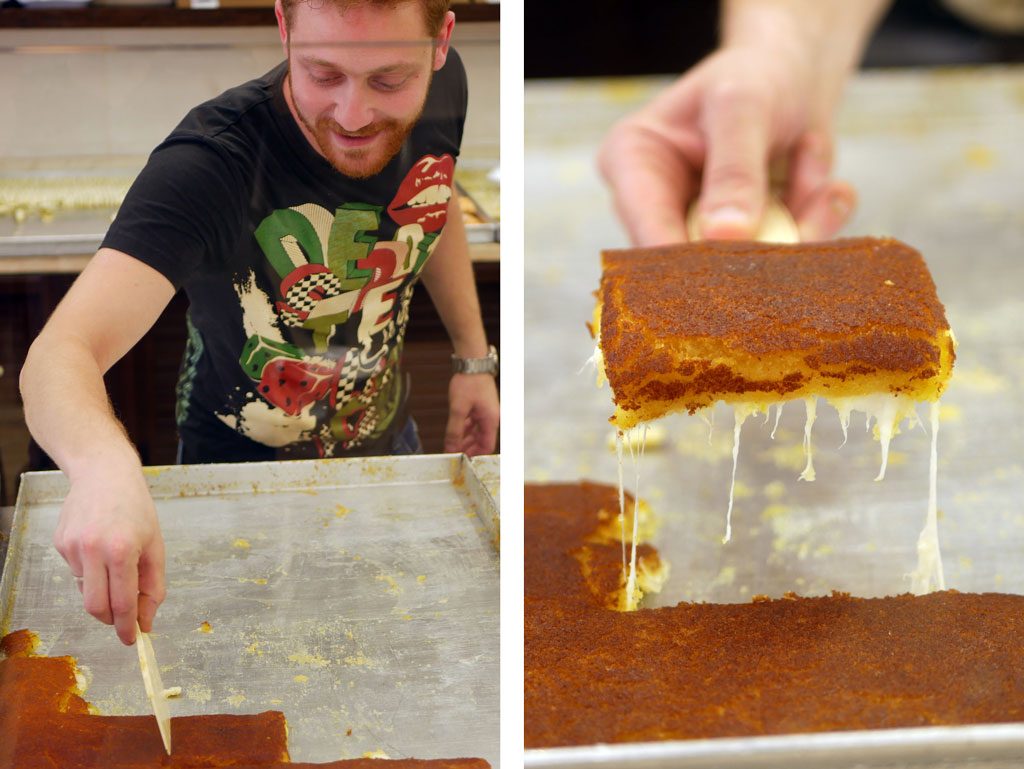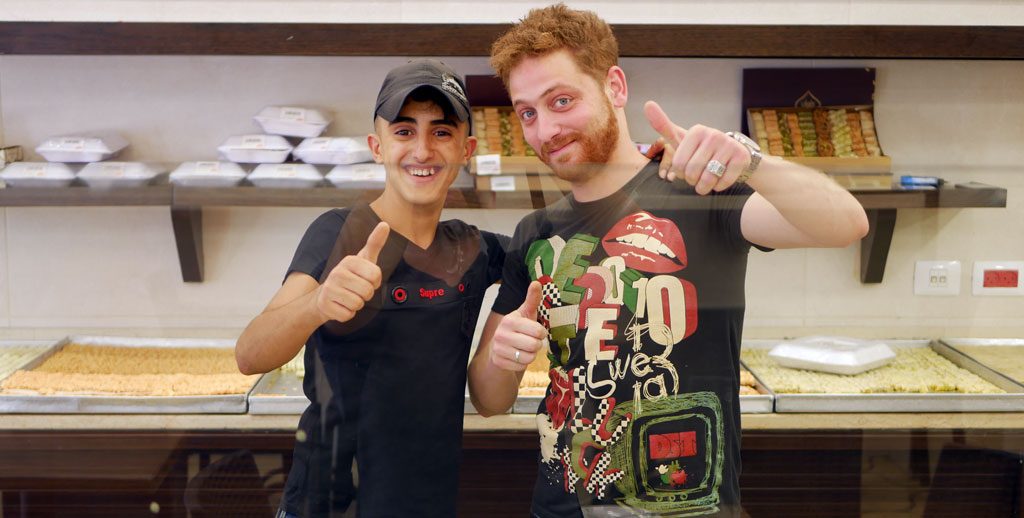 We entered an alley through a big gate and felt like we went back in time. We found ourselves in the Kasba. A colorful market sprawled along narrow alleyways adorned with stone arches and full of food stands, spices, housewares and hookahs with crazy designs.
We even stumbled upon a spice shop with a glorious Bedouin room they call a "museum" in the back. A model of the Eiffel Tower made out of seashells stood in the entrance. We bought fake saffron and a fez or two.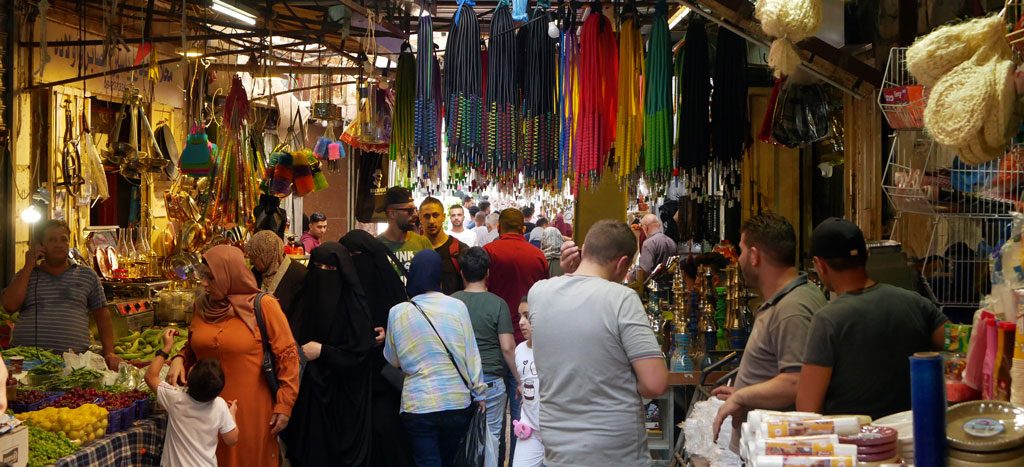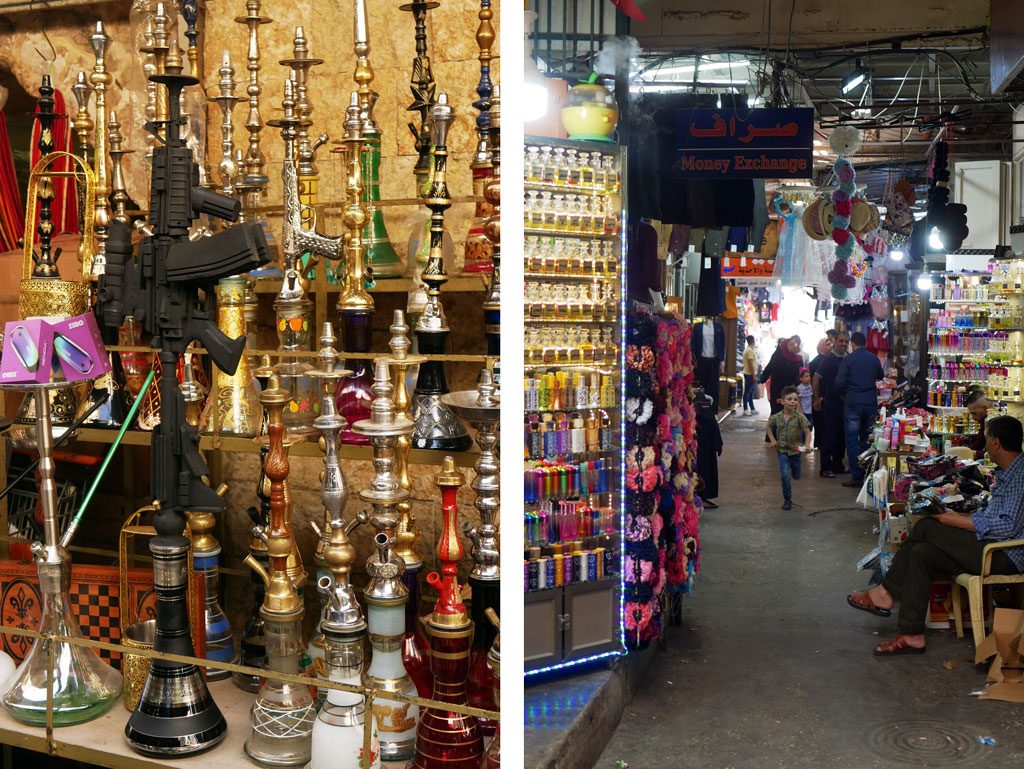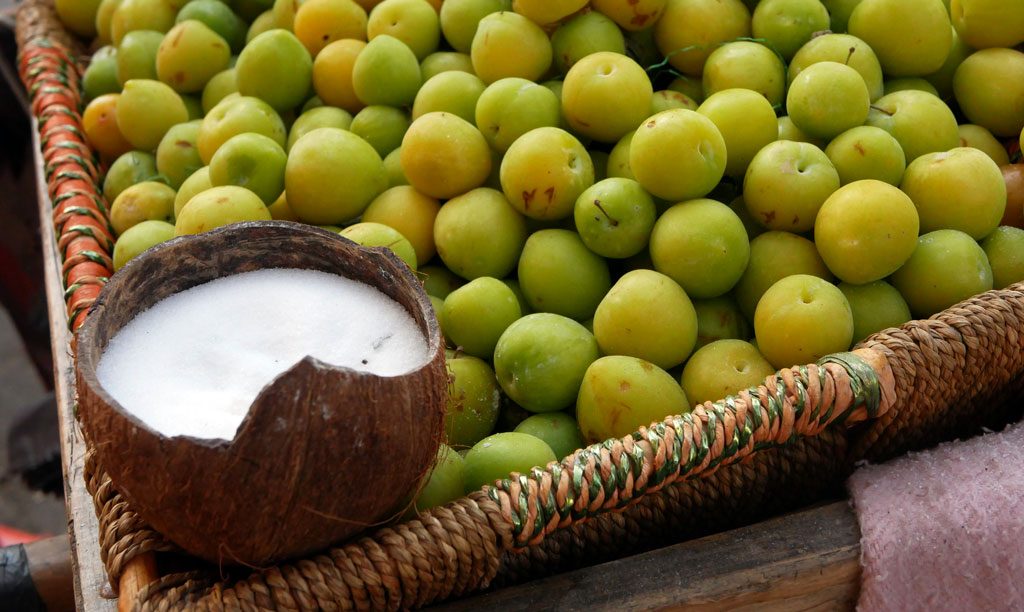 Al-Aqsa sweets
After a short walk, we stopped for a tamarind drink and kept looking for the famous Al-Aqsa sweets (حلويات الأقصى). At the corner of two alleyways, we found a white bearded man with a wool hat on his head and a dove tattoo on his arm.
He was busy handing out knafeh to the excited crowd around him. Behind him customers were seated, eating their knafeh with knife and fork, and in from of him customers were standing, eating their knafeh in a pita.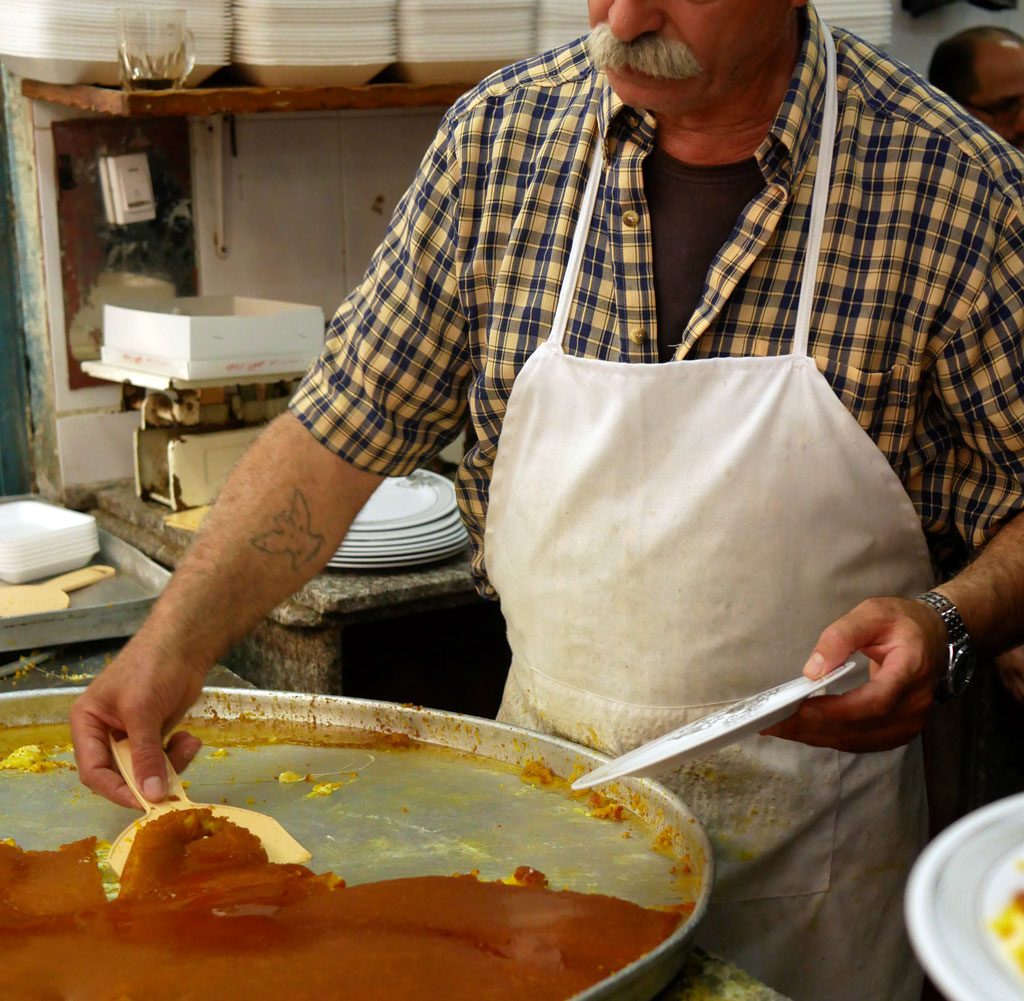 We came too late, the huge knafeh tray was already empty. The bearded man pointed to the shop in front of him and explained that the next tray was being made there right now. We gladly walked into the small Al-Aqsa "knafeh factory" and were quite impressed by the whole process.
Eventually, the final product found its way to the bearded man. We returned to him and waited for our share. We stood on the side and devoured our golden loot. It was pretty nice, but to be honest, Abu Sir's knafeh was tastier, and not only because it had pistachios on top.
Abu Ali got into my head again: "Forget about Al-Aqsa. It was tasty once, not anymore." But it's a tourist favorite, a place where you can see the process of making knafeh in the authentic way.
We asked one of the customers where is he from originally. He said he's local, and that Al-Aqsa knafeh is the best in town. We didn't argue and kept going on our orange brick road.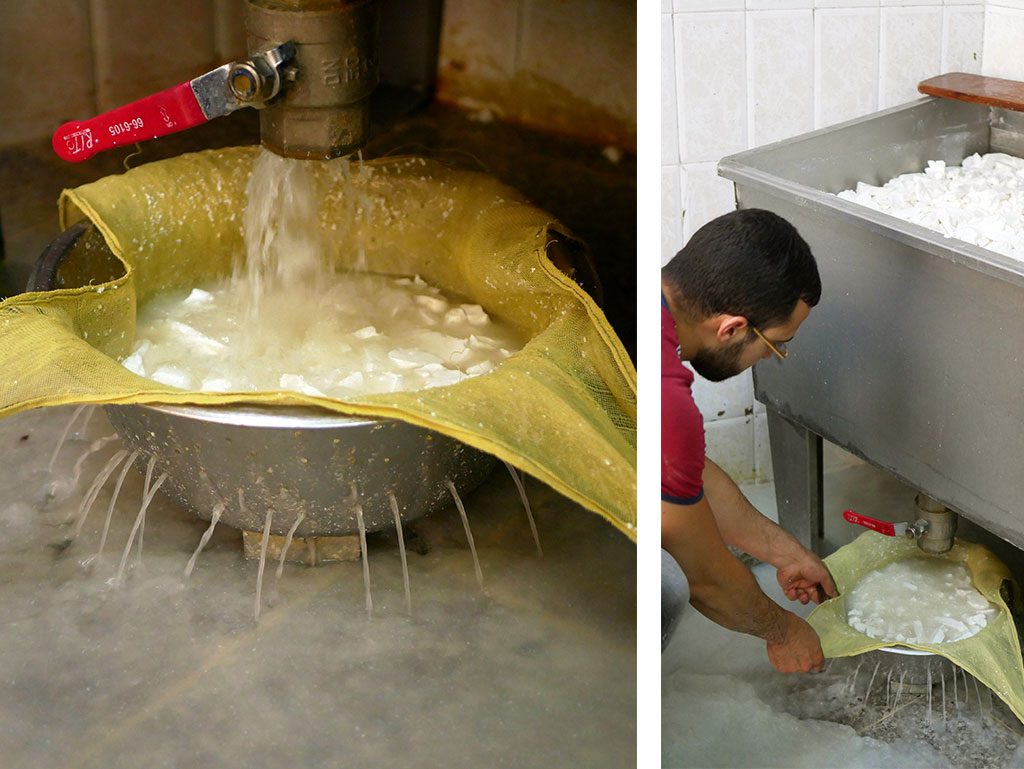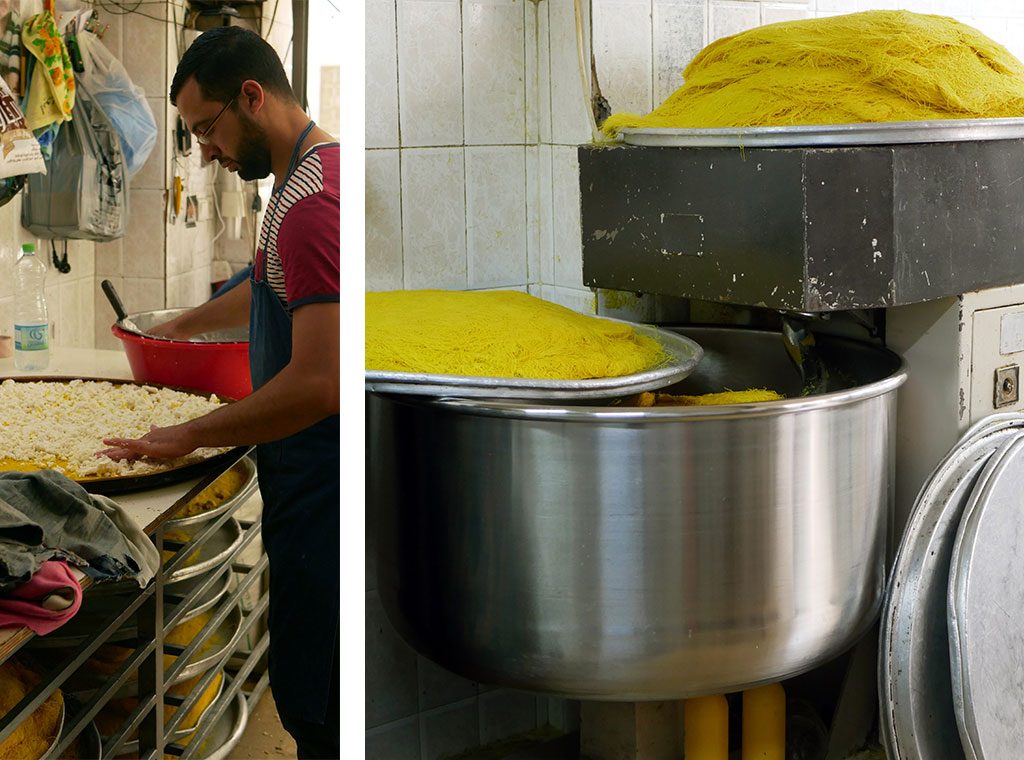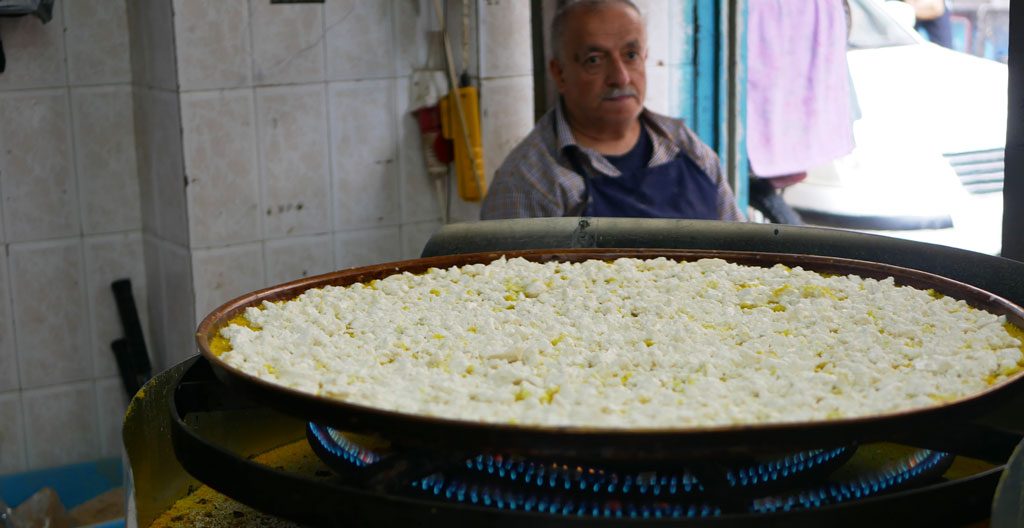 Beirut Sweets
We walked through more alleyways. We bought halva and ate candied pumpkin in a roll from Beirut Sweets near the Ottoman clock tower in the heart of the market.
Abu Ali was worried I wouldn't manage to find the right cheese for making the perfect homemade knafeh. He contacted his friend, an owner of a kebab stand in the market, and asked him to get the right cheese for me. All that was left for me to do was find my way to the kebab stand and get my cheese. (Thanks Abu Ali!)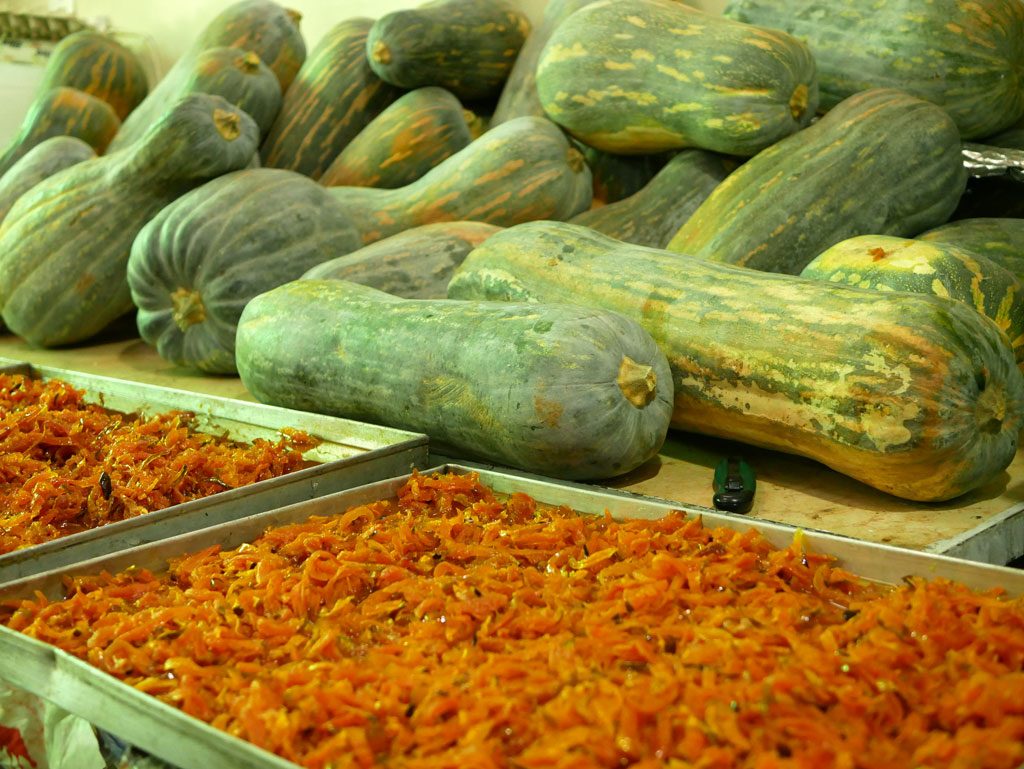 On our way, we stumbled upon a young stranger who told us all about his family soap factory nearby. We did miss the other soap factory we planned to visit. So, we agreed to this tourist trap and followed him to the factory, which wasn't nearby at all.
We visited the old factory, bought olive oil soap and then took a peek in the old Turkish Hammam that was built by Samaritans about 1200 years ago and still operates to this day.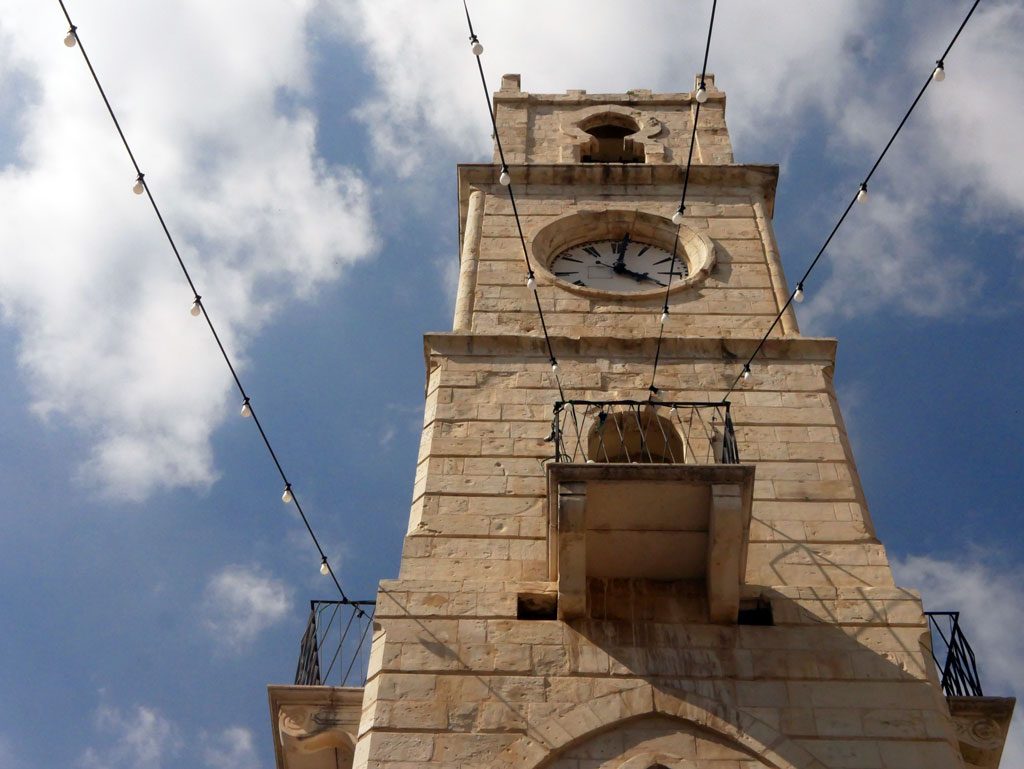 Koni's Sweets
At last, I found the kebab stand where my cheese was waiting. Hooray. We left the bustling market before evening and traced our steps back to Abu Sir's bakery. Not to eat another knafeh, but to buy the kadaif dough they use for their soft knafeh. Who am I kidding? We ended up having another knafeh there. We just couldn't say no.
We left Abu Sir and started walking, weighed down I might add, to our last spot. We got a little lost on the way there. Luckily, we found a local walking with a tray of knafeh in his hands. We asked him for directions to Koni's Sweets (حلويات الكوني). He showed us the way, while taking another bite from his knafeh, shouting as he walked away: "It's the best knafeh in town."
We didn't argue and went to try it for ourselves. Koni has soft knafeh and crispy knafeh. Both are delicious, but not quite like Abu Sir's, at least in our opinion. We truly believe Abu Sir makes the best knafeh in Nablus.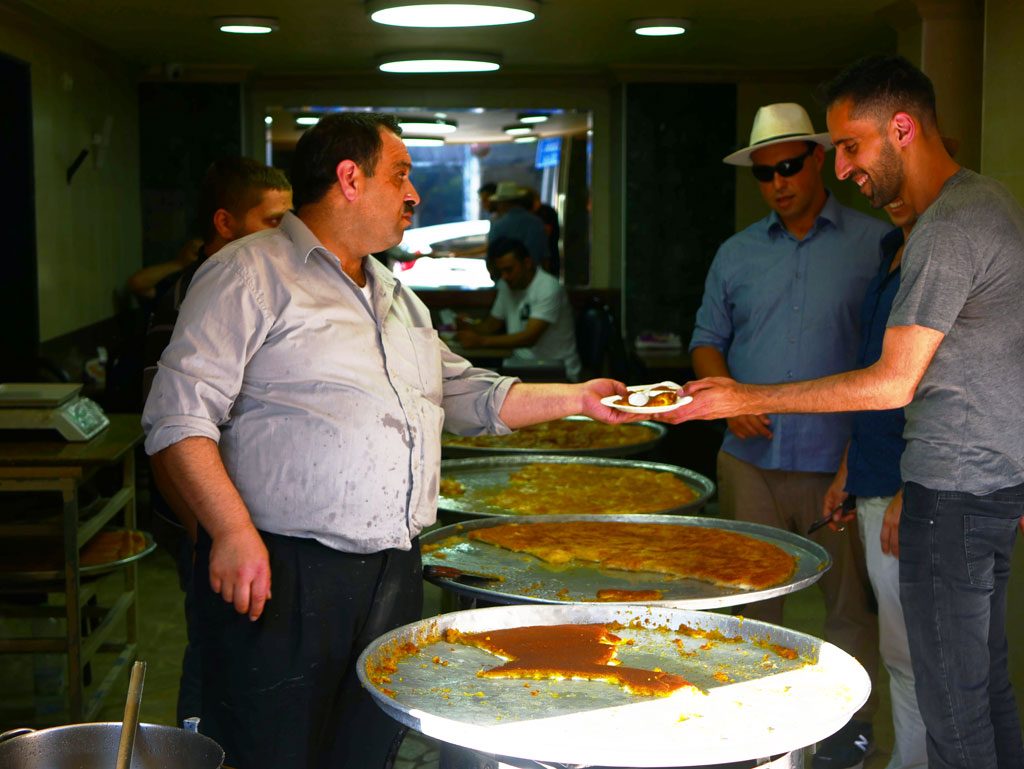 Once Upon A Time in Nablus
We ended our sweet day in a restaurant called Once Upon A Time, not far from another restaurant called One Thousand and One Nights. I couldn't think about food anymore, but I also couldn't say no to a pistachio smoothie. We asked for the waiter's opinion and he agreed: Abu Sir does have the best knafeh in town, but you have to go to Al-Aqsa Sweets for the experience.
It reminded me of something that this TV reporter said about Nabulsi knafeh at the end of her story: "Every food has a story, and the story of knafeh is Nabulsi. Those who visit here must taste it, otherwise they will not know the real taste of knafeh all their life."
Knafeh making isn't exact science. The Ingredients vary, and their relative quantity too. You can make a few different kinds of knafeh, but what makes it good is the quality of its ingredients. I will talk a little about each ingredient before jumping to the recipe.
Yes, the quantities may vary. I like Basil ElHaj's rule of thumb. If you use a certain amount of kadaif noodles, use half of that amount for the butter and double that amount for the cheese. As Basil says: "In case you're left with extra cheese and have a freezer in the house, don't put the cheese in the freezer, just add it to the knafeh. There's no such thing as too much cheese in knafeh."
---
Kadaif
Thin noodles made out of flour and water. They're made by quickly cooking them on top of a hot plate after being poured through a sieve. You can make them at home easily, but it takes time. Anyway, you can skip this part and just buy them ready in any bakery that sells knafeh or in Middle Eastern grocery stores.
I forgot to buy kadaif noodles in Nablus, so I got mine from "The City of David Knafeh" at Mahane Yehuda market in Jerusalem. Make sure the kadaif noodles are fresh and soft, and not hard at all. It's not pasta. Keep them in the fridge or even if the freezer for a longer shelf life.
For crispy knafeh, the kadaif noodles are used as they are. This way they give the knafeh a crunchy texture. When making knafeh, make sure to chop the noodles with a knife or even scissors to get a more stable knafeh. If you like, you may color it with orange food coloring. I prefer their natural color after cooking.
Soft knafeh is the same knafeh in a different costume. The kadaif noodles go through a process that turns them into a mixture similar to couscous. The bite is softer and yummier to my taste. There are those who make it from semolina, but I haven't had the pleasure of trying one yet.
According to Nabulsi tradition, kadaif noodles are made from flour, water, ghee and food coloring. They are later grinded, toasted, crumbled and eventually sifted to become that soft kadaif mixture.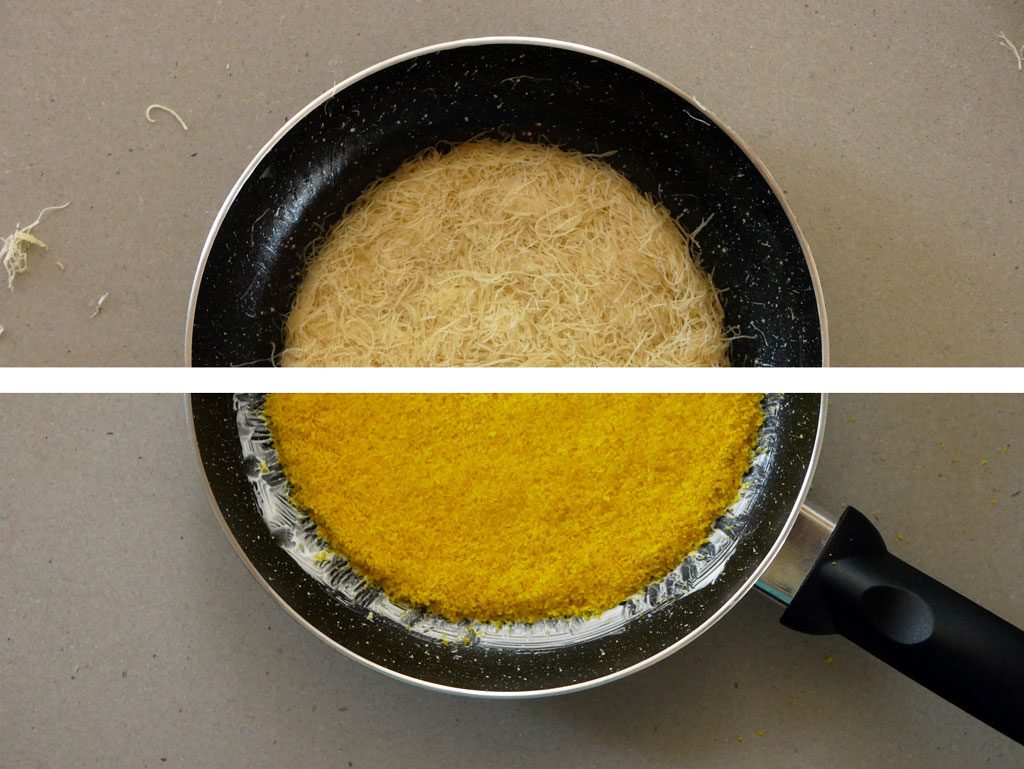 ---
Say Cheese!
Usually semi-hard goat or sheep cheese is used in knafeh. Sometimes cow cheese is used to lower costs and sometimes a combination of the two is used. There are those who might prefer cow cheese since it has a less dominant taste and smell.
The cheese flavor should be somewhat neutral. If it's salty, cut the cheese into small pieces and soak it in water for a few good hours, until all the saltiness is gone (between 4 hours to one day, depending on the cheese). Occasionally, replace the water to hasten the process. After soaking, strain the cheese for about half an hour.
As I mentioned before, Mashmoula, Nabulsi or Akkawi cheese are commonly used for knafeh. Such cheese should melt fast, have good elasticity and stay soft after cooking. It could be difficult to acquire such cheese. Patti from the US told me she found sweet cheese ready for knafeh at a Halal store (and so skipped the strenuous step of soaking it in water for hours!).
At the time, Abu Ali managed to get me more than 2 kg of Mashmoula cheese. You don't waste such a treasure. I took his advice, packed every two cheese cubes (about 120 g) in a Ziploc and kept it in the freezer.
I also tried to find a substitute cheese. I tried ricotta, mozzarella and even both of them together, but it didn't really work. The mozzarella showed impressive elasticity, but hardened fast after cooking.
I tried to make homemade cheese from milk, cream and vinegar following Nof's instructions, but it turned out too soft. I even tried to play around with mascarpone, but to no avail. At last, Oren came up with the perfect solution, Hemed cheese. Bryndza cheese worked nicely too. A fitting substitute for the Nabulsi cheese.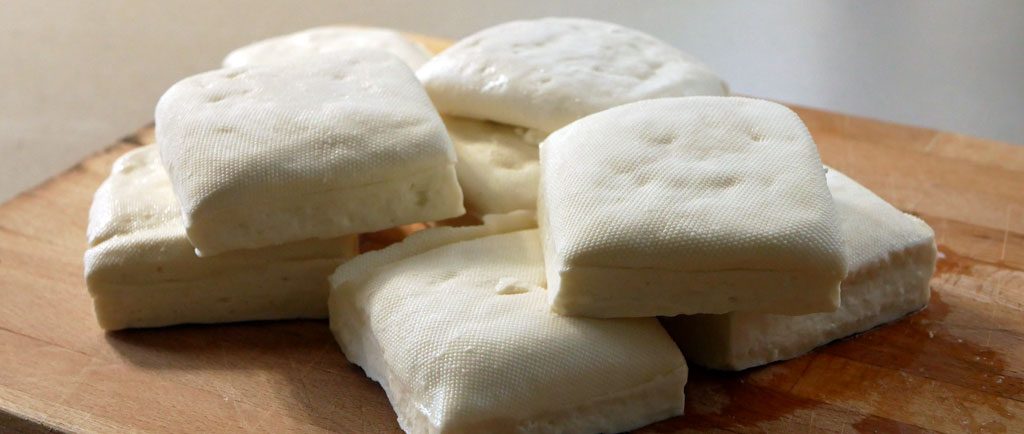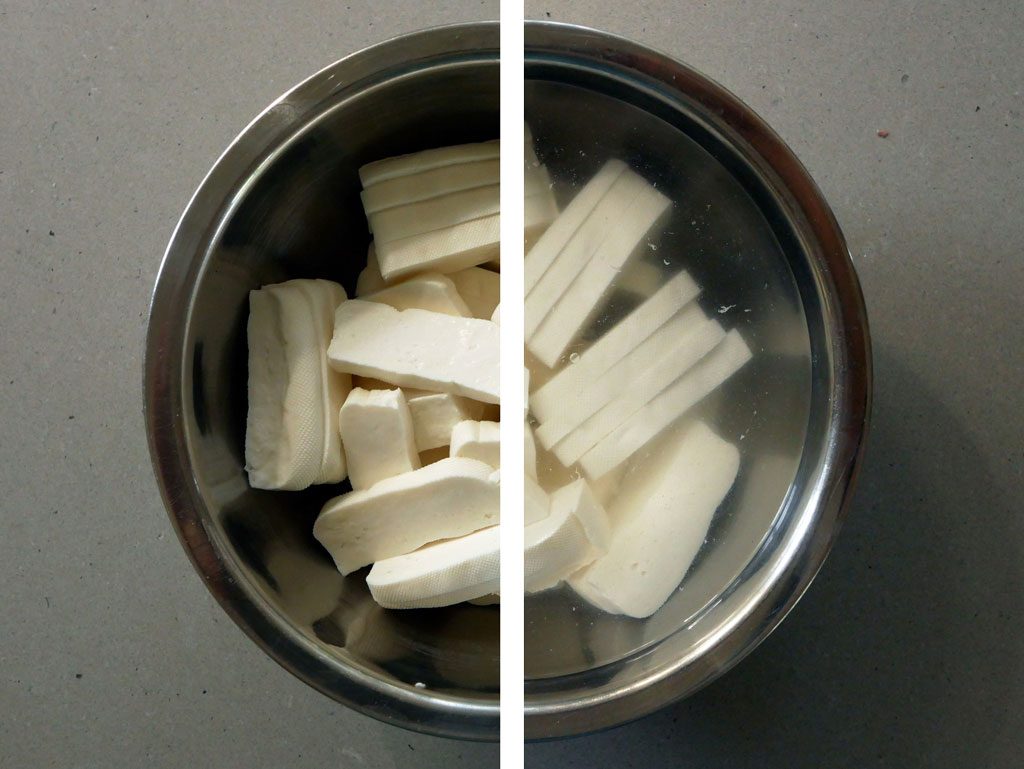 ---
Ghee/Butter
Ghee is used to grease the pan and the kadaif noodles. In the knafeh world, ghee is usually preferred over butter which might burn faster during cooking. Ghee is refined oil/butter. It could be dairy or plant based. In Nablus, plant based ghee is preferred. The ghee I purchased in Nablus contains a mix of refined oils (coconut oil, palm oil and sunflower oil).
You can actually make homemade refined butter pretty easily. After a few tries making knafeh, I discovered that butter works perfectly with the crispy knafeh (but not the soft one). So I decided not to waste too much time on refining butter at home and used regular butter.
---
Sugar syrup
This is a simple sugar syrup that could be flavored to one's taste. The classic additions are lemon juice and rose or orange blossom water. The ratio of sugar to water is usually double, but I discovered that a ratio of 1.5 is enough for me. You should pour the syrup over the knafeh only when it's lukewarm (and not hot) so it won't ruin the crispiness.
Ingredients:
1½ cup sugar
1 cup water
½ tsp rose/orange blossom water
1 tbsp lemon juice
Put water, lemon juice and sugar in a saucepan. Place on high heat. Stir the sugar with a spatula to dissolve it. Once the water starts to boil, stop stirring and remove the spatula.
Lower the flame and let the syrup simmer for 15 minutes. Remove from heat, add rose/orange blossom water and mix. Keep aside.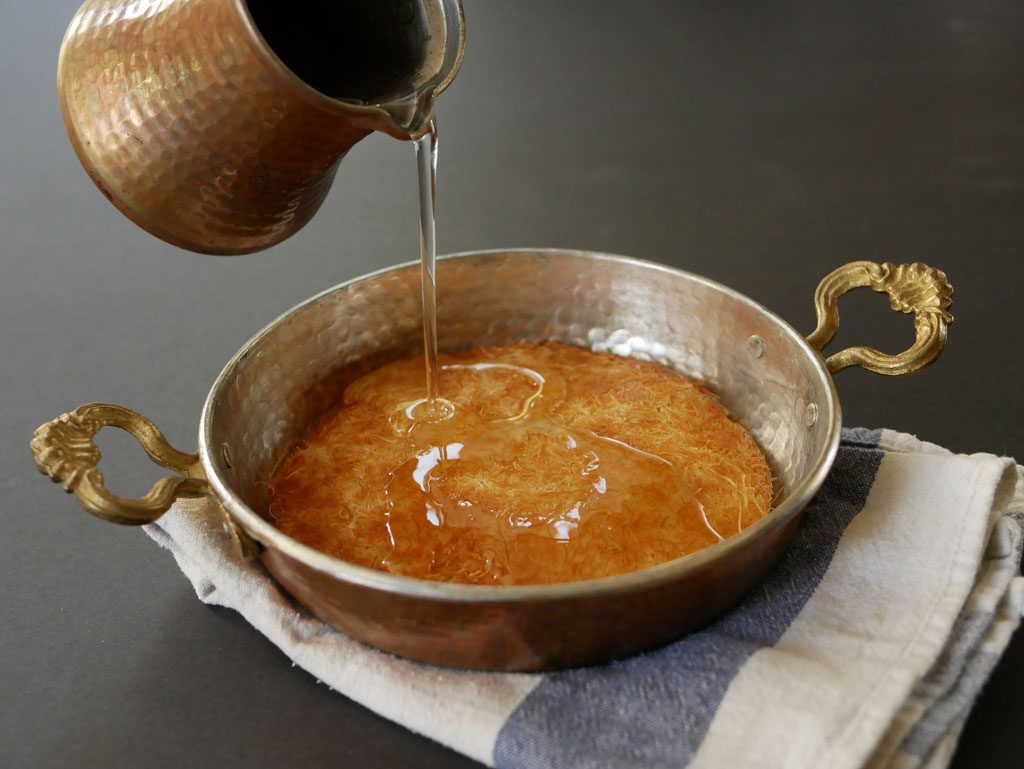 ---
Homemade Knafeh
---
60-80 g kadaif noodles
100-120 g sweet cheese (Mashmoula, Nabulsi, Akkawi or Bryndza cheese)
30 g butter/ghee
Sugar syrup (recipe above)
Chopped pistachios for decoration
Cooking pan, 20 cm in diameter
---
Do this step only if the cheese is salty: cut the cheese into slices and put it in a bowl. Fill the bowl with lukewarm water. Let the cheese soak in the water for at least 5 hours. Occasionally, replace the water to hasten the process. Taste the cheese. If it's still salty, keep soaking it until it's neutral. Strain the cheese for about half an hour.
Chop the kadaif noodles with a sharp knife or scissors. Melt the butter. Add the melted butter to the kadaif noodles and mix it together using clean hands. Make sure all the noodles are buttered.
Generously butter the surface of the pan, edges included. Spread the kadaif noodles on the pan. Tighten the noodles well into a uniform, packed layer (about 5 mm thickness).
Crumble the cheese into pieces and spread them over the kadaif uniformly. It's important to leave 5 mm kadaif bare at the edges. You don't want the cheese touching the pan. If so, it will burn and create a funky smell.
Cook
Place the pan over low heat (I used a stove with a double flame for a more uniform cooking). Cook for about 3-4 minutes until the edges brown. During cooking, gently flatten the cheese with the back of a tablespoon.
Remove from heat and cover the pan with a plate for 5 more minutes to let the cheese melt. Very carefully, and with some elegance, flip the pan with the plate. Remove the pan.
Pour a bit of lukewarm sugar syrup over the knafeh while it's still hot. Spread the syrup gently over the knafeh using a tablespoon. Decorate with pistachios, take a few photos for Instagram and eat right away.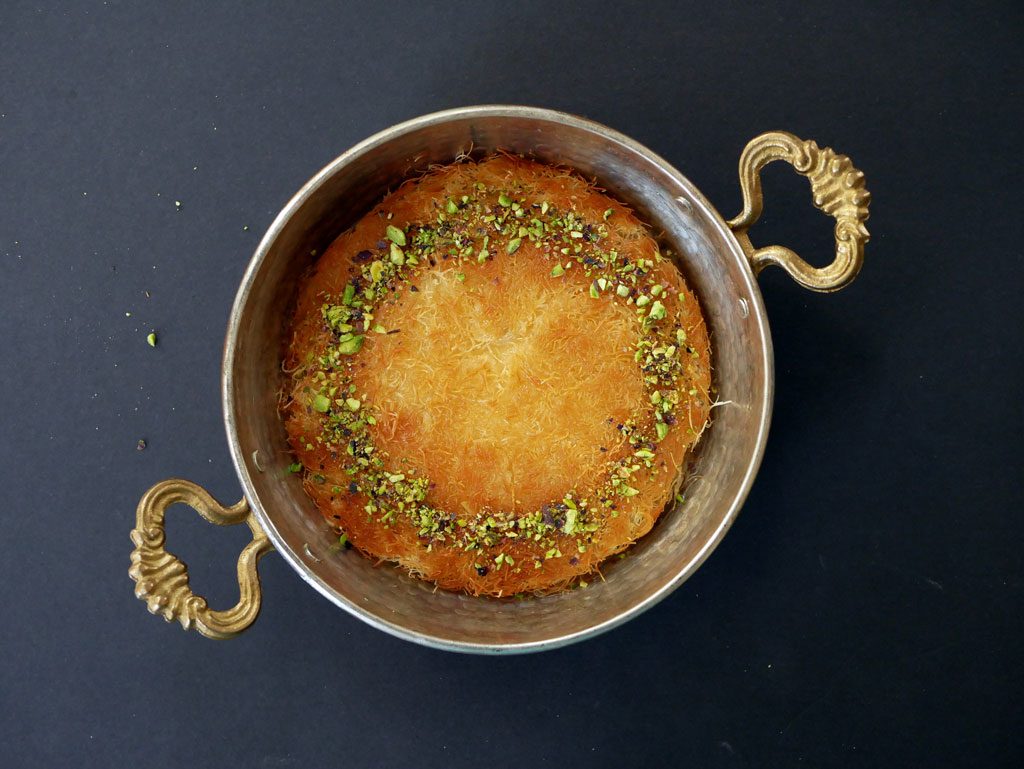 Yum

Tags In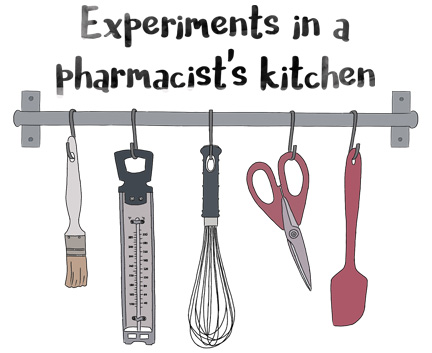 Search the blog

Get updates by email