Pistachio Ferrero Rocher
I know, it's kinda late now, but this homemade Ferrero Rocher was perfect as a Valentine's Day gift. In the spirit of the holiday, Natalie from Lil' Cookie and I made this Ferrero Rocher with pistachios instead of hazelnuts. Natalie suggested this genius idea a day before our date to make my mom's basbousa. We decided to try it out. To be honest, we didn't expect it to turn out so well.
As it happens, it was a double celebration. My little blog celebrated its 3rd birthday last month. Happy blogiversary! In fact, I got to meet Natalie through it. Right at the beginning, the blog gave her a virtual wink and she showered it with love.
And so the celebration continues with this insane praline. Our pistachio Ferrero Rocher contains a whole pistachio at its core hiding underneath a smooth pistachio & milk chocolate cream, covered with dark chocolate and chopped pistachios.
We even added pailleté feuilletine to the mix for that classic Ferrero Rocher crunch. For the final touch, we decorated each praline with edible gold dust inspired by the iconic golden wrap. Happy Ferrero Rocher day!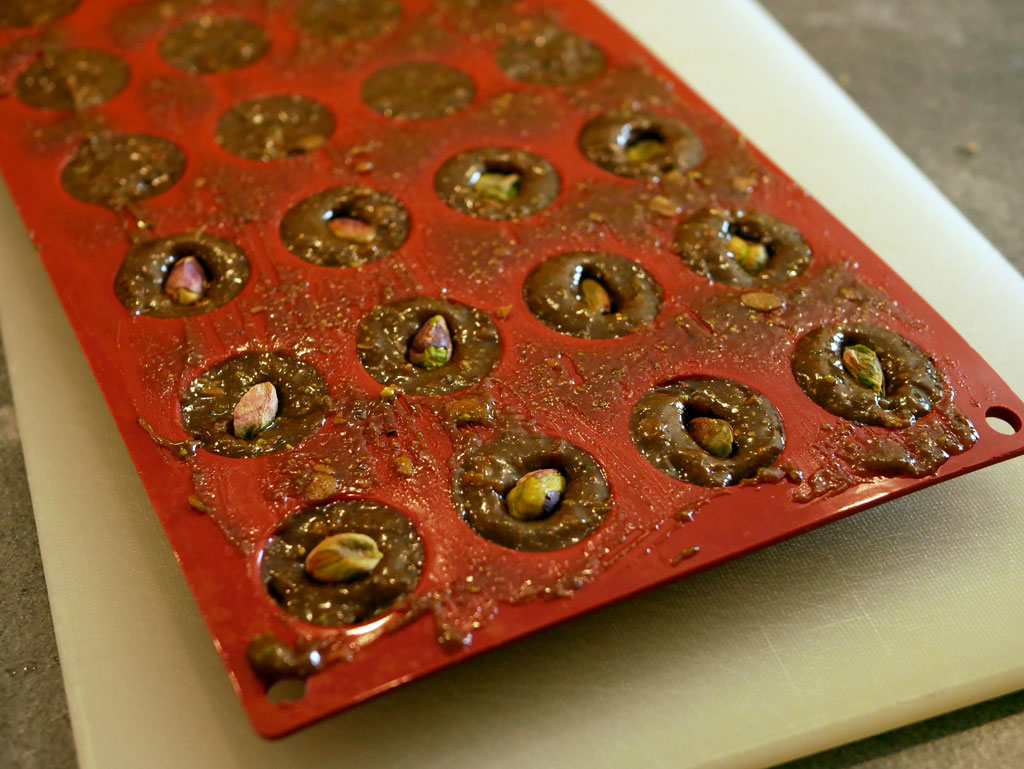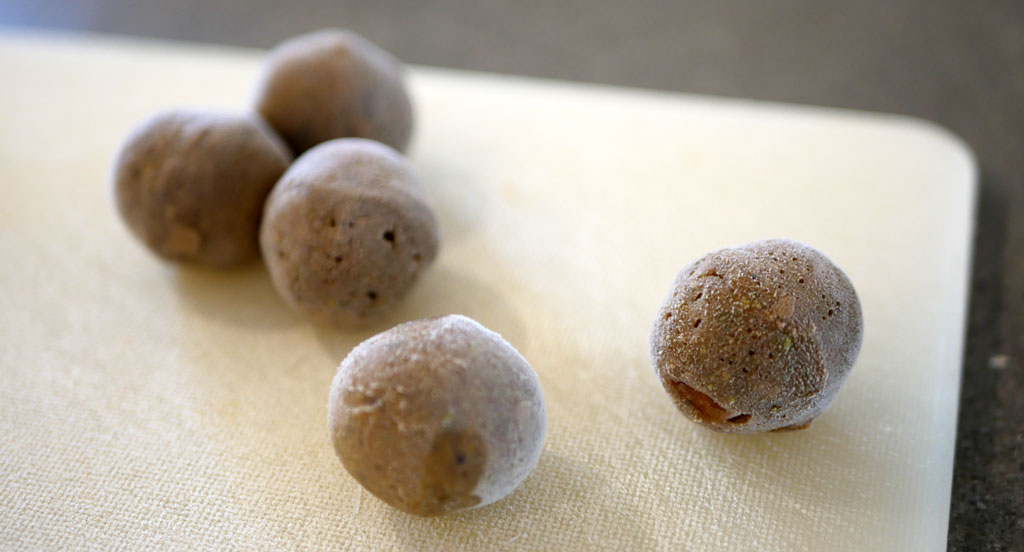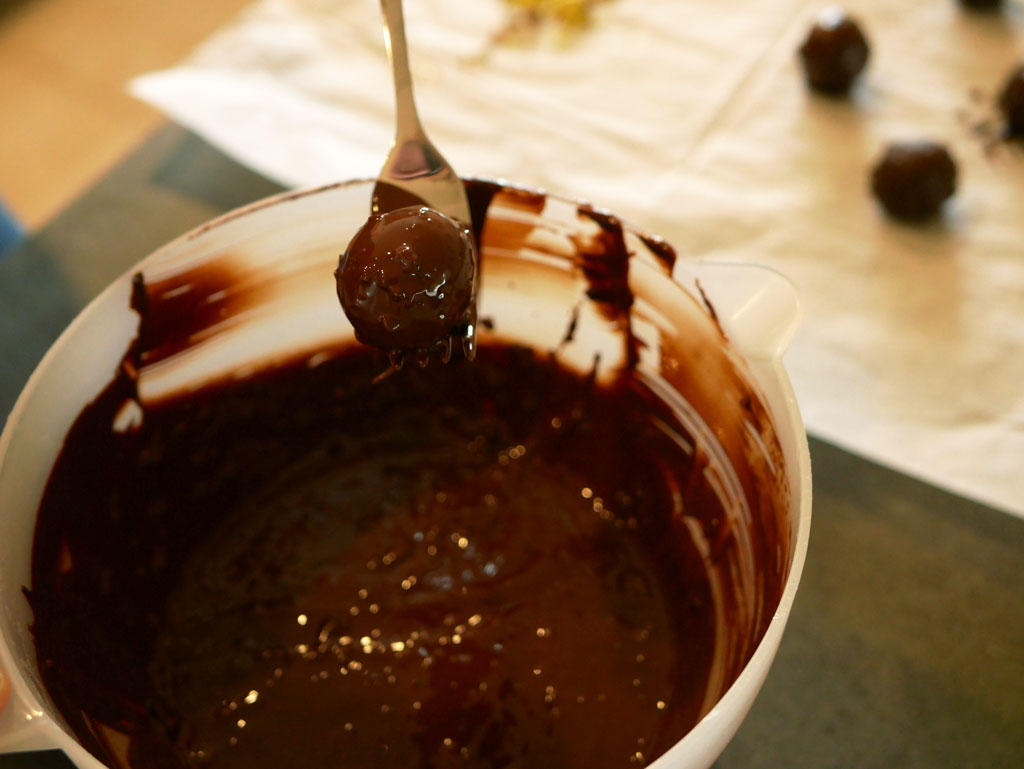 ---
Ingredients
---
Pistachio paste (can be store bought)
150 g shelled pistachios
25 g grapeseed oil (or any vegetable oil)
Filling
150 g pistachio paste
100 g milk chocolate
20 g honey
Pinch of salt
125 g heavy cream
20 g pailleté feuilletine*
24 whole shelled pistachios
Coating
350 g dark chocolate
20 g cocoa butter
30 g chopped pistachios
Decoration
Edible gold dust
Equipment
Mini half spheres (3cm in diameter) silicon mold
* Replace with 10g puffed rice for a gluten-free version.
---
The recipe makes about 24 pistachio Ferrero Rocher
---
Pistachio paste
Preheat the oven to 160 °C / 320 ºF. Scatter the pistachios on a baking tray and roast for about 7 minutes until they brown a bit.
After the pistachios have cooled, grind them to a powder in a small food processor. Add the oil and grind again until it becomes a paste. Weigh 150g and place it in a measuring pitcher.
Filling
Add milk chocolate, honey and a pinch of salt in the measuring pitcher. Bring heavy cream to a boil and pour it over chocolate, making sure all the chocolate is covered. Mix a little bit with a spatula and then use a hand blender to blend it to a uniform consistency.
Once the mixture cools at room temperature, add pailleté feuilletine and mix until uniform. Fill the cavities in the silicone mold. Add one whole shelled pistachio to half of the cavities and push it in. Flatten the surface of the filling. Keep in the freezer.
Half an hour to an hour later, the filling should be stable. At this stage you should work fast before the filling softens. Release the half-spheres from the mold.
Attach two half-spheres together (one with pistachio, one without) to create a whole sphere by rolling them in your hands. Put the chocolate spheres back in the freezer until they set again. In the meantime, prepare the coating.
Coating
Put dark chocolate and cocoa butter in a bowl and melt using a double boiler. Chop pistachios (in short pulses in a food processor or with a sharp knife) and add them to the chocolate bowl. Mix until uniform.
Using a fork, dip a frozen chocolate sphere in the melted chocolate. Remove and place it on a parchment paper to let the coating set. Repeat the process for the rest of the spheres.
Sprinkle a bit of edible gold dust on top of each pistachio Ferrero Rocher before the chocolate coating sets. Keep in a sealed container in the fridge.
Yum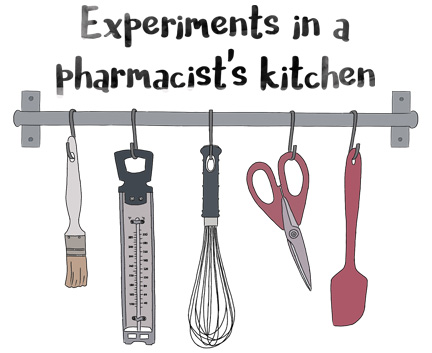 Search the blog

Get updates by email